Cardigans are one piece of clothing that never seem to go out of style. Perfect for all seasons, the cardigan will treat you right. I found some adorable ways to wear a cardigan.  Whether you pair it with a dress or skirt or with your favorite pair of jeans, you're sure to find a look you love.  Read on to see 21 ways to wear a cardigan that will fit your style or the season.

Fun, Easy, and Unique Ways to Wear a Cardigan
 1 – 3. 3 ways to style a cardigan. I love the unique ways the same cardigan is styled for completely different looks.
4. Love this trend right now, the colored jeans, polka dot shirt, and low-key cardigan to bring it all together! Love how it's just a titch shorter than the shirt.
5. If you prefer to wear your cardigans lower than your shirt, look how cute this is!
6. This is a fun look, pair that long cardigan with a dress or skirt that's the same length. I love how feminine this one looks!
7. Have you ever seen a cardigan worn backward? This is such a fun and unique way to wear a cardigan. Love this pattern!
8 – 10. One of our past guest contributors here at HowDoesShe, Sydney shows us 3 great ways to wear a cardigan! 
11. Pull out your skinny belt and add it to that cardigan for an adorable look!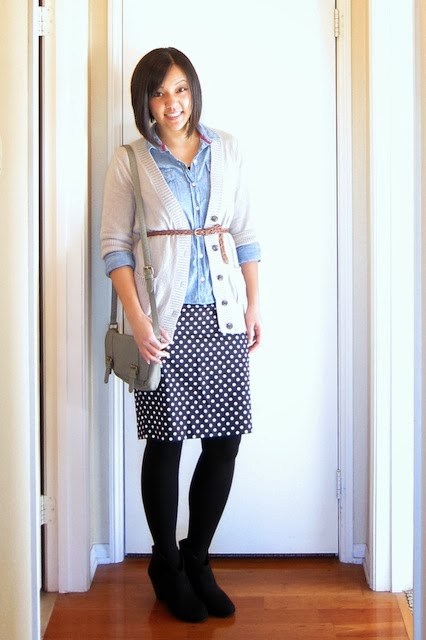 12. Complete your outfit with a fun cardigan design!
13 – 20. Eight cute ways to wear a cardigan and jeans. Can you believe how good they look?! She makes this super easy!
21. This is a great look, you've got the plain cardigan over a busy shirt, toning it down a bit, but still showing your fun personality! Great blue color too!
Give them all a try and before you know it you'll be rocking the cardigan too!