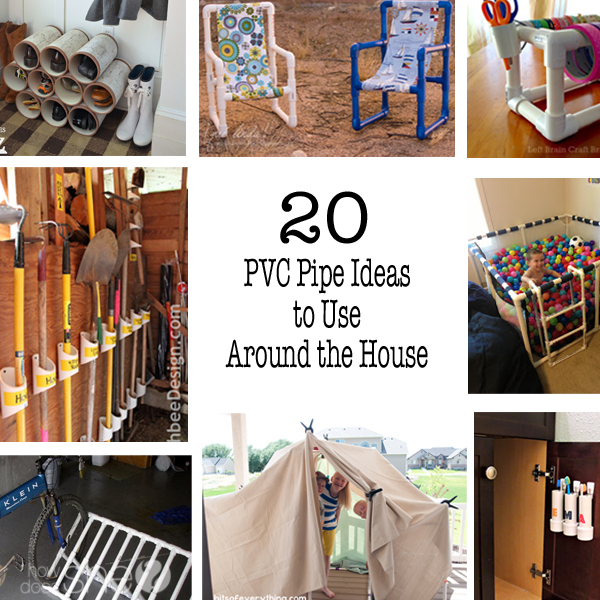 PVC pipe ideas and projects to create using PVC pipe are very versatile, not too expensive and easy to pack around and store. Perhaps that's why they are so popular. Here's a list of 20 great ways to use those PVC pipes around the house and more!
PVC Pipe Ideas and Projects to DIY
1. PVC Backdrop Stand. Just add some fabric and it's perfect for a photo shoot!
2. DIY Toddler Chairs. What kid doesn't love a chair just their size?
3. Ball Pit Fun. One of the PVC pipe ideas that is fun for ALL ages!
4. Make your own Tape Dispenser! Never lose your tape again!
5. Make a marshmallow blow gun out of PVC Pipe. You might want to make yourself one too, as this is another PVC pipe project that is popular with everyone!
6. Get those tools organized with this handy idea!
7. And for the small tools do it this way.

8. The kids would love this DIY Fort and you'll love how easy it is to store!
9. Got a lot of bikes laying around? How about making this PVC Bike Rack? It's already on my hubby's to do list! GREAT instructions included!
10. Here's a great way to keep track of those toothbrushes!
11. Be the best den leader/neighbor on the block with this rocket launcher made from PVC pipe!
12. This has got to be one of the cutest PVC pipe projects I've seen! Great directions to making a Shoe Organizer!
13. Like to go camping? If so you might just love these easy solutions! Here.
14. Got chickens? This PVC Chicken Feeder might really come in handy!
15. These will sure beat those flimsy tomato cages we usually use! Try these PVC Tomato Cages out and let me know how they work!
16. I've never seen this idea before, have you? PVC Frozen Ice Containers mean no more stopping at the gas station for expensive ice!
17. This dog cot would be a perfect way to keep the dog off the floor. Great instructions too!
18. Or if you're more of a cat person, this cat condo is for you!
19. PVC pipe also makes a super handy place to store your hair dryer and curling iron or flat iron! Brilliant!
20. Get those balls organized with this PVC Ball Rack.
Are there any other ways that you like to use PVC pipes? I'd love to hear!