This is by far my favorite new toy this fall. My very own, brand new, shiny, "HOT" laminator! I bet it's not what you were expecting but I'm in love. Owning your own laminator is a necessity. Once you have one you'll wonder how you ever lived with out it. Everything in your home will be covered with plastic! Ok, maybe not everything, but seriously, there are so many reasons why I love my new laminator (besides being the best priced hot laminator around).
First, and foremost, it allows me to be a really, really lazy crafty-mom. You know, crafty-moms? The moms that always have these big and beautiful crafts laid out for their kids to do every day? The ones you see all over Pinterest. They may not actually exist but in my mind they exist somewhere and setting the bar WAY too high. With a laminator you have instant projects. Just give your kids something to draw or cut out, any random thing. Then run it through the laminator and watch the magic happen. Your kids will be so excited to see their little creation perfectly encased in a shiny sheet of plastic.
Of course you could use the laminator for what its intended use: preserving something you really want to keep forever. For example, this ADORABLE printable Thanksgiving play set that you can use year after year after year.
This printable Thanksgiving play set pack is full of fun little activities for your kiddos.
You can grab this adorable set HERE!
They are so easy to make. Just print them up, cut them out and run them through the laminator. Your kids will be so excited to watch them go in one end and out the other.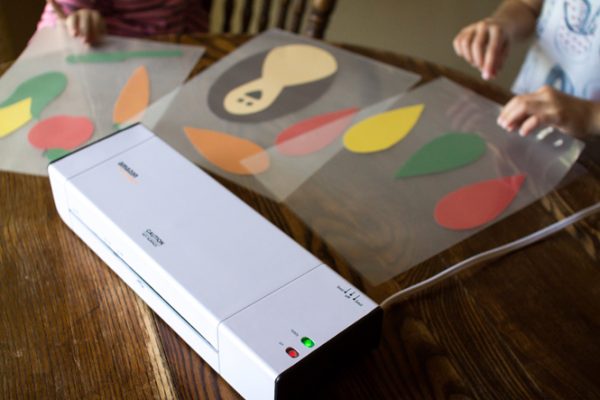 It's almost as good as watching the donuts go through the fryer at Krispy Kreme.
Cutting out the shapes is a great way for the kids to practice their cutting skills.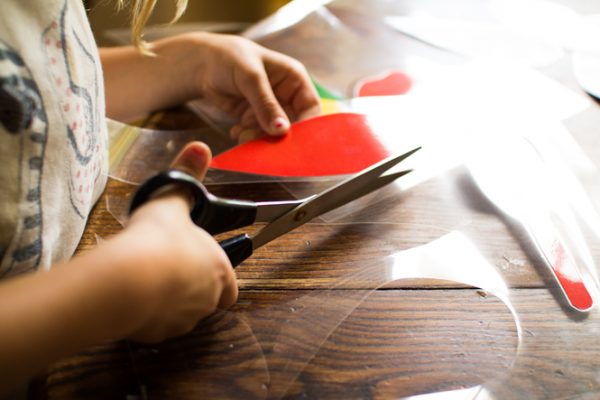 The printable set is full of fun activities. Like putting feathers on the turkey, leaves on the tree, setting the table and filling the cornucopia. They are great to keep in a church bag for a quiet activity or use before Thanksgiving dinner to give the kids something fun to do while you carve the turkey. Store them with your holiday decorations and pull them out every time Thanksgiving rolls around.
Turkey time!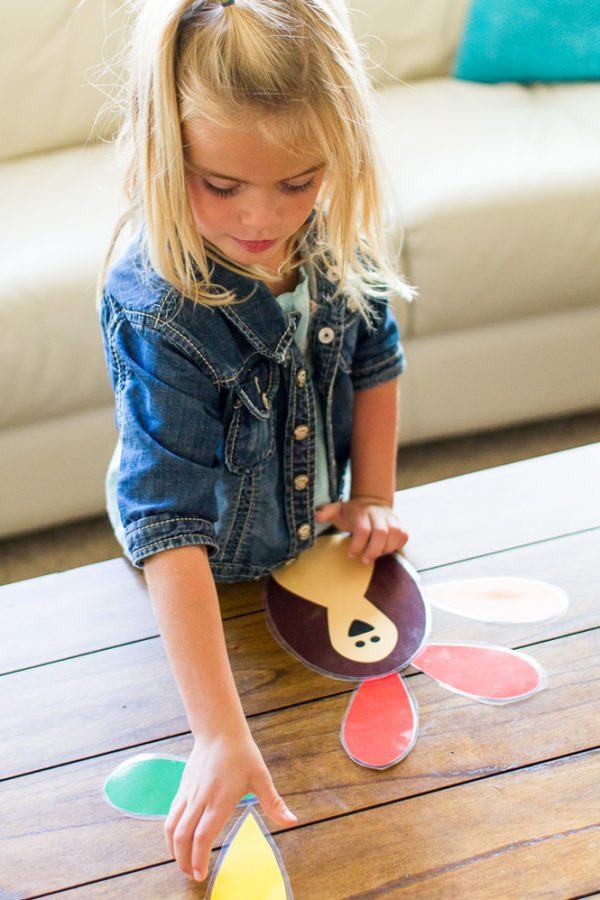 Put the leaves on the tree…
Set the table…

Fill the cornucopia…

Eat the tomato!
Have FUN!
Is felt more your speed?
Check out this post to see how over the top cute this play set is when made with felt.
And don't forget to snag your FREE Thanksgiving Mad Lib, part of our EXCLUSIVE FREE printables created by the oh so talented, Chickabug. Laminate it and use a whiteboard marker so your kids can fill it out again and again!