***This post is sponsored by Walmart and RewardStyle. All opinions are my own.***

I don't know what it is about the holidays, but I can't. say. no. Especially to a good party! Just this morning, I was chatting with a friend and decided to throw an impromptu "Breakfast with Santa" themed party – 2 days before Christmas.
Christmas just brings out the "festive" in me.

It's a good thing I have Walmart to turn to for all my impromptu parties. Not only do they have some darling themed products, they also have amazing prices and quick shipping times. Many items ship free (Min. $35 order) and in two days! If I need it quicker, I can even do a store pick up on many items. So, when I get a wild hair to have friends over for games, or my kids' friends over to make gingerbread houses, I can make things happen in a hurry and on a budget!
Recently, I had a small gingerbread making party for my kiddos and a few friends. We had so much fun, I had to share it!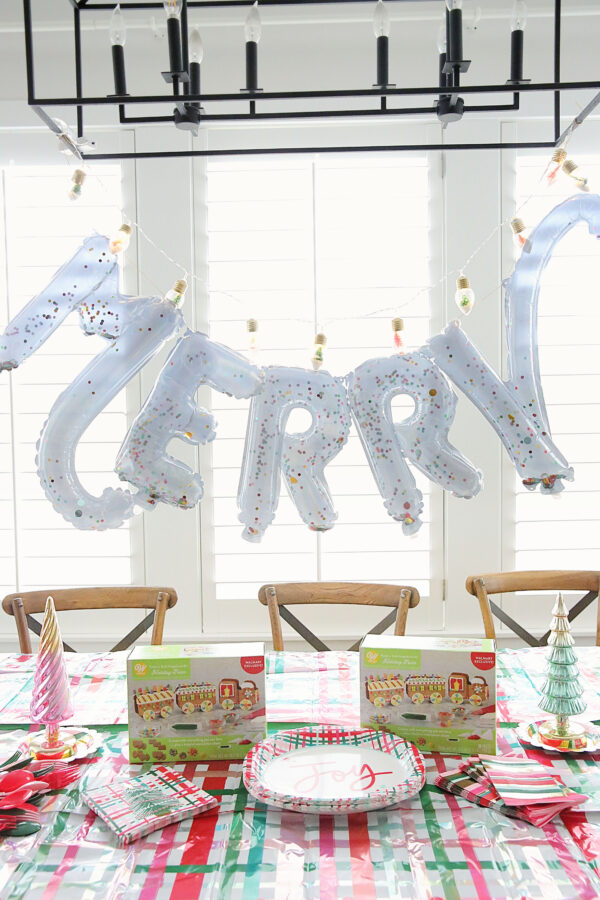 We decorated with a colorful "Merry" theme, and the coolest part is, all of the coordinating decor came from Walmart!
This Merry balloon garland was a show stopper and provided a festive focal point.
Do you see the confetti inside each letter?




I love that I was able to snag the paper goods all in one big pack! They come in sets that serve 10-15 and I LOVE this.
It always seems there are just a few in packs, and never enough to actually outfit a whole party.
This set has a lot more included!
This coordinating flatware with their cool handles, is so pretty too. Do you see the "merry"?




Of course, a gingerbread party isn't a gingerbread party without the gingerbread.
I found these under $10 gingerbread trains and they're just the cutest!




Walmart has lots of different gingerbread kits, but I thought these were so unique!
Speaking of unique, these brightly colored Christmas trees are so gorgeous. I usually put them on a console table or bookshelf, but they made a wonderful centerpiece for this party!
They come in a few colors, but I snagged the blue and pink.




Back to the gingerbread trains. We liked that there were quite a few pieces to the train. It made so there were more pieces to decorate!




And decorate they did!




I always love seeing their creative minds come up with some magnificent.
I also loved seeing how well the gingerbread kit held up. I've had some in the past that crumbled as soon as you touched them! Not these!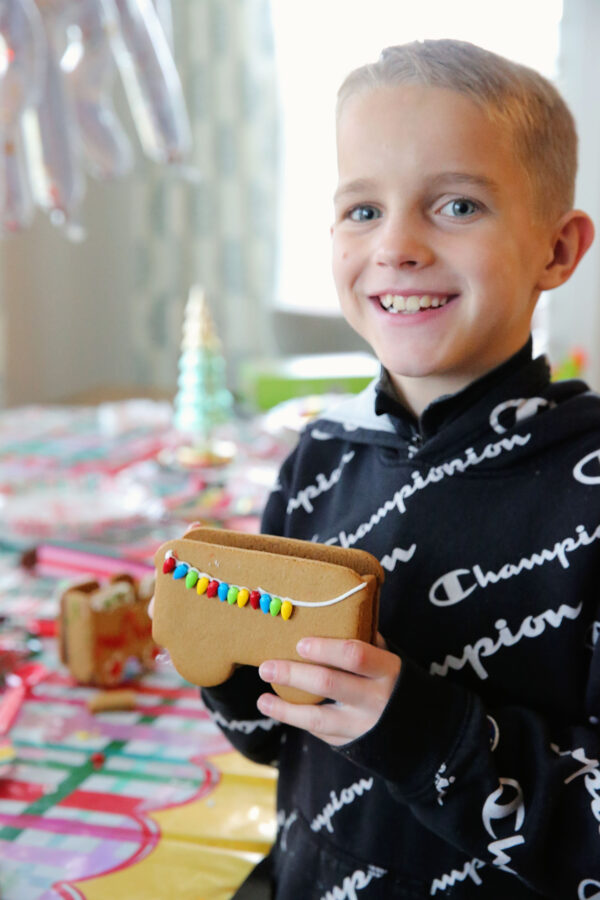 Oh, one other home decor item I grabbed and absolutely adore was these little brush bottle tree string lights!



Talk about gorgeous!



I think they make great party decor, but would also look perfect strung up in a playroom or even in a teen room!




So many great things to make your home a little more festive and merrier this holiday season.
I love how convenient it is to shop Walmart and how much money I can save doing so.
Pinterest worthy party with a LOT less effort!

Happy Holidays from my home to yours!