Oh sweet little baby beaver, how I love you but hate the teething on literally everything.
In an effort to save his crib, I decided to make a quick cover for the rails. And, bonus! It ended up adding a punch of color and pizzazz to his room.
I started off by measuring the crib and since I'm a visual person, I had to draw it out. Remember to measure the inside of the rail, not the outside. My measurements were 28″X53.5″ – yours will probably be similar but measure your crib to make sure. Also measure the thickness of the rail. Ours is 2.75 inches.
To figure out the fabric, you need to add 1 inch to the length. Then to figure out the width, I doubled the thickness of the rail and added 1/2 inch to it giving me a total of 6″.
This gave me the sizes of:
29″X6″ and 54.5X6″ for my fabric. You will need to cut 2 of each size.
You will also need to cut 4 pieces of interfacing. I used quilting batting. 2 pieces are cut at 29″x6″ and the other 2 pieces are cut to 54.5″X6″
Now, we will cut the ribbon for the ties. I made them 4″ long. I found this to be the perfect length to knot. If you prefer to tie them into a bow, I would recommend adding 2 inches to the length of the ribbon.
I used 12 pieces of 4″ ribbon on the short sides of the crib rail cover and 20 pieces on the long sides so that's a total of 64 pieces of ribbon.
Whew! Now that we have our measurements out of the way, time to get started.
Grab 2 of the 29″x6″ fabric pieces and one piece of interfacing.
Lay your interfacing piece flat then lay one piece of fabric on top of it where the right side of the fabric is up.
Grab your ribbon pieces and start pinning those in place. I space mine about 4″ apart all the way down. I also had to take into account that the corners of the crib came together in a way where I had to start at least 3″ in.
Lay other piece of fabric right side down and pin ribbon ties in place.
Sew around 3 sides of your fabric piece, leaving one of the short sides open for turning.
Clip the corners of your fabric, making sure not to cut the stitch. This helps get nice sharp edges when you turn the fabric right side out.
Turn your fabric right side out.
Ta-da! Almost done!
Fold in about 1/2 inch of the raw edges in and sew it shut.
Now, repeat with the other 3 rail covers and tie it on the crib!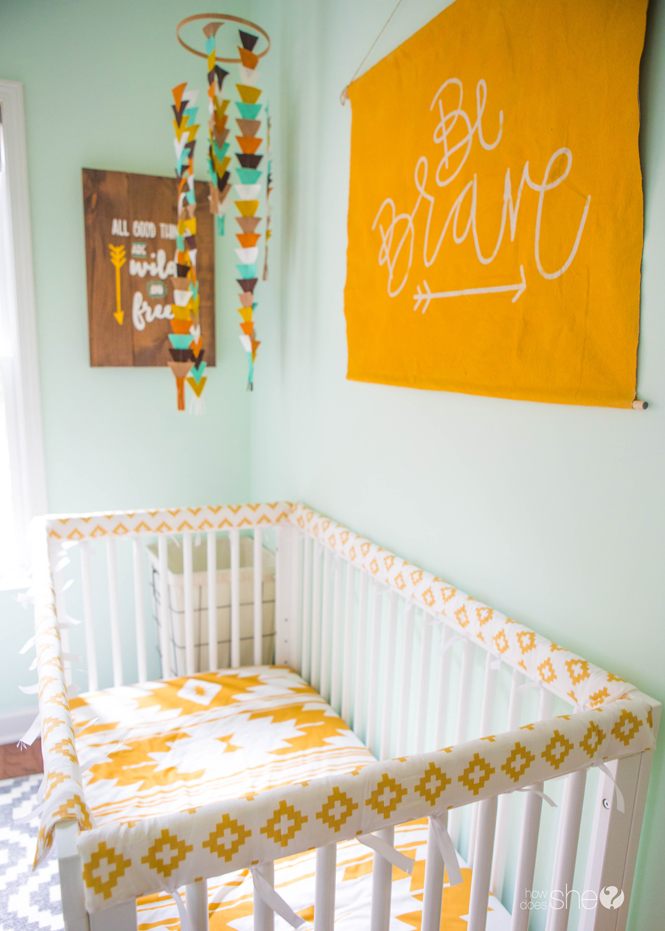 So far, this is working perfectly. I love that it not only is functional but also gives the crib some character since we aren't using crib bumpers.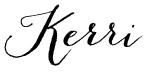 Want even more ways to make custom items for your nursery? Check these ideas out:
Crib Sheet DIY – You (yes, you!) Can Do It!
Cover Me Quick! – Changing Pad Cover Tutorial
Chalk it Up! DIY drop cloth to Chalkboard Sign