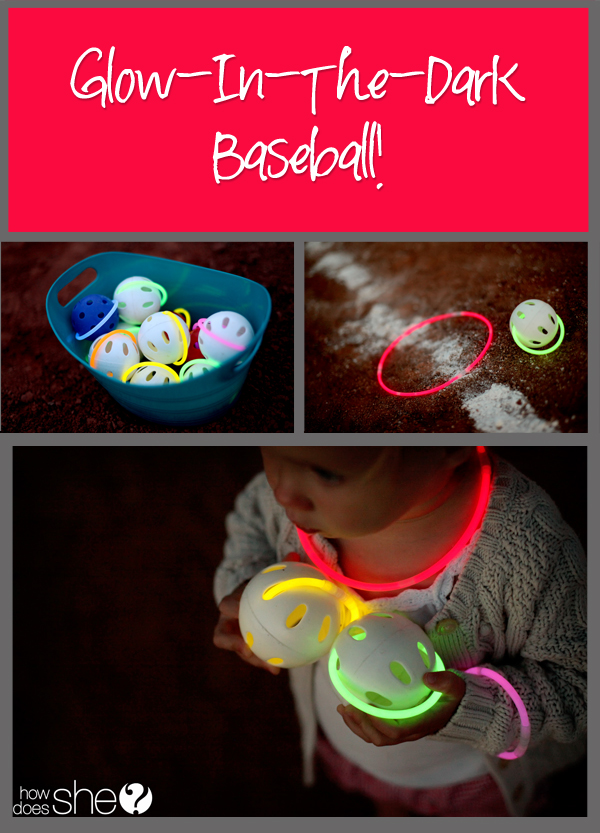 The greatest game of baseball ever played happened while we were vacationing on the warm sandy beaches of California. We played in the waves and sand all day! As the hours passed we forgot to pull out our fat bat and wiffle balls! It wasn't until the sun set, and we went to grab the glow sticks we had purchased for that night, that we noticed the untouched baseball supplies! In an effort to make our fun day at the beach last a little longer, my mom thought up the brilliant idea of stringing the glow stick bracelets through the wiffle ball holes so we could play in the dark! That night the Greatest Game of Baseball was born. We played for hours in the dark with the entire family! I have never had so much fun on the beach before. I am so excited to share this fun game that will be perfect for the upcoming summer nights!
"The Original Fat Bat" is my favorite plastic bat out there. It is big, yet light weight and perfect for all ages! You can find them for a few dollars at most stores like Wal-Mart, Toys R Us or Amazon.com
Wiffle Balls can be found in many stores that sell sporting goods, or on Amazon.com HERE or HERE
Glow Stick Bracelets and Necklaces can be found at most of your local stores including grocery stores! The dollar store is always a good place to check as well!  You can find baseball gloves from HomerunMonkey.com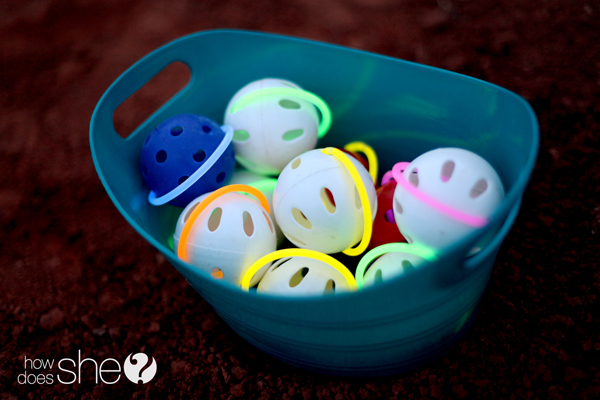 To get the game rolling break the glow sticks and shake them up. You can use 1 or 2 glow bracelets for each wiffle ball, depending on how bright you want them. Thread the bracelets through the holes and link the bracelet to itself. I like to push the bracelet link back through the the holes of the ball, so it sits inside, to keep it from coming undone during play! Use a glow ball which you just made or glow necklace for each of the four bases. This game can be played on a baseball diamond, a field, the beach, or any open area!
Every player gets a glow bracelet, necklace, or both! You can choose to match colors by the teams, or everyone can use random colors.
Typically a team would consist of at least 9 players. There is a Pitcher, Catcher, First, Second and Third Baseman, Short Stop (between second and third base) and 3 Outfielders. Most of the time we don't have enough people to play every position, so we divide the teams equally and fill in the best that we can!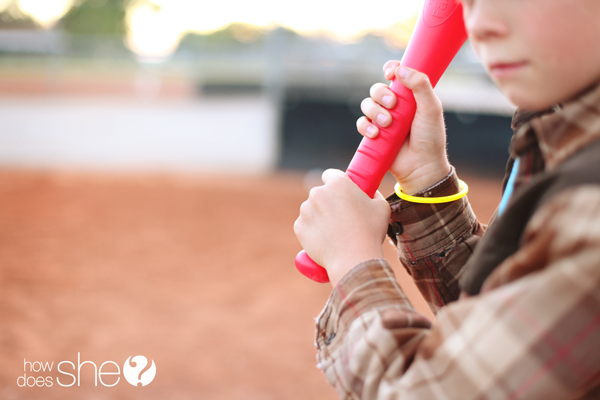 The pitcher throws the ball to a member of the opposite team that is up to bat. Three strikes and you are out…. or….. you can swing until you hit it!  😉 We like to play that way when we have little ones on the team. When we play with my toddler we trade off being tagged with her to help her swing the bat and run the bases.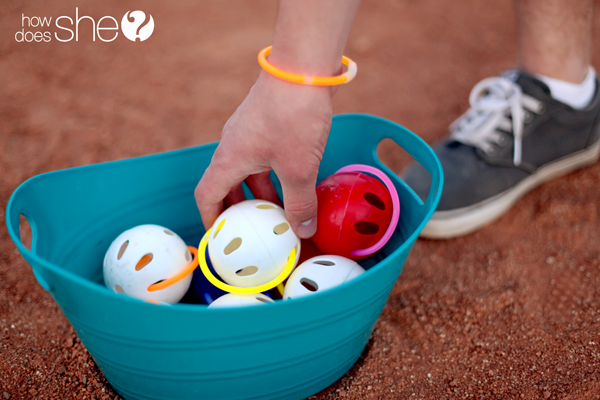 Each player that makes it to the home base wins a point for their team! While running the bases you can be tagged out by any player of the opposite team holding the ball. You can make up your own rules for being tagged out as well!
It is so fun to cheer on the little ones as they swing, hit the ball and sprint to first base!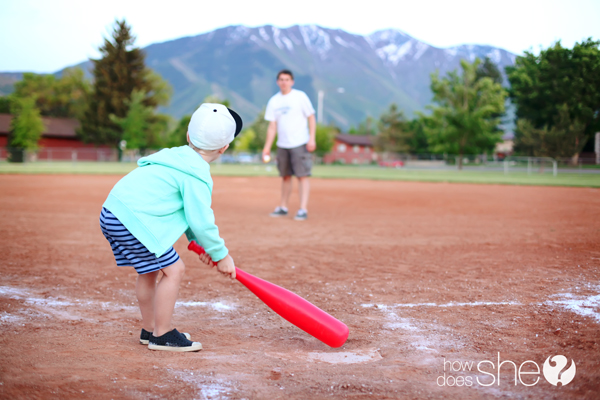 This is the perfect game for ALL ages, for any type of gathering from family reunions and night games with neighbors, to camping and trips to the beach!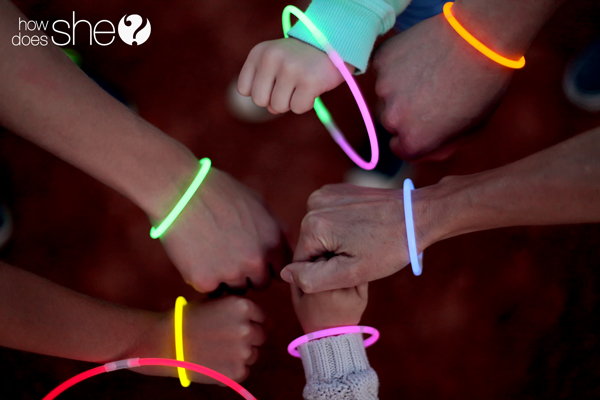 Glow sticks bring out the kid in all of us, and a friendly game of baseball is a great way to build team spirit!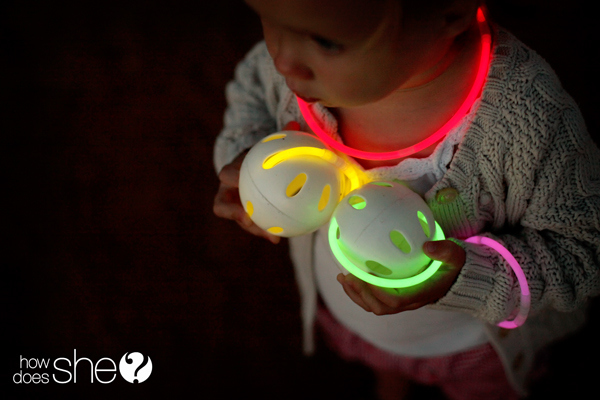 What are some of your favorite night games to play on warm summer nights?

Disclosure: This post may contain affiliate links. This means, we may receive a small commission if you choose to purchase something from a link we post (including links to amazon.com because we are a participant in the Amazon Services LLC Associates Program. Don't worry, it won't cost you anything. This small percentage just helps us keep the power on and the Diet Coke stocked. We appreciate your support!