When it comes to decorating a home, the walls are often the first thing to come to mind. Empty walls, blank walls, or bare walls can make a home feel unfinished and lack character. Fortunately, many creative ideas for DIY wall art projects can help bring your walls to life.
Whether you're looking to create a gallery wall in the living room or a statement piece in the dining room, you'll find plenty of DIY wall art ideas that can work with any space and budget. From using picture frames and washi tape to spray paint and wooden boards, you can create your own wall art in dozens of different ways.
Creative Ideas for DIY Wall Art
The best part about DIY wall art projects is that you can customize them to fit any space, from a small apartment to a large home. Many options exist for creating wall art without taking up an entire wall. Plenty of creative wall art ideas can fit into any space, from wall hangings and wall-mounted planters to canvas paintings and vinyl records.
Picture Frames & Gallery Walls
One of the most popular DIY wall art projects involves using picture frames. Whether you want to create a minimalist look or a colorful statement piece, picture frames are a great way to add a unique touch to your walls. You can also use different colors and sizes to create a unique gallery wall.
Acrylic Paint
Another great way to create wall art is by using acrylic paint. Whether you're painting a canvas or a wooden board, acrylic paint is an easy, inexpensive way to add color and texture to your walls. You can also use watercolor paint to create a beautiful mess of colors or a subtle, minimalist look.

Quotes
If you want a more unique wall art idea, consider using a favorite quote or phrase as a focal point. Whether you use vinyl lettering or wooden letters, this is a great way to add a personal touch to your walls. You can also use decorative objects or wicker baskets to create a fun twist on traditional wall art.
Color Block Walls
For those looking for a contemporary look, consider using color block. This involves using different paint colors to create a pattern or design on your wall. You can also use white paint as a background to create a unique look.
Murals with Meaning
In addition to painting, you can also use wall art to express your views on social issues. Whether you're creating a mural or painting a canvas, this is a great way to bring attention to important causes.
Thrifted Wall Art
Finally, don't forget to add some beautiful art pieces to your walls. Whether you find them at a local thrift store, flea markets, or even the dollar store, there are plenty of affordable options for finding unique wall art.
Fabric Wall Art
Fabric is a great material to use when creating wall art. You can use different patterns and colors to create a beautiful look. You can also sew the fabric together to create a wall hanging or a banner.
Wall Decals
Wall decals are another great way to create wall art. From custom designs to inspirational quotes, wall decals are a great way to add a unique touch to any room. You can also use wall decals to create a unique pattern or design.
Photo Wall
Consider creating a photo wall if you want a more interactive wall art project. This is a great way to display your favorite memories and photos. You can also use the photos to create a story or timeline. You can add frames, shelves, and other accessories to make the wall more interesting.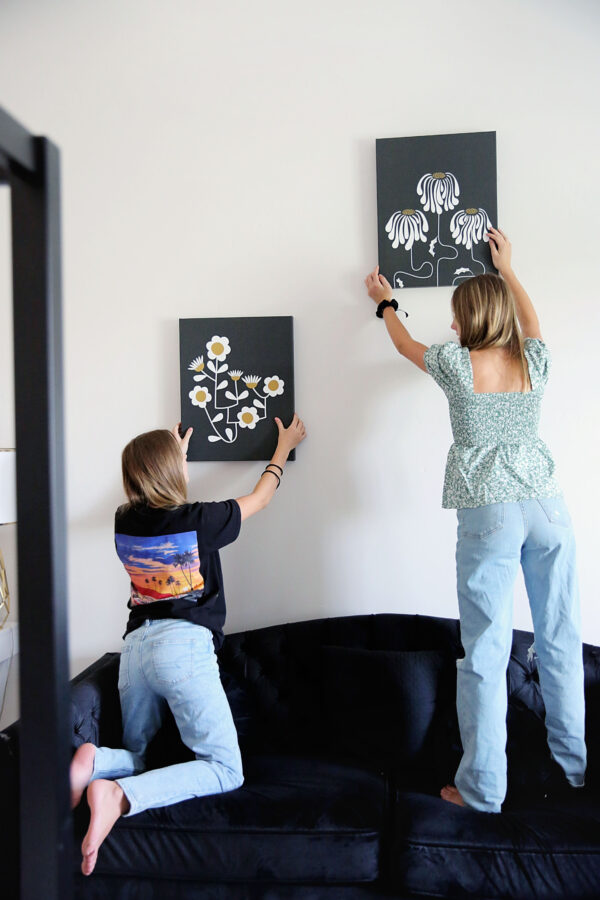 Mirrors
Another creative way to add wall art to your home is to use mirrors. Mirrors can be used to create illusionary effects or to create a focal point. You can also use mirrors to add natural light to a room.
Tapestry
If you're looking for something a bit more unique, consider creating a tapestry. Tapestries are a great way to add texture and color to a room. You can also use tapestries to create a narrative or to tell a story.
Plants
Finally, don't forget about the power of plants to add life to any wall. Whether you're creating a living wall with succulents or adding a few potted plants, plants are a great way to add some life to your walls.
Accent Walls
If you're looking for a big DIY project, you can put together an accent wall! Head to your local Home Depot or Lowes to get the supplies. You'll need wood, nails, caulk, paint, and a saw. Once you have your supplies, you'll be able to get creative and make a unique wall in your home! Accent walls look great in living rooms, bedrooms, and bathrooms. And don't be scared to mess up – you can always take it down and start over if needed.
No matter your budget or space, plenty of creative DIY wall art ideas can help you create a beautiful home. From using picture frames and washi tape to painting canvases and creating wall hangings, there are plenty of easy ways to add personality to your walls. So don't be afraid to get creative and take your home decor to the next level.
Follow Us
If you're looking for the best everyday lifestyle content, look no further than How Does She! We have everything from style tips and recipes to parenting advice and decorating ideas. Follow us for daily updates and helpful tips to make your life easier, more organized, and more fulfilled. And don't forget to join in on the conversation by commenting on our posts and sharing what you find. Don't miss out – follow us today for great content at How Does She!