Hi Everyone!
I'm Jen from Blissful 55 and I am over the moon excited to be posting for HowDoesShe? today. I had to read and re-read the email asking if I was interested in sharing my tutorials because the idea that it was some elaborate prank seemed more realistic than these incredible women inviting me to come post on their site. The fact that it wasn't a prank was such a wonderful surprise!
Bobbi asked if I would be willing to share my Dresser turned TV Stand tutorial…of course I would be willing! Be forewarned, this post warrants a ton of pictures…but they are good pictures, so it's okay.
I found this dresser (briefly used as a plant stand as you can clearly see) for free on Craigslist. Oh Craigslist, you are my hero! I had been desperately looking for a dresser to turn into a TV stand and while this wasn't the style I originally had in mind, the price was perfect! What's more perfect than free?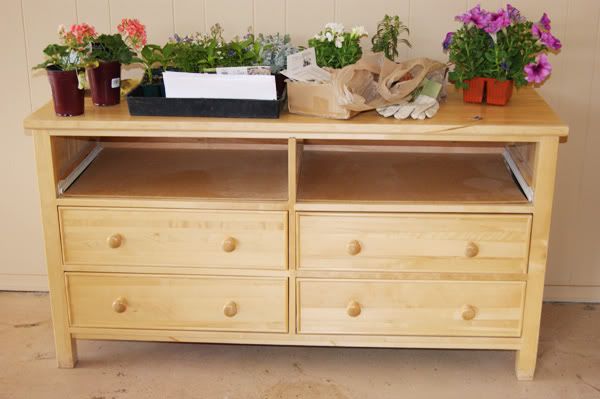 Overall, it was a pretty sturdy dresser and very well made. There were a few small nicks on the top and two of the legs had some significant chunks taken out of them, but I knew it still had great potential.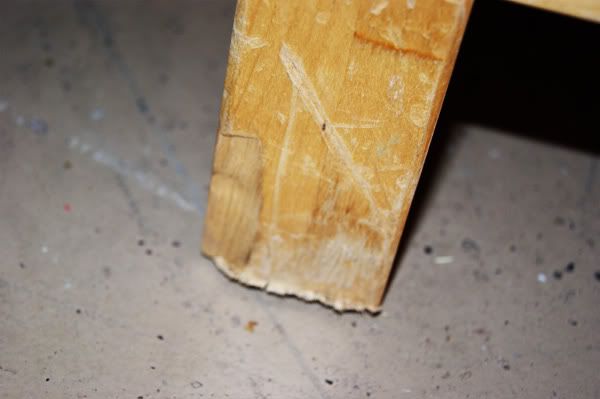 This project certainly had it's MANY ups and downs and I'm sure you would get a great laugh if you read all about it in my failure post, but I will spare you the details…for now and just show you the steps for what did work.
My first order of business was to strip and sand the dresser of the varnish. I thought that the spray can of stripper would be enough as well as easier to use…don't be fooled ladies, it doesn't go very far AT ALL! I ended up having to take a second trip to Home Depot to get the quart size. Besides, what's a good refinishing project without hundreds of trips to Home Depot? I took it as a sign that I was on the right track. Another piece of advice? Make sure to wear the rubber gloves as the directions say. They aren't joking when they say it will burn. I accidentally got some on my skin…lesson learned!
I used a cheapy paint brush to brush on the stripper and then let it sit for approximately 15 min. until it started to bubble.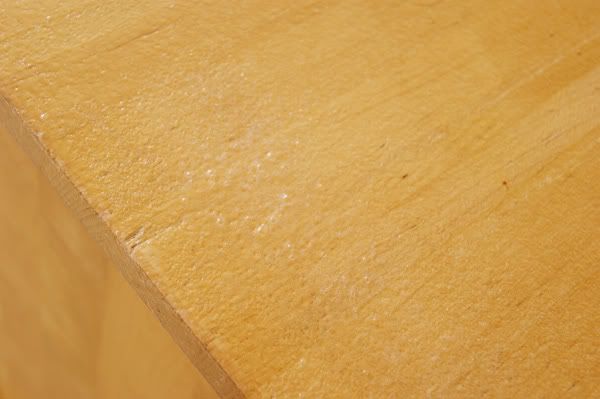 Then I took my plastic scrapper and went to town. Some parts scrapped off super easy, others were a bit more stubborn.
After I was done stripping, I sanded it down using 80 grit sand paper.  Here it is in all it's stripped and sanded glory.
The next step was to fill in the nicks and chunks on the legs. I set up a system that allowed me to fill in the chunks by clamping a piece of wood that was level with the leg. This allowed me to fill in the leg and get a straight edge without having to try and create an edge from scratch. Make sense?
I used wood filler and filled it all in.
Now obviously I couldn't leave it like that; I had to sand it smooth. I did that by using 80 grit and then 220 grit.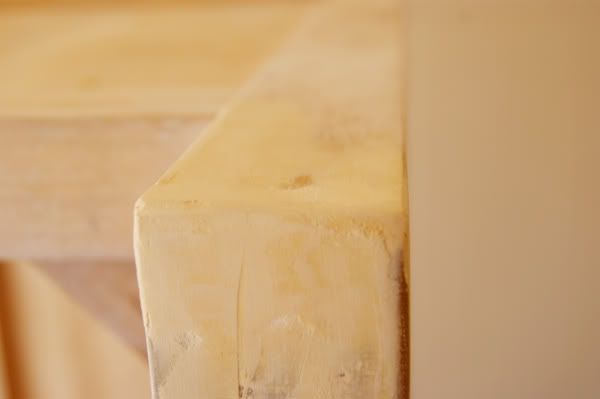 The next step was to add my shelves. I found my shelves at Home Depot, just finished mdf, and had the handy guys that work there cut them to size. I glued them in using normal wood glue. Like my make-shift clamps?
Now the cables have to go somewhere, so I drilled holes in the back. Not too big though, because I didn't want them to be too noticeable. They are about 2 inches in diameter at the most.
The top had some uneven spots, so I decided to add some 5mm finished plywood to the top.
I used contact cement to adhere it to the top and then using a router, routed the edges to the correct size. I wanted to add some decorative trim to hide the edge of the plywood so another trip to Home Depot it was. I cut my trim at a 45 Degree angle and attached it using regular wood glue and clamps.
It was finally time for primer. I highly recommend using a gray primer if your finished color is dark or bright. I think it really helped with the coverage.
I did do some light sanding between coats to knock off the little nubbies and make sure it was super smooth. I applied a total of two coats and then finished with a clear coat just for good measure. And…..
Voilà!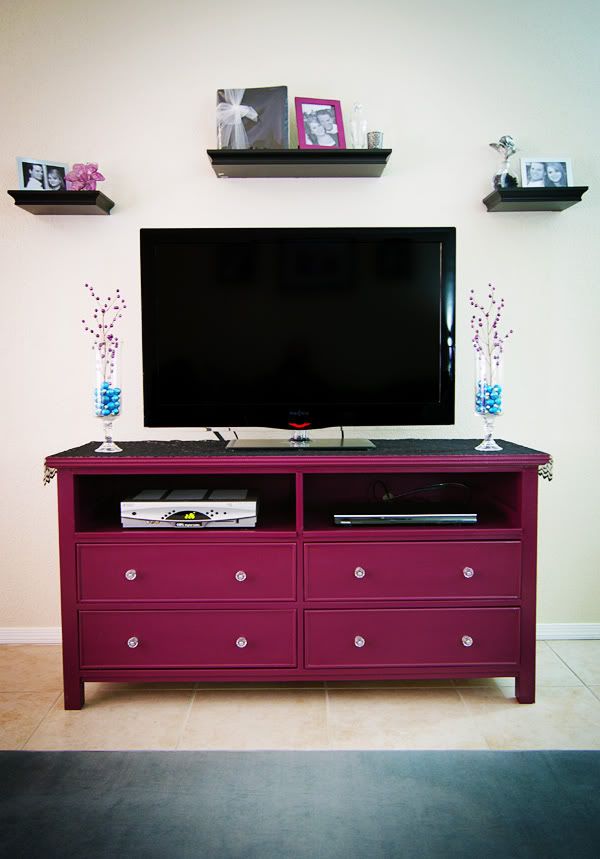 I love how it turned out! It adds such a great pop of color in our living room and serves it's purpose as a TV Stand extremely well.
I have to admit that I got many "curious"…more like judging looks from people when I explained I was going to make this dresser into a purple TV stand. Most reactions were along the lines of….PURPLE?!? But when all was said and done, I thoroughly enjoyed my "I told you so" moment.
One last look at the before and after.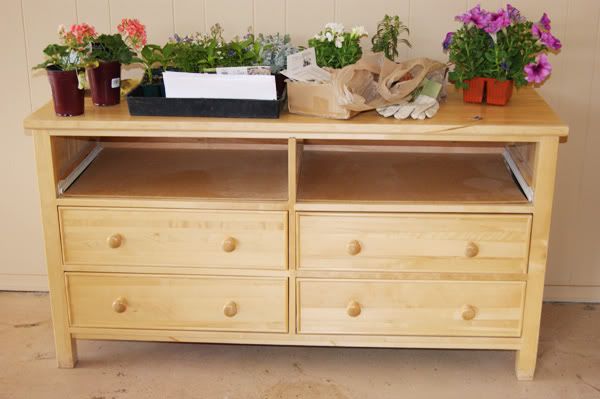 Thanks so much for letting me come and share my project with you! We hope you'll take the time to visit us over at Blissful 55 to see what else we've been up to.