It's almost June and that means it's time to start thinking about spoiling the men in our lives! It can be as much fun for US, preparing our father's day gifts, as it is for them to receive them. Whether the wonderful men in your lives are far or near, we have ideas for every situation and every budget that are sure to please. Here are just 9 of our favorite Father's Day Gift Ideas!
1. We Love Daddy – A 2X4 Makeover!
2X4s can be used for a LOT more than just building a deck! Alison shows us how to transform them into this adorable photo holder – perfect for his desk at work. Hey, you might even have a 2X4 or two around the house right now! What are you waiting for?
2.  Spoil Him with some Ironing and Dry Cleaning!
If you hate ironing as much as I do (and boy, do I hate ironing!) you will love giving this gift as much as your man will love receiving it! Send out his favorite shirts to be professionally dry cleaned and ironed! It's super easy to do and worth the small amount of money it costs. Shelley even shares one more trick that will put this over the top!
Does your father love pistachios? Mine does. It's one of the strongest memories I have of him- sitting in his lazy boy recliner, cracking open those salty little nuggets and tossing the shells into a trash can. Why not create this fun box to store both the pistachios AND the shells? Brilliant!
Giving money as a gift does NOT have to be boring! Learn how to fold some money into these cute "Shirts", the pop these little babies around the house for Dad to find! Maybe he can use the money to buy…a shirt?
If you are looking for something fun for the kids to create for daddy, then you will love this "Green" book. Yes, it's very manly and rustic (perfect for Dad), but it is also teaching your child the three "R"s – Reduce, Reuse, Recycle!
Really? What can I say that the photo doesn't already say? This recipe is great for Father's day – or birthdays, anniversaries, or junk mail day. Really…any day! Like….today….right now…. Seriously I think I need me some ooey, gooey mud pie!
7. Love Notes
Everyone loves surprises, so why not leave a bunch of adorable love notes in places where your husband will find them throughout the day? Dawn shares a LOT of great ideas of where to hide these 🙂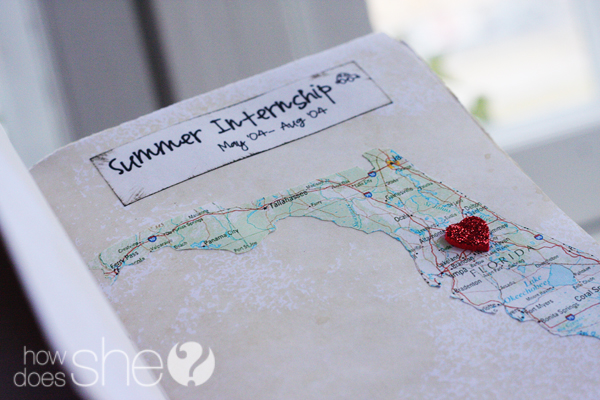 You still have time enough to put together this incredibly meaningful gift. Shelley shares how to create a "Map 'O' Love" – a memory journal filled with maps that hold meaning in your relationship! Paste in maps of where you first met, your first apartment, where you were married – whatever! This will be a keepsake for generations. I LOVE this!
9. Sock Bouquet
And WHAT would father's day be without SOCKS?! This is staple gift at our house and it can get boring. I love Heather's idea of creating a sock bouquet – I mean, socks can be elegant and romantic, right? OF COURSE THEY CAN!
A father's influence can be felt for generations – the work they do is SO important! We want the amazing men in our lives to feel how special they are to us, and we hope that these ideas get you started in the right direction. Let's SPOIL those awesome guys of ours, shall we? Yay for Father's Day!