My daughter has been chomping at the bit to learn how to sew. I think I was a little intimidated (remembering back to how many times I messed up my mom's machine when she taught me so many years ago) so I kept putting it off. It seemed like a much better summer activity and when summer finally rolled around she was more than excited to get started.


This is when the 5 Week Summer Sew School was created. It was never my intention to teach my 8 year-old every function of the machine and every detail of sewing. Instead, I wanted to create an interest and passion for creating – something to get excited about and look forward to, sewing for fun. You'll want to help cut patterns out (perfection in cutting always equates to easier sewing) and pin fabric together, but the rest is completely created by the child. Not only did our 5 Week Summer Sew School create interest, it created confidence.
Lets get started!
Week 1 – Get comfortable with the machine
Every machine runs differently and week 1 is all about getting a feel for it. Nothing fancy – straight lines and stitches. I've seen many people print out lines on paper and have the child sew on paper, but it's not the same. The machine doesn't pull paper the same way it pulls fabric so I would go straight to sewing on fabric. Cut two scraps of fabric, put them together and have your child use the edge of the presser foot as a guide. Have them sew straight stitch after straight stitch. And when their scrap of fabric is full of straight stitches, get more scraps and keep practicing.
Get them comfortable with putting the presser foot down and pulling it up, adjust the speed of the stitch so it's manageable for them. Before long they'll be able to start and stop the machine on their own.

Week 2 – Sewing a marble necklace
This project builds on the few skills built from week one: Straight lines. We modified the tutorial found right here on How Does She. Here are some modifications to make this a week 2 sewing project:
1. Instead of marbles, we used wooden beads (made the necklace much lighter for my little girl)
2. Instead of curved edges, just sew straight lines – if your child is more advanced and can follow lines with the presser foot, you can draw a curved line on the edge and have them sew a curve.
3. Hand sewing can be difficult for children, so we left the opening to put the beads about 3 inches from one of the ends. This allowed my daughter to put the beads in and then top sew – which won't show in the end because that is where the knot sits.
4. We got away with 45″ wide fabric (instead of sewing two pieces together to make 60″) and just put 7 marbles/beads in instead of the recommended 10.


Quick tip: After sewing the necklace and turning it inside out – insert all beads, fold the necklace in half to find the center point and knot the fourth bead in the center. Continue knotting 3 beads on each side of the center to ensure the necklace sits centered.

And because this project takes approximately 20 minutes – there's plenty of time to make necklaces of all colors to match every outfit!
Week 3 – Sewing a pillowcase
It's time to sew more straight lines! By this point your child should be more than comfortable sewing straight lines. Sewing a pillowcase is very easy and what they're familiar with, it's just dealing with more fabric and longer runs of stitches.

We took an existing pillowcase for measurements. Take two pieces of fabric, right sides facing each other and sew two long sides and one short side. On the open end, fold down 1 inch and then fold again an additional 3 inches – this creates a nice cuff on the end of the pillowcase. To make it easier to sew, I recommend pressing it with an iron and then turning it right side out to sew.

I had to supervise this step a little more than the other steps. This was a new experience sewing something in a circle – the fabric needs to be continually adjusted and rotated as it's being sewn – even though it's still a straight stitch. Within a few minutes she got the hang of it just fine.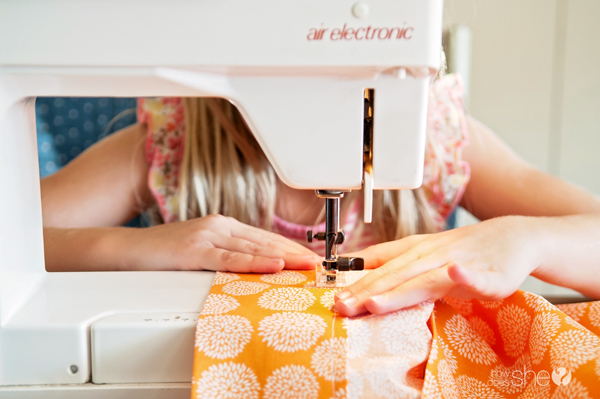 She's now committed to making a pillowcase for each of her brothers!
Week 4 – Sewing a knit headband



It's time to venture away from straight lines! But don't get nervous – by week four, your child has mastered straight lines and is ready for a few simple curves. Get the pattern from How Does She found here. The pattern was created for a baby – so I added an inch and a half to two inches to the pattern (on the fold) to make it fit my 8 year-old. We also used a knit with spandex so it stretched nicely.
We followed the directions from the website and it went together smoothly. The most difficult part was the sharp curve on both ends. To make it a little easier, coach them on how to lift up the presser foot while the needle is still in the fabric to rotate it around just a bit and continue sewing the curve.
Week 5 – Sewing a skirt



This is the final and culminating project of our 5 Week Summer Sew School. My daughter was beyond excited to get to this project. She had picked out the fabric when we purchased the fabric for the pillowcase (which we also used in week four's project) and she couldn't wait to wear a skirt she had sewn (just like the skirts she had seen her cousins sew and wear).
If you have a simple skirt pattern already, perhaps with an elastic waist band – use week 5 to make that pattern. If you don't have a skirt pattern in mind, let me introduce you to my new favorite easy skirt – a knit pencil skirt. Simple Simon and Company gives detailed instructions how to size the pattern here (it's not rocket science – you're making a "sloper" pattern based on waist, hip and length measurements) and detailed instructions on how to make it here. 
It is seriously easy and completely adorable – even an 8 year-old can do it.
Of course I cut out the fabric and pinned when needed but she sewed the rest. Very similar to the pillowcase, they'll be sewing in a continuous circle as they attach the waistband, which won't be a new skill!
I wish I would've recorded her reaction as she put on the skirt for the first time – a skirt she made. She was oozing with happiness and quickly declared the skirt as her first day of school outfit. One proud child!
Within 5 weeks your child will have completed a wide variety of projects and if they're anything like my daughter, they won't want to stop. We can't get back to the fabric store fast enough for her. Aside from the week 1 practice scraps, she wants to make every single project again and again, she's got big plans for the rest of summer!

See more of my adventures and projects at www.lifewithfingerprints.com