DIY Fabric Necklaces
Ok, it's hard for me to sum up my love for these cute little, easy to make DIY Fabric Necklaces in just one short sentence. So, instead, I think I should tell you EVERYTHING that's great about them!
* They're cheap to make
* I can share them with my girls since I can vary the length of the tieback
* I don't have to worry about my toddler choking on the beads
* I can make them out of my scrap fabrics that otherwise would just go to waste
* They're fast to make
* I can add a yoyo clip to them to change up the look
* I can give them as gifts to babies, toddlers, teens, adults!
* They can be used as a baby teether and then washed
I could go on and on about my love for them but instead I want to show you how to make your own so you can fall in love too!
What you'll need:
3″x60″ strip of light/medium weight fabric (you can sew together 2 pieces of fabric to make 60″)
bag of marbles (you can find them at any dollar store – usually in a bag of 50 for $1)
needle and coordinating thread
sewing machine
You'll want to start off by folding your strip of fabric in half, right sides together. Your strip will now be approximately 1.5″X60″. It would be a great idea to iron it down (but I always skip that step!)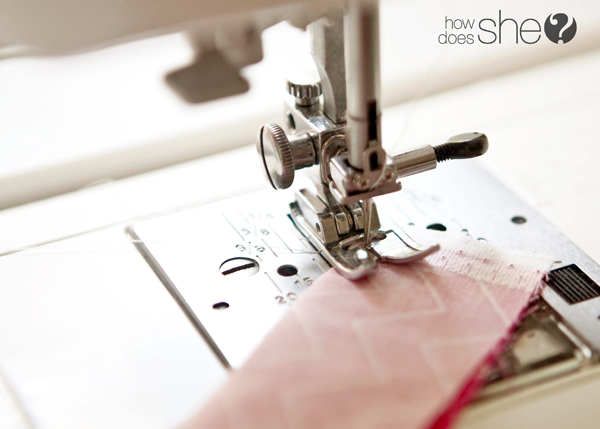 Start with your needle at the folded side of your fabric and gradually sew to open side. This will create a professional looking tie for your necklace.
Sew all the way down your fabric, leaving a 1/4″ seem allowance, until you get about 6″ from the end. Simply backstitch then lift  your presser foot – leaving a 2-3″ gap. Backstitch again and finish your seam using the same method as you did at first – gradually sew to the folded side of your fabric.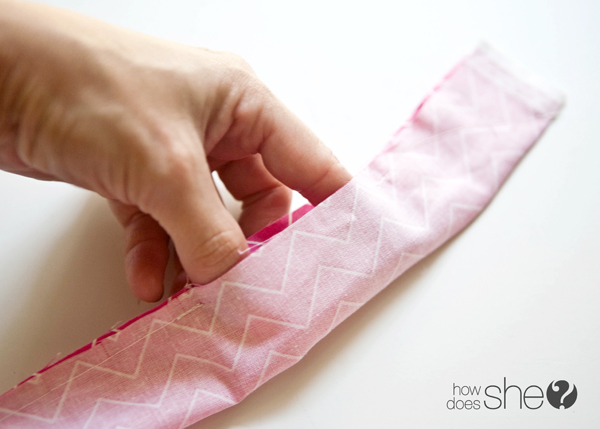 Cut the extra fabric off of each end. This will help the ends not look so bunchy when it's turned right side out.
Turn your strip right side out, using the 2-3″ gap we left open.  This is always the most time consuming part of the process.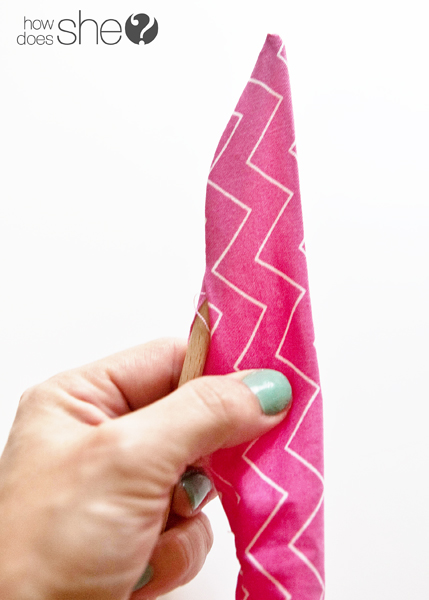 I always use whatever I have handy to help poke out the end seams. Then, you will want to iron your strip (even us non-ironers need to actually do it this time).
Now comes the FUN part! You will want to make your first knot in your strip, leaving a 10-12″ tail. Make sure that your opening is on the opposite end.
Slide in one marble.
And I like to give it a little twist before I make my next knot. It gives me a tighter knot.
Repeat sliding in marbles and tying knots. You will fit around 10-12 marbles in your necklace. Make sure when you get close to being done that you make sure that your necklace tails are about the same length.
You will need to sew the open gap. Grab your needle and coordinating thread and stitch it closed.
You're done! Sit back and admire your handiwork. Or better yet, try it on!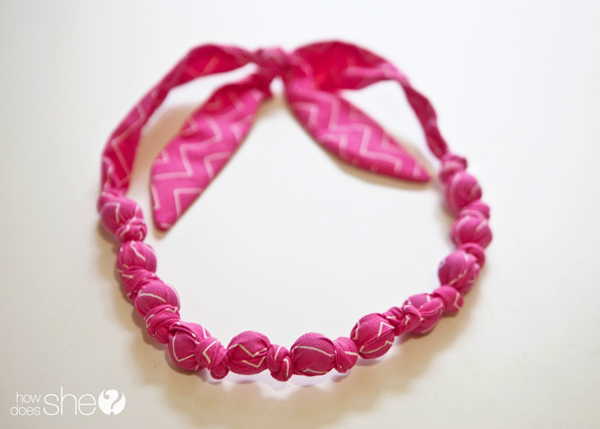 Want a matching bracelet? Change your measurement of your strip to 3″X30″ and its the perfect size to make your own coordinating bracelet! The possibilities are endless!