It's like sprinkles have fallen from the heavens and bedazzled donuts, popcorn, and cakes, and it's my duty to make sure you have the very best of the best when it comes to yummy things to put in your mouth!  I take that job very seriously.  Enough babbling…onto the important stuff, the best sprinkle treats!
17 of the Very Best Sprinkle Treats!
1.Sprinkled sugar cookies.  Like a birthday party in your mouth!
2. White chocolate sprinkle bowls for ice cream and cake
3. Funfetti frosted sugar cookie bars– I'll have them for breakfast, lunch, and dinner please!
4. I'll take cinnamon rolls any which way, but these cake batter cinnamon rolls with sprinkles might just be at the top of my list.
5. How about Oreo sprinkle pops for a party or just for fun!
6. Circus animal cookies and sprinkles ice cream
7. And it's pretty much a rule of rice crispy treats to add sprinkles to them!
8. Delicious funfetti cake batter popcorn to satisfy your sweet and salty craving.
9. These would make Mondays much, much better…funfetti gooey cake bars.
10. This picture alone makes me happy.  I'm sure some circus animal cookie truffles would make me even happier.
11. My kids would have to be extra good to get sprinkle sandwiches for lunch.
12.  Cake batter pretzel rods would look so pretty at a party.
13. This picture is simply gorgeous, and my six-year-old is already begging for this triple stack donut cake for her birthday.
14. This sprinkle cake is amazing.  One year older sounds really great when you've got a cake like this.
15. Stop for just a sec…cake batter sprinkle dip?!  My inner child is jumping for joy right now.
16. I am a puppy chow addict, and I know I'd never be able to stop once I started eating  this sugar cookie puppy chow.
17. And to cap off this festivity of sprinkles…vanilla frosted funfetti baked donuts.  I'll take a dozen!
I made the mistake of letting my kids see this post and we now have dessert lined up for…17 days!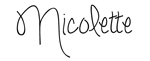 You might also like: