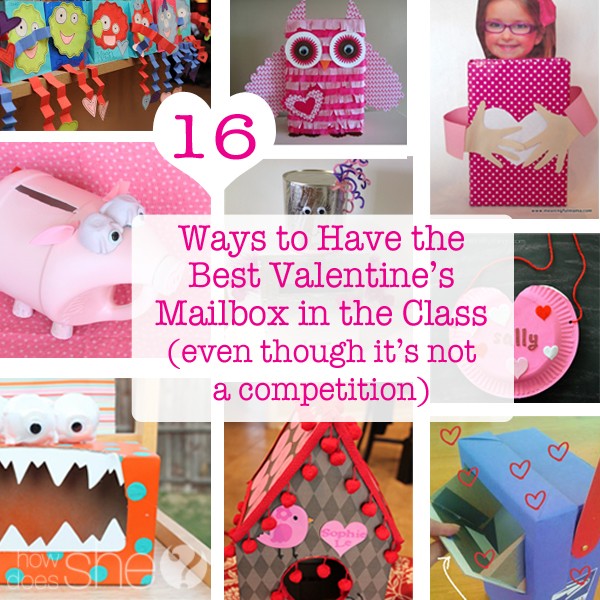 Valentine's Mailbox Holder
 It's almost that time of year.  The kids have their cards ready to go, but what about their Valentine's mailbox holder?  Here's 16 ways to have a fabulous holder (even though we know it's not a competition)!
1.   Make a monster that no little hands will be able to resist!
2.  The oatmeal containers are always my favorite for mailboxes!  Super easy to decorate!
3.  What an adorable owl!  This is made from a cereal box – great idea! Find it here.
4. What a darling birdhouse! All made from cardboard boxes and a little scrapbook paper!
5. This Lego Brick Inspired Valentine Box would be a hit at our house!
6 – 7. Minion and Minecraft Creeper mailboxes.  You might be surprised what they're made out of!
8. Robot made from box and formula can. Cute!
 9. Such a great idea – make these monsters out of gift bags!
10.  How about this for creative?  A cereal box with the child's face poking over the top.  Love it!
11. This paint bucket is super fun for the kids to decorate!
12. I remember making these paper plate holders as a kid.  They are super cute!
13. Ahoy Matey, this Pirate Ship makes a pretty cool Valentines box, don't you think?
14. Got milk jugs?  What a great way to recycle this milk jugs, by making a Valentine's mailbox!
15. Made with a shoebox, this mailbox is perfect for the kids who don't like all the fluffy pink hearts!
16. This Pretty Little Pig would be a hit at school!
The only hard part now is trying to decide which awesome mailbox holder to make!  Happy Valentine's Day!