It's true what they say…"it's the LITTLE things that matter most!" Every now and then I write little love notes to my husband and my kiddos to tell them how amazing I think they are or a simple "thanks". I put them in inconspicuous places. You know…like their sock drawer, pillow, or in a shoe.  It's a fun way to let them know that I am thinking about them and that they are loved!
So, February is right around the corner…and with it comes Valentines Day.  Ahhhhh a day of giving and receiving LOVE NOTES. I admit it…I'm a sucker for sappy love notes. A few years ago, when I first heard about the "14 Days of Love Notes" I jumped right on board…and I have been doing it ever since!! It's simple…February 1-14  you shower your  husband / significant other / sugar pie  with valentines. Each day you write a little note and then hide it somewhere that you are certain your loved one will see it. Really it just takes some planning. It's a play on words too, so you can get pretty creative and have lots of fun!!
Here are some ideas:
Leave a little love on his favorite breakfast food.  "I'm CUCKOO for you" or "You CRACK me up"
Hopefully your sweetheart brushes his teeth twice a day…so the chances of him finding this valentine are pretty good! This note could say "You make me SMILE!" or "I'm so glad that smiling is the SECOND BEST thing that you do with your lips!"
When he mentions he plans to work-out, hurry and sneak a note in his running shoes. Download a new playlist onto his ipod too!
Buy a pack of gum and on the note say "I'm STUCK on you" or "Thanks for the EXTRA fantabulous date last night!"
"DOUGH-NUT make you happy that you are loved?" Who doesn't love a doughnut every once in a while…especially if there's chocolate on it!  Okay, so maybe I am just hoping my Valentine will share this one with me! 🙂
There are so many great products out there. Find something that you can use to play on words. This little note may or may not say something playfully suggestive!
Tie a valentine to his rear view mirror. "I've got my eye on you" or "Drive safe…you are precious cargo"
Hide a note in his lunch. "ORANGE" you glad that we have each other" or "ORANGE you happy that I snuck an orange into your lunch…you can thank me later"
Write a note in the shower or on the bathroom mirror. Check out more "shower love note" ideas here.
"I'm NUTS about you!"
Sneak a little note in his gear if he is heading out to play for the day.
Mark his spot in a book he is reading
Spoil him with his favorite treat. Add a note that tells a few "RIESEN's" that you love him.
Surprise him with whip cream…to go with his YUMMY Valentines Day breakfast.  Later on that night, after the kids go to bed, you could always get the whip cream out of the fridge…you know, for dessert 😉 …wink, wink!
For some great Valentines Day breakfast ideas click here, here, or here.
"Love be simple, love be true…
The love you give will come back to you"  -Anonymous
Happy love note writing!!  🙂
(We're linking up to these parties!)
The best way to keep the romance alive is to date your significant other regularly – but it can get expensive! We're sharing 100 date night ideas that cost under $30!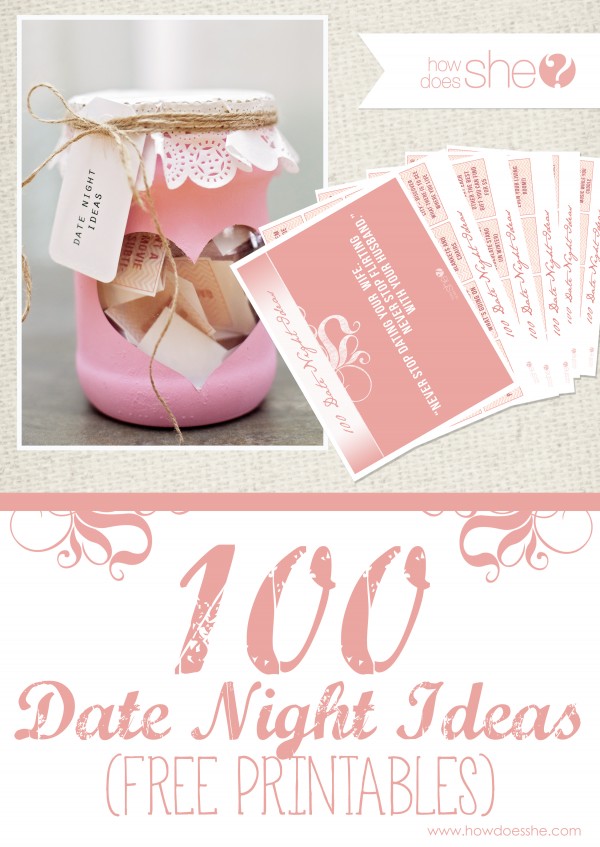 Or check out these free valentine's day printables to make easy work of sending love notes: