"Never stop dating your wife. Never stop flirting with your husband."
These are great words of advice and are sure to help keep a marriage (or any relationship) fresh and new. I don't know about you, but for me – living these words can get difficult when the dating creativity gets in a rut. I can't count how many times we resort to "dinner and a movie" for date night (if we even end up on a date at all.) Now, I'm not saying that a dinner out and movie isn't fabulous – I love me some theater popcorn and a meal that I don't have to cook. But movies are getting expensive, and the budget doesn't always allow for the cost.
What to do?
I have come up with just 100 (yeah, people – my creativity gave out after that) date night ideas that cost UNDER $30, with many of them absolutely costing NOTHING. Just think – FREE date nights?! Yes, we have to factor in paying for a sitter – though if you're like me, and have teenagers at home who can watch the younger siblings, it's even better. I have included ideas, as well, that don't even involve leaving the house – so the sitter can sit somewhere else!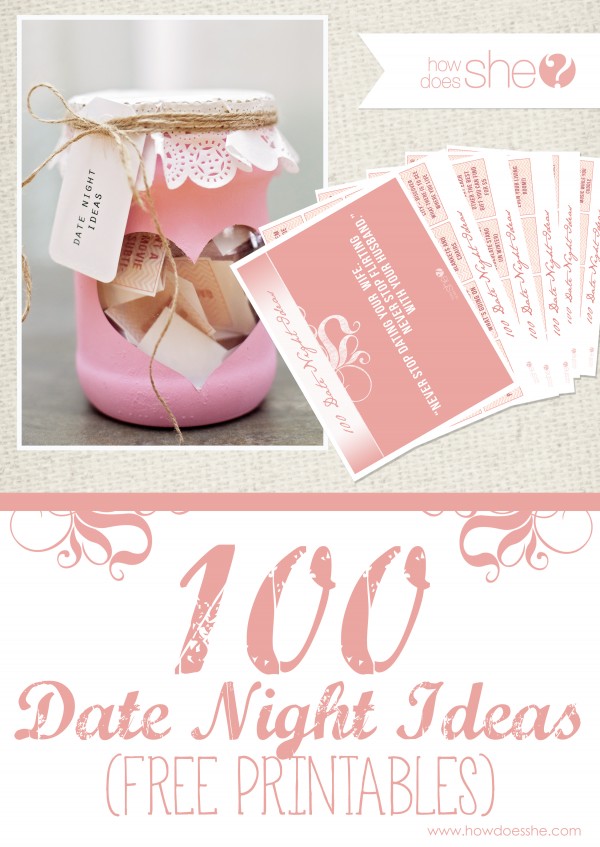 Just think – there are almost enough ideas in here for TWO YEARS worth of weekly date night ideas. HURRAH!
The printables come designed to cut out, or you can hole punch them and stick them in a binder for reference. I even included several blank cards that you and you sweetie can fill out with your favorite activities – BONUS!
What I did for mine was take an old pickle jar, slap a heart-shaped piece of vinyl on it, then paint it pink. When the paint was dry, I peeled off the vinyl heart and VOILA! A cute jar with a heart-shaped window. I glued on a paper doily to the lid to fancy it up, printed off a little tag and attached it with some twine, and I've got a cute jar to hold our date night ideas. Each week, we can simply pull one out – and go on an adventure together!

There are ideas for everyone.
Are you an adventurous couple? Why not try #16 – Act like a tourist in your own city, and discover the interesting places a tourist would normally go to see. Or #64 – Drop a pin in a local map and drive there (within a few miles from your home.)
Are you an artistic couple? Try #62 – Check out an art exhibition by a local artist. Or #37 – Paint a portrait of each other on Dollar Store canvases. (Actually that one might be more fun the LESS artistic you are – ha ha.)
Are you a romantic couple? Try #19 – Build a fort and have a make-out session inside. Or #13 – Google how to give a massage and practice on each other.
Are you foodies? Try #2 – Try a new recipe together. Or #87 – Try out a new food truck. Order the most unique item on the menu.
Some of my personal favorites are:
#85 – Go to the local library and pick out a book, CD, or movie that describes your partner. See what the other chose and watch/read/listen together.
#93 – Create your own bubble bath in a kiddie pool and enjoy your make-shift hot tub!
#14 – Rent a foreign movie without subtitles and try to guess what's going on
#31 – Set up a lemonade stand in the summer, or a Hot Chocolate stand in the winter – donate the money to a shelter.
#25 – Cheer on a local amateur sports team in your area
#97 – Go to a dollar store. Leave dollar bills around the store and stay to watch people discover them
#38 – Read through old journals from when you were teenagers, or when you first got together.
…and there are SO MANY MORE!
The very best part about these printables are – they are FREE! Yep – we just love you that much.
These printables are free for personal use only, and come as a PDF file (so you will need a pdf reader to view.) They can be printed on your home computer, or you can send them for print to an office supply store or other commercial printer. Whatever is easiest 🙂
I hope you enjoy these ideas and use them to keep your relationship fun and exciting. We all need a little inspiration in that area, now and again, am I right?
Happy dating and happy flirting!