13 Great Sports Themed Treats Your Little Athletes will Love
Weather you are planning a Sports themed party or want something fun to take for the after game snack here is a list of 13 Great Sports Themed Treats Your Little Athletes will Love. There is something for the Basketball fans and the Football lovers plus many more.
2. Have a Healthy after Game snack with this cute Baseball Fruit Kabob.
3. The entire team will think these Cutie Basketball treats are great.
4. Your little Slugger will love these Baseball Donuts.
5. How fun is this Soccer Popcorn? (AKA Cookies and Cream)
6. These Basketball Oreos are so simple to make and are absolutely Darling.
8. We can't leave out our little Race fans. How cute and simple are these Twinkie Cars?
10. Turn an ordinary Fruit Cup into a cute Basketball with just a permanent marker.
12. Here is a super easy way to make some awesome Soccer Cupcakes.
13. These Football Juice Boxes are simple yet so extremely darling.
Which sport does your little Athlete play? Have fun making snacks they will love.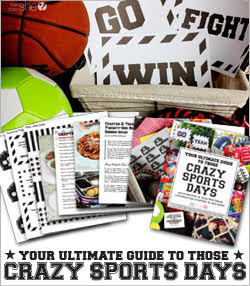 Disclosure: This post may contain affiliate links. This means, we may receive a small commission if you choose to purchase something from a link we post (including links to amazon.com because we are a participant in the Amazon Services LLC Associates Program. Don't worry, it won't cost you anything. This small percentage just helps us keep the power on and the Diet Coke stocked. We appreciate your support!