It's summer vacation time and I imagine that Disneyland is on many calendars this summer. It is one of our favorite vacations of all time. There is only one word to describe it: MAGICAL! A Disneyland vacation may seem out of reach for some families, but there are definitely ways you can save while you're on your vacation. Food and souvenirs can really add up if you're not careful. Following these easy tips will help you keep your Disneyland vacation spending in check and hopefully, make the dream a little more realistic for you and your family.
1. Bring your own snacks. Disneyland allows you to bring in small coolers. Feel free to bring drinks, snacks, or even a picnic lunch. Just be sure not to bring any glass containers. We especially love these coolers. Also, you can even order food and have it delivered to your room via Amazon! If you have Amazon Prime, you can get it there in 2 days. You can try Prime for FREE HERE.
2. Stay at a hotel that offers free breakfast. Breakfast really is the most important meal of the day– especially a day of walking and riding attractions. If you can stay at a hotel that offers a full breakfast, you'll be good to go.
3. Buy souvenirs before you go. You'll save a ton of money if you can purchase t-shirts, character pajamas, stuffed animals, etc. before you go from Target, Walmart, etc. Hide your treasures from your kids before you go, and unpack them when you arrive for a fun surprise. You could even order them online and have them there before your trip! We found lots of lanyards, autograph books, etc HERE for pennies in comparison to the park shops.
4. If you have to shop while you're there, don't pay full price. You can always hit the Target or souvenir shops near the Disneyland Resort. Or, there's a big Disney Outlet about 30 minutes away from Disneyland if you want to shop all Disney at a big discount.
5. Use coupons. You can save on local restaurants and shops by couponing. If you're traveling in advance, you can buy an Orange County Entertainment Book to use on your vacation. Check your hotel for local coupons which are oftentimes found in in-room magazines. Also, consider using sources like Groupon. You can often find good deals on local dining and activities.
6. Split meals. When you're inside Disneyland, time is money. You don't want to spend a ton of time leaving the park to eat and you don't want every meal to be a packed lunch. Part of the fun of vacation is eating in the park, but you don't have to spend a lot of money. Most restaurants have large enough portions to share and quick service restaurants are the cheapest. As a word of advice, skip the kids meals which tend to cost almost as much as an adult meal.
7. Get free souvenirs. Keep your brightly colored maps and park tickets as souvenirs. When you get home you can journal them, or make a fun picture frame or craft. You can also get a free map of the Jungle Cruise when you ask a Cast Member as you're getting off the ride. For the most fun, make your own free souvenir at the Animation Academy. You'll learn how to draw a Disney character from a real Disney animator and can keep your creation.
8. Sign-up for e-clubs before you go. Downtown Disney has chains that offer member perks. Jamba Juice, Starbucks and Wetzels Pretzels will oftentimes send coupons and deals via text or email. Earl of Sandwich will give all new e-club members a free sandwich.
9. Get free ice water and snacks. Any quick service restaurant inside Disneyland or California Adventure will give you a free glass of ice water with or without a purchase on request. You can also get a free sample of sourdough bread at the Boudin Bakery Tour and a free chocolate square at Ghirardelli's Chocolate Shoppe, both located in the Pacific Wharf area of California Adventure.
10. Check your receipts. Many times Disney will print coupons for merchandise right on a receipt. Any time you purchase a meal, snack or merchandise, check the bottom of your receipt for a special offer. Every little bit helps!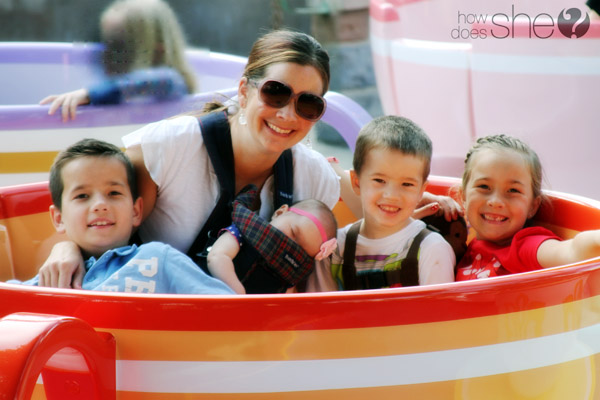 I hope these 10 tips help you save a little bit on your next Disneyland vacation. Of course saving money on Disneyland starts before you get there, and that's one reason we're excited to announce that we have partnered with Get Away Today. They are the low-price leader for Disneyland vacations. Over the last 25 years, they've worked directly with the hotels and attractions near Disneyland. They are able tonegotiate things like free breakfast, free parking, free night specials, and reduced rates at certain hotels– that no one else gets. In addition to that, they have the lowest park ticket prices, award-winning customer service and their packages come with all sorts of fun gifts. They always have specials going on and save families $200 – $400 per package.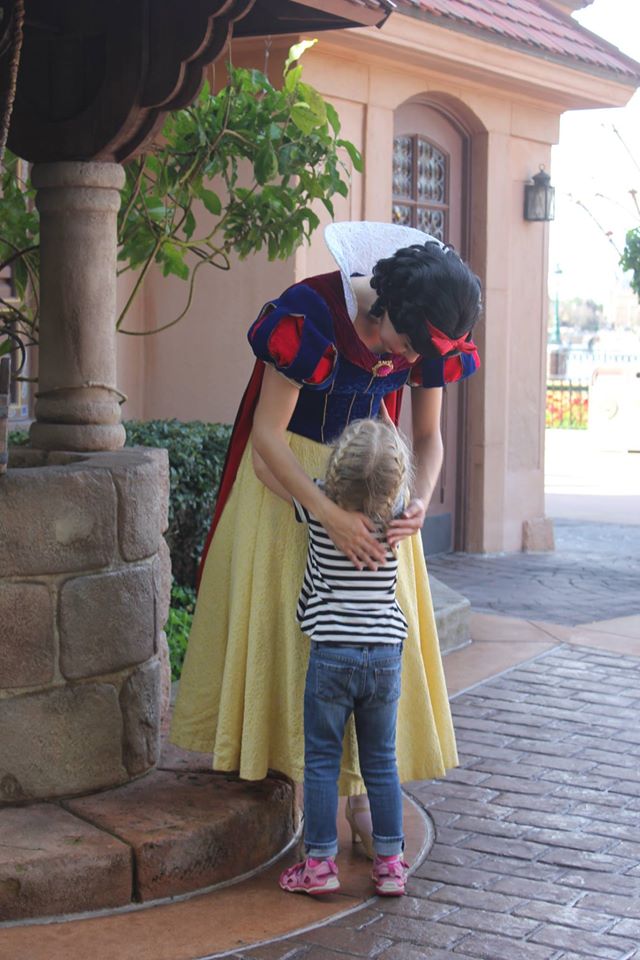 RIGHT NOW, for a limited time, How Does She readers can save an extra $10 off when you use promo code:
"HowDoesShe"
on any 2-night or longer package.
You can book online
HERE
or call 855-GET-AWAY.
Do you have any other money saving tips for Disneyland (or World!)? We'd love to hear! Please comment below!
NOTE: To use code, once you select everything you want and you continue to the cart screen (right before checkout – an overview of everything you have selected), at the very bottom there will be text that says "Add Promo Code/Discount Code". Click that and the box to enter their promo code box will appear.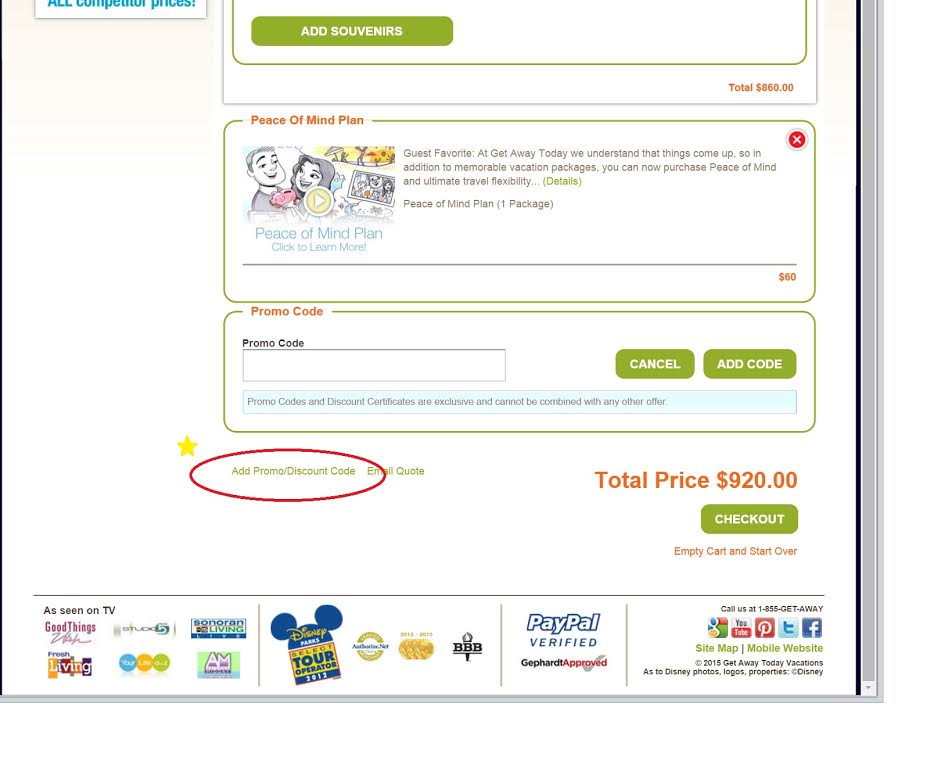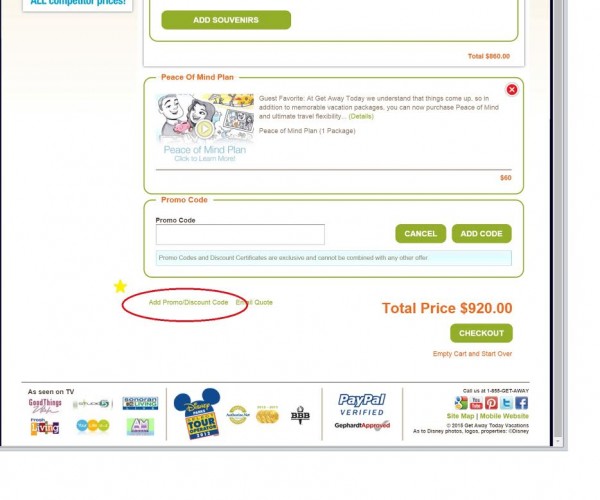 See more travel tips for families HERE.