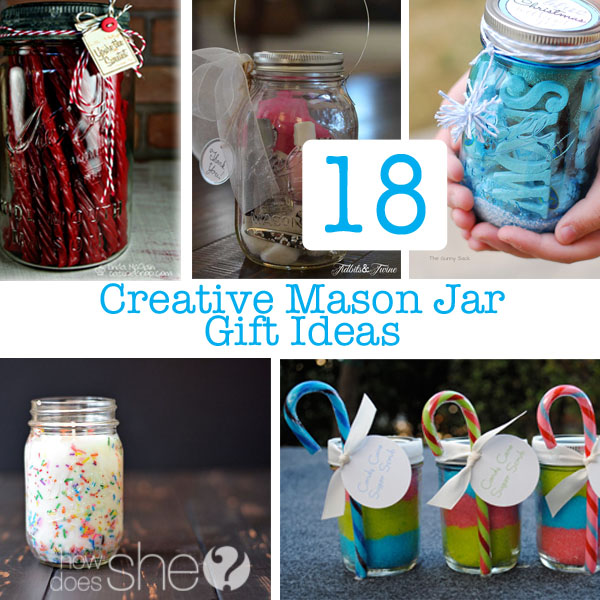 Mason Jar Gift Ideas
One of my weaknesses is a beautiful Mason Jar.  They are so adorable and versatile!  I love that I have cupboards full of them too, just waiting to be used for the next great gift!  Here's some unique gift ideas to use up the jars in your cupboards and add an extra flair to your gifts! Enjoy these 18 Mason Jar Gift Ideas.
1.  Spa and Pampering in a Jar.  Your girlfriends are going to love this gift!
2. Loving this Santa Claus jar.  Includes free gift tag printable!
3.  Blue Christmas Without You jar. Meant for those who you will not be able to see at Christmas.
Love the idea of including a flash drive for your holiday video greeting!
4.  I love the way they created this Hot Chocolate Mix.  It looks beautiful!
5.  DIY Playdough Mix would be a hit with the neighbor kids!
 6. The teens will love the Sugar Scrub Jars! Love the bright colors!
7.  Funfetti Candles.  Cute enough to eat!  (but don't!)
8.  Thankful for Sweet Friends Like You!  Thanksgiving and Christmas Editions.  Love these! Includes free printable!
9.  Winter Survival Kit – a welcome gift for the cold!
10.  This Banana Bread Mix Gift Jar is a great alternative to cookies and treats. Gives great step by step directions!
11.  Apple with Caramel Cream Cheese Dip would definitely be a delicious way to use a mason jar!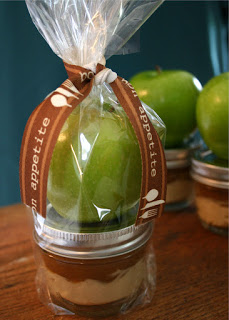 12.  Loving this Bean Soup Mix!  It looks delicious!
13.  A Mason Jar Manicure Kit  – turned into a candle holder is brilliant!  I think I need this for me!
 14.  You're the Sweetest!  Perfect at Christmas time or really anytime!  The teenagers would love this one!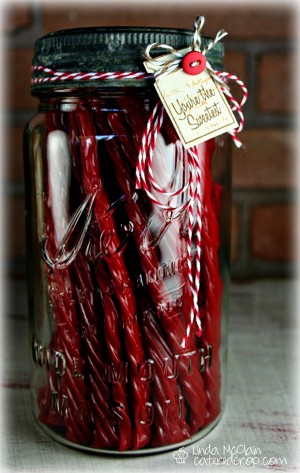 15.  Great way to give a Gift Card- hidden in a jar!  Love it!
16.  Teachers love jars too! Download this adorable teacher gift tag and fill up those jars today!
17.  A Jar of Sunshine will bring cheer to a loved one all year long!  Even though this is a regular jar it can easily be adapted to a mason jar!  And you've got to check out what is wrapped around each candy!  LOVE this idea!
18.  If Pretzels are more your thing, this Snowman Mason Jar Gift is the way to go!
You'll never go wrong if you use a great mason jar to gift your presents this year!  What's your favorite thing to gift in a mason jar?