"Keep your face always toward the sunshine – and shadows will fall behind you." – Walt Whitman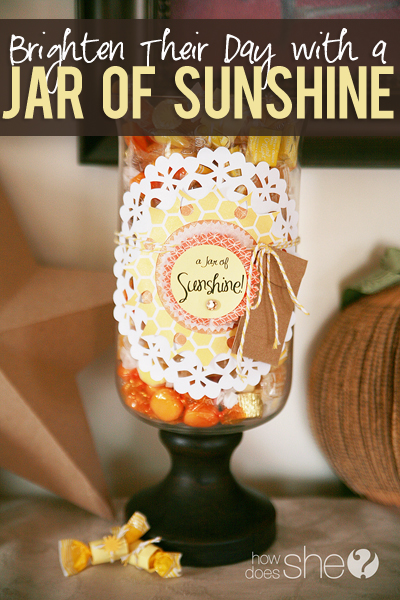 A Jar of Sunshine Makes a Great Mother's Day Gift!
Each year, as Mother's Day draws closer, my thoughts turn to my mom (of course) and how much I love her. I start thinking about gift ideas that would in some way convey the gratitude I feel for her, and be genuinely meaningful. In the past, I have done photo books, calendars, and just plain letters – but this year I wanted to create a gift that would be fun to receive, but also just keep giving, especially since my mother lives 14 hours away now. I wanted my gift to be a sort of "ray of sunshine" to remind her that I love her and am thinking about her – every day. If only I could bottle sunshine and send it her way. BUT, I can do the next best thing…I can give her a jar of sunshine from my heart!

So, here is the idea…prepare a jar of happy. yellow candies with little notes of love and gratitude attached, then gift that to my mom so she can open a little "ray of sunshine" whenever she is having a gray day. This is an idea that is great to do as a family, and comes together rather quickly! Here is a look at what I did so you can do something similar, too! Here is a peek: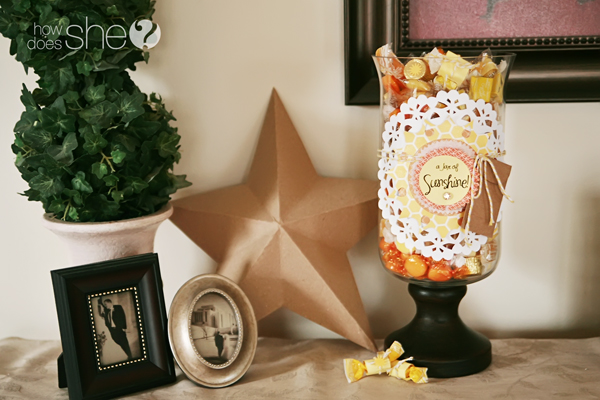 Okay, here is what you'll need:
Jar of sunshine
A Jar. This can be as fancy or as simple as you'd like. Remember, you can dress up ANY old jar and make it happy and sunshiney! Use an old pickle jar, a mason jar, or a fancy hurricane jar! The type and size is up to you. I wanted the jar to be as much of a gift as the treats inside of it, so I went with the classy Hurricane jar from Walmart.
Candy. Purchase some yellow, sunshine-y candies – enough to fill your jar (and a little extra for you to munch on as you create…we all need a little sweet sunshine in our lives!)
Yellow Paper. This is to write your little notes on. I recommend using regular weight printer paper because it is much easier to wrap around the candies, but feel free to use any scrap yellow paper you have lying around.
Twine or String. This is to tie the little notes to the candies. You could also just use tape if that is easier – this can be as intricate or as simple as you want it to be. For me? Yellow baker's twine was the perfect touch!
A Pen. Did I need to tell you this part? This is what you will write your notes with. Yeah, I think you probably could have figured that one out on your own 🙂
Let's get started! First thing is first – pick out your jar. Now, like I said, this can be large, small, or in between – whatever you like. I went larger because I wanted to fill the jar with 365 candies (one for every day of the year). Did I put a note on EACH candy? Um…no. But, I put notes on a bunch of them randomly. She'll get lots of love from this hurricane jar!
Next, purchase candy.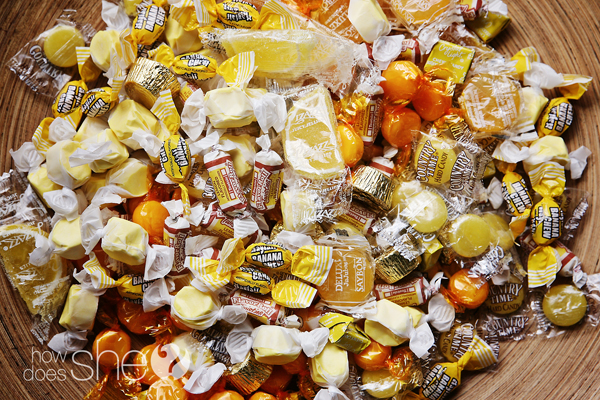 I wanted the candy to match with my "sunshine" theme, so I went with yellows. You will want to stick with wrapped candies for this, especially if you are wrapping notes around them. Besides, we need to work off the calories we will be eating by UNwrapping the candy first (that's my logic…roll with it). My husband had the brainstorm to go to Bulk Barn to find some wrapped yellow candy and we struck GOLD (or…yellow….or well, you get it). There was a ton of selection, and since I wanted a candy for each day of the year, it was important to me to include a variety.
Pour the candies out into a large bowl and mix well with your hands. This probably wasn't necessary, but it was a lot of fun 🙂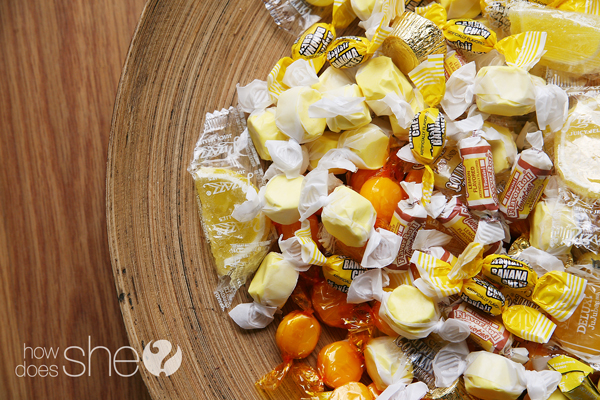 Pour the candy into the jar – just to be sure it fits. If a few fall out the top, well, they are fair game and don't really deserve to be included in the jar. They should be eaten immediately 🙂
Next you will want to cut your yellow paper into strips. I found that about 1″ by about 3.5″ was the perfect size for wrapping most candies. Decide how many notes you want to include in the jar of sunshine, then start cutting away!
The hard part – deciding what to write. This can be a variety of things, and can come from anyone in your family. I advocate enlisting the kids, your spouse, and even your mom's siblings, your siblings, your nieces and nephews…everyone! Or, it can just be from you. This is YOUR gift so go with what feels right for you. As for what to write, here are a few ideas:
Write:
things you are grateful to your mom for
happy memories you have of her
things she has taught you
what you love most about her
inspirational quotes about motherhood (one of my favorite resources for quotes is The Quote Garden)
uplifting scriptures or proverbs
pictures your children have drawn
cute or funny jokes or quips that you know your mom would like
The list can go on. No one knows your mom better than you, so go with what you think would be a ray of sunshine to her. For my mom, I think little notes of gratitude will brighten her day. She has done so much for us, and continues to do so even from a distance! I began writing things that came to my mind and it was a very uplifting and emotional experience even for me 🙂
Wrap it Up!
It's time to take those little notes and start wrapping and tying them around the candies. I once again advocate enlisting the kids help in this part. You don't have to wrap each candy in a note – just do some of them. It will be fun for her to reach into her jar of sunshine for a treat, and pick out a random note. Isn't this a fun idea? I also used a craft punch and some scrap yellow cardstock to punch out some sunshine shapes to add. Variations could include sunshine stickers, little happy faces, flowers, or bling! Be creative!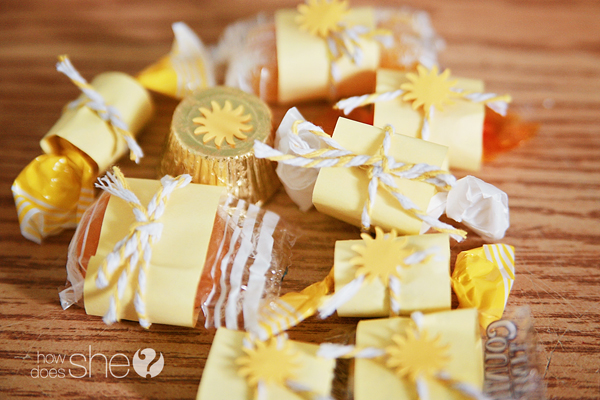 Fill the jar with your bits of "sunshine" and feel free to embellish the jar as much or as little as you'd like. I added a paper doily, a sunshine shape cut from my silhouette machine, an orange paper flower, and some other small embellishments, then tied it on with more of the yellow baker's twine. Then, I printed off a title and used a 2″ circle punch to punch it out and include in the center of the sunshine. I also included a small envelope to hold a short note explaining the gift. Get as creative as you want to with this! A simple note tied around with string would be just as nice! Think: vinyl words, painting the jar, inserting a photograph into the jar…let the imagination roll!
I am sure that your mom (or grandmother, aunt, daughter, friend, mother-in-law…etc) will enjoy receiving their "Jar of Sunshine" and it will be a meaningful gift that will continue to give throughout the year.
Feel free to share your ideas and what YOU might add in your "jar of sunshine". This gift idea will also work for a graduate, a birthday, an anniversary, a teacher appreciation gift…the list goes on. Everyone needs a small ray of sunshine every now and then, don't they? Why not let that ray of sunshine be you?
Of course our chickabug has provide the printable file to help you create your own jar of sunshine. You can download it here.
Have a happy, sunshine-y day!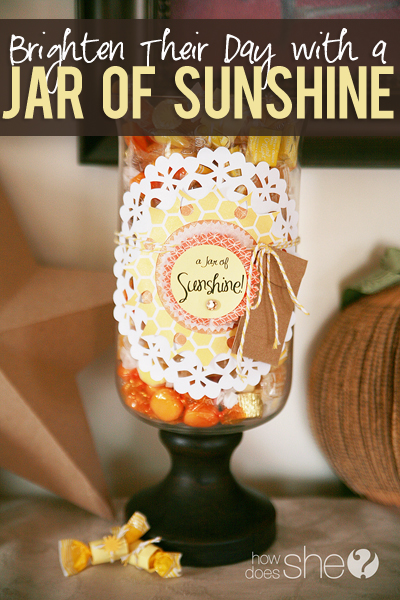 {We're linking up to these great parties! Come join along!}