*This is a sponsored post on behalf of Børn Shoes, but all product opinions are my own.  Basically, Børn Shoes are ridiculously comfortable and gorgeous!*

—
 Remember last month when I confessed my love for Børn Shoes?  Well, obviously I just couldn't get enough of a good thing because today I'm back featuring another drool-worthy pair of Børn Women's Boots.  What makes them so special?  Glad you asked… COMFORT!
My little Miss River and I went up to Washington state to visit family for a few days.  Being the forgetful person that I am, I only packed one pair of shoes for our week long trip.  Ugh!  I was nervous because I don't have the best luck with shoes being comfortable, ESPECIALLY brand new shoes.  I had no other choice but to put them to the test.  From trekking in the Washington rain and mud, to chasing little ones around the park, I am thrilled to report these boots passed with flying colors.  If a shoe can't handle my mom lifestyle, they will simply be added to my quickly growing donation pile.  I will most definitely be keeping these beauties!
This particular western-inspired style is the Cross Boot. They are oiled suede with leather lining and they seriously are perfection!
The distressed leather and fringe details make them trendy and stylish, while not sacrificing on COMFORT!  They are the perfect Fall Boots for my Autumn wardrobe, but I don't doubt that I will be wearing them all year long!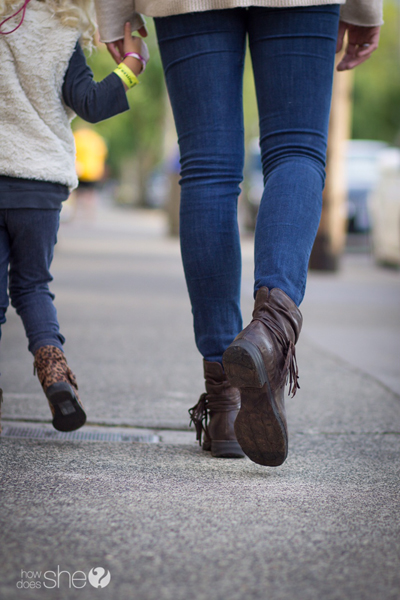 It's no secret that I love fashion and style, but ultimately it is comfort that makes this momma happy while spending quality time with my family.  Luckily, with Børn, I get both!

Go ahead,… take a peek at the full collection of Børn Women's Boots. Good luck trying to decide on just one.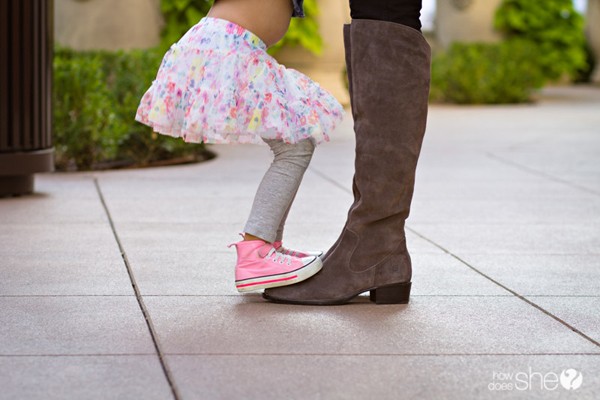 You can check out my previous Børn Shoes Fashion post, featuring two other of my favorite boots (shown above), here.
Happy Fall Ya'll!
 —
My talented sister, Teryn Photography, was generous enough to capture these beautiful moments between my daughter and I.
For outfit details check out this post here!
—
*This is a sponsored post in behalf of Børn Shoes, but all product opinions are my own.  Basically, Børn Shoes are ridiculously comfortable and gorgeous!*