Spring is definitely in the air! I LOVE it when the bleak winter skies turn blue and Spring colors start popping up everywhere. It's finally time to put away winter. Bring on the SUNSHINE!!
I saw a wreath similar to this in a boutique…it called to me from across the store and I knew I had to make one for my front door.
Here is what I used:
Large grapevine wreath
Several bunches of green foliage picks
Approximately  30 fake lemons
Sticks (for attaching lemons to the wreath)
Glue gun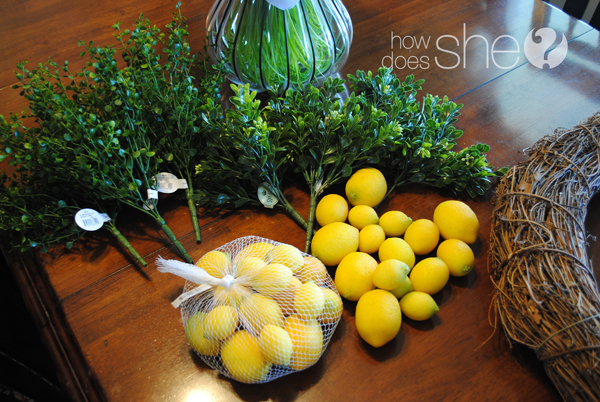 Make a hole in each lemon. I found that it was easiest with a drill, be careful though…don't go all the way to the other side..just one hole…in each lemon!
Take your glue gun and put some glue into the hole in your lemon. I put my leftover shish-ka-bob sticks to good use. I cut them in half and inserted them into my lemons…like this:
and voila…you have lemons on  a stick!
Next, take your bunches of greenery and cut them from the base of the pick. This should break them down into several branches.
You are going to stagger the branches all around the entire wreath until you've achieved a full even look. Start on one end and try to be consistent in your spacing of the branches. All of the greenery should be facing the same direction.  DO NOT glue them in place until you have spaced everything evenly.
When the greenery is spread out evenly, break out your glue gun and glue them into place. Make sure to insert the greenery into the branches of the wreath to make sure they will stay put!
Now for the fun part! Take three lemons and put them on your wreath. Place them in a triangle pattern like this:
From this step forward you will be breaking down the space in between each of the lemons. Grab three more lemons and place one in between each of the first set of lemons until you have six lemons on the wreath. After you have your basic six lemons on your wreath, you can stagger the rest into place. When they are all where you want them, glue them on!
There you have it! A bright and fresh wreath that welcomes sunshine…and all of your guests!! 🙂
Happy Spring!!