A few months ago, Alison called me and was so excited about some things she learned in a class about organizing and creating peace in your home.  I rushed over to hear all the details and was intrigued so I called the teacher and asked her to share her information with all of you!  She agreed.
Let me introduce Julie Meyer.
She has done a lot of research on the subject of keeping a clean and organized home (has even opened her own business centered around cleaning) and she is sharing three ways to keep your attitude in check:
"My lifelong quest to create my ideal home has uncovered a mountain of ideas from the experts in home management.  I love sharing these tips, tricks, strategies and ideas with other homemakers.  So for those of you who don't love to spend hours in the library (I have heard you exist) I'll boil down some of the best bits for you.
The most important trick to taking the "work" out of housework is ATTITUDE.  If you can shift your paradigm about why we keep house, by altering your attitude, you have unlocked the key to happy homemaking.  Now go back and read that last sentence again.  If you can really do this, it will be very powerful
First, you must create a sense of pride and ownership for the place you currently live.  Many of us aren't living in our "Barbie Dream House" but we can make our house, apartment, or wherever we are currently living, our ideal home.  I often hear ladies say, "When we get into a bigger house, I'll be able to keep it clean," or "Once we move into our permanent house, then I'll paint," or a number of other excuses as to why we aren't happy with our current residence.  Ladies, we simply can't wait to start enjoying our homes.
To help you develop a sense of pride in your home, I'll suggest a few exercises to get you on the right mental track.  The first one is fun and easy.  It was inspired by traveling the English countryside with my three girlfriends.  We noticed that all the homes were named, from the smallest cottages, to the lavish estates.  We visited Groombridge Place, Burghley House, Chatsworth, and Chawton Cottage.  In the movie Pride and Prejudice these places were, Longbourne, Rosings Park, and Pemberly etc.  We decided that when we returned home, we would all name our homes.  I live in more of a Cottage than a Manor, which I have embraced, and lovingly named Lillywood Cottage.
Give your house a name and an identity.  It will help you to value it and take pride in it.
Along with naming your home I challenge families to create a Vision Statement for your home.  What does your ideal home look like?  How do you want to feel when you enter your home?  How do you want others to feel when they come to your home?  Thinking about these types of questions will help you to define what your ideal home really is.  Our vision statement is: Lillywood Cottage is a lovely, pleasant home where friends and family gather to relax, refresh, and enjoy each other's company.  Keeping your vision in mind while you work will help you to enjoy what you are accomplishing.
My final suggestion for unlocking that key to happy homemaking is gratitude.  With each task you perform feel gratitude: for the people whose clothes you are folding, for the plentiful food you are rinsing off the dishes, for the magic of flushing toilets, for the brilliant scientists who invented the microwave.  You see where I'm headed with this.  One day I put some inspiring music on the ipod and cleaned my house with gratitude, for my healthy, strong body performing the work in air that was the perfect temperature, with chemicals that really did most of the work.  We are blessed women who can be faithful stewards over that which we have been entrusted with.
To quote one of my favorite organizers, Peter Walsh, "Your home is the outward expression of what you value, what you enjoy, and what is important to you." Yikes! What message is my home sending to my friends and neighbors?  Hopefully, I am steadily transforming my house into my ideal home.  By changing our thinking, focusing on why we take care of our home and family, and being grateful for our blessings, we can do all the chores and checklists with a glad heart."
Thanks Julie!  I also loved her tips on organizing a housekeeping binder,
keeping kids on track with chores,
and effective ways to discipline your kids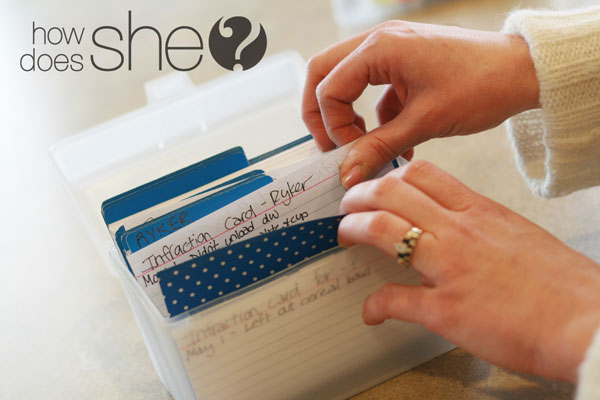 Maybe we can get her to share these next time!?