St. Patrick's Day Printables
Could these be any cuter?! Chickabug designed these adorable FREE Saint Patrick's Day printables exclusively for HowDoesShe readers. One of my favorite ways to use printables is as cupcake toppers!  Keep reading so you can find out how to get yours for FREE!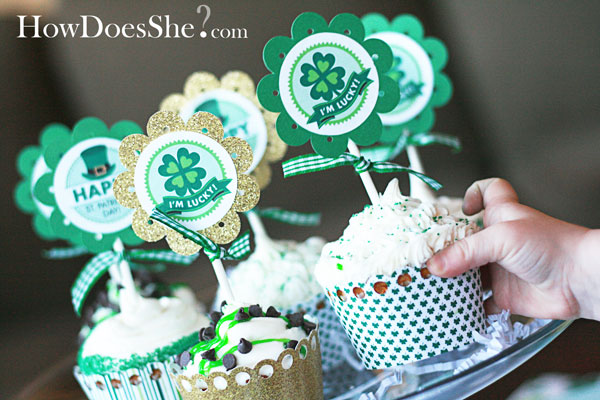 Make sure to put a 'Absolutely No Pinching Badge' on your Kiddos before they head out the door! You wouldn't want to be the one responsible for pinching marks! 😉  Do you love the green background??
And make sure to put one of these on YOURSELF to get an extra great smooch! 🙂
The possibilities are endless for Chickabug printables! Tags, Stickers, Cupcake Toppers, Badges, Party decor,…use your imagination (and be sure to share your ideas with us)!
Here is how to snag yours! Just sign up for our new mailing list. That is it! 🙂 We'll immediately e-mail you a link to the FREE printables.
We love our readers and think they deserve the best. You are the reason we love blogging so much and we wanted to make sure you get the scoop first!
You know we won't sell your emails…we hate when that happens to us so we won't do it…pinky swear! 🙂
Thanks again for being or becoming a HowDoesShe Gal!
We are so excited that ChickABug created these designs especially for
us. If you want to share them with your friends please send them here to sign up (they will thank you!).