That's right.. 5 minute toddler leggings, ladies! This is such a simple way to add a little something to your toddlers wardrobe. You will love this inexpensive super easy project!
The supplies you will need:
A pair of knee-high socks (these are from target)
1 inch knit elastic
Sewing supplies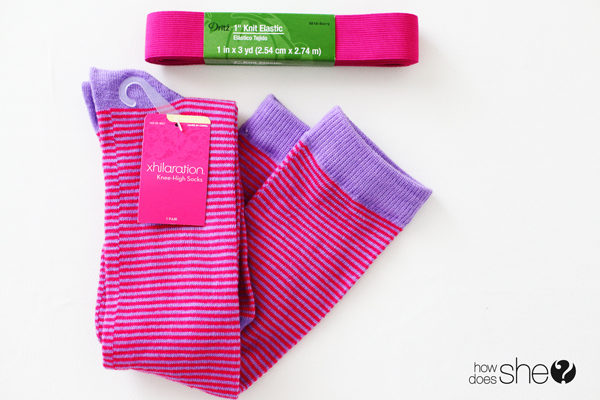 Starting at the curve in the heel of the sock, measure 6 inches and cut the toe off each sock.
cut from the toe to the heel of the sock, ending at the curve.
They will look something like this!
Turn one sock inside out, and leave the other the right way.
Insert the sock facing the right way, into the sock facing the wrong way. This will make the right sides of the socks face each other.
Match up the edges and the heel of the sock. You can use a few pins to keep things in place, or just be careful as you sew.
You can use a serger if you you are lucky enough to have one! Or you can use a zig zag stitch on a regular sewing machine.
If you are doing the zig zag stitch, sew right along the edge, make sure you are catching the edge. I like to sew this seam 3-4 times to make sure all the threads are caught and stabilized. Try not to stretch the socks as you sew them, let the sewing machine feed them in.
Pull one sock from inside the other and you have the legs!
Next we need to add the waist band.
Measure the elastic around your toddlers waist and make it snug, but not too tight.
Sew the elastic together with a zig zag stitch (or serge) right along the edge.
You have your waist band!
Place the elastic inside the pants, making sure the seam on the elastic is going to match up with the seam of the leggings. The waist band is going to be slightly bigger than the leggings. Pin the elastic in quarters to make sure it is evenly distributed around the leggings.
Sew using a surger or zig zag stitch right along the edge of the elastic and leggings. I sew around them twice to make sure they are extra secure. You may need to slightly stretch the leggings to match up with the slightly wider elastic waist while you sew.
It should look something like this!
Now I know this looks sort of funky… and how in the world will that fit around my toddlers bum! But trust me.. they work 😉
They should look like this all finished!
Slip them on your babe and you have a pair of cozy sweater type leggings!
Quick, cheap, easy…. and Adorable. We can't get enough of these at our house!
Enjoy ladies!!