Hong Kong is known for its city life, gorgeous views, and top tourist attractions. It is a city that provides so much diversity, and gives a well-rounded view of the hustle and bustle paired with the serenity of its Asian location. Hong Kong is always clean, efficient, and safe, which sets it apart from some other major cities. I have lived in this stunning city for nearly two years, and want to pass along my favorite spots around Hong Kong to you.
Top 10 Sights in Hong Kong:
Big Buddha
Tian Tan Buddha is located on Lantau Island– the same island as the airport – and overlooks the mountainous area surrounding it. This 112-foot statue of Buddha is one of the largest in Asia, and is so unique to the Chinese culture.
Tip: The most exciting (and efficient) way to get to Big Buddha is by taking the Ngong Ping 360, a gondola ride that brings you right to the entrance. There is an option for a crystal cable car, which provides a gondola with a clear floor! The picture below shows the view through the glass floor on the gondola.
Victoria Peak Tram
The tram takes you to see a 360-degree view of Hong Kong, and is quite the picturesque place! If you are looking to take a family picture with the Hong Kong skyline in the background, this is where to go!
Tip: Make sure to go on a day that is clear and sunny for the best views and pictures. Since it is so high up, on rainy days the clouds might block your view. For tickets, click here.
The Chi Lin Nunnery and Nan Lian Garden
The Chi Lin Nunnery is a Buddhist temple that was once a retreat for Buddhist nuns, and is located on the Kowloon side of Hong Kong. It is very traditional, and provides quite the contrast from the surrounding city scenery. The Nan Lian Garden is located across the street from the nunnery, and is a Chinese classical garden filled with gorgeous trees, waterfalls, and flowers. Every time I walk through the perfectly manicured gardens I feel like I am in a scene from the Disney movie Mulan!
Visit Central/Mid levels
I feel like you can't go all the way to Hong Kong and not at least look around Central. It is prime for high-end shopping, and also has a Ferris wheel located right by the water. There are food options from all over the world, street markets, and even the longest escalator in the world!
Repulse Bay/Stanley
The chic part of Hong Kong Island is definitely located in the Repulse Bay/ Stanley area. In Repulse Bay there is a row of stores and restaurants lining the oceanfront, and Stanley has a famous market. In both areas, there are lots of new, modern apartment buildings. Both Repulse Bay Beach and Stanley Beach are very popular.
The Ladies Market
Talk about knock-offs! This place has everything from backpacks to jewelry to Hong Kong tourist trinkets. It is an entire street lined with booths that go on for three whole blocks! If you are comfortable with bargaining, the Ladies Market may be your perfect spot. I've purchased many Christmas and Birthday presents from this market, and they have all been a success!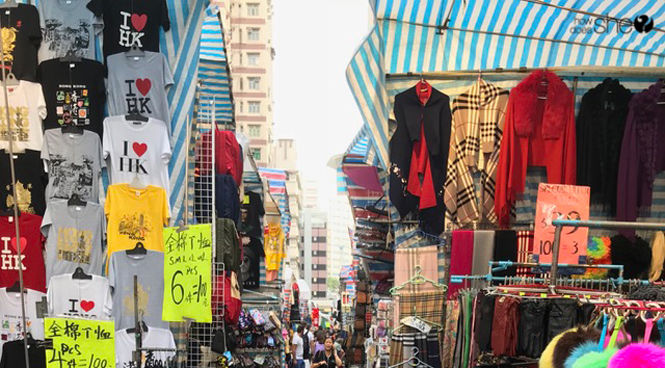 The Wan Chai Food Market 
If you want a sneak peek into what life is actually like living in Hong Kong and get a feel for a local food market, this is the place to go! It is not your typical tourist attraction, but it provides a different side to Hong Kong not many tourists get to see. Some items include freshly caught fish, fruits and vegetables, butchered meats, and sea creatures.
Hong Kong Disneyland and/or Ocean Park
If you are looking to do something geared more towards children, Hong Kong has two popular theme parks: Hong Kong Disneyland and Ocean Park. Hong Kong Disneyland is perfect for younger kids, with rides and impressive stage shows. Hong Kong Disneyland is on Lantau Island, which is the same island as Big Buddha and the airport. So if you are staying on this island, there are many great options! Ocean Park is located right by Repulse Bay on Hong Kong Island, so the view from the top of their rollercoasters is breathtaking. There is an aquarium with all different kinds of sea creatures, as well as plenty of great rides.
Ten Thousand Buddhas Monastery
This is a breathtaking Buddhist temple that requires a climb- 431 steps to be exact. The path is lined with over 500 gold statues of Buddhist monks, each one unique. While the steep climb might seem daunting, the sights and views at the top are worth it! Once you've made the journey, the biggest sight to see is a beautiful temple lined from wall to wall and floor to ceiling with ten thousand small Buddha statues. I wouldn't be surprised if you caught a glimpse of a few monkeys up there as well!
Hikes and beaches
What may come as a surprise is how popular hiking is in Hong Kong. While the city itself is a concrete jungle, there are a few tropical oases not too far away equipped with hiking trails. Some of the most popular hikes lead to gorgeous beaches, others to tucked away villages. Popular hikes in Hong Kong are Dragon's Back (most popular), Violet Hill, and the hike on Lamma Island. If you would like to see some gorgeous beaches as well, Stanley, Repulse Bay, Shek O, and Clear Water Bay are notable ones.
Tip: Click here for a list of things to pack in your beach bag!
While I may be a bit biased, I believe Hong Kong is one of the best cities in the world. There is so much to do and see here, and the fact that it's a tropical island provides so much contrast. You can have both the hustle and bustle of city life, and the relaxing beach vacation. What's even better is that Hong Kong is a port to everywhere else in Asia. Most flights arriving from the US to Asia stop in Hong Kong, so if you are itching to see Asia, it won't be difficult to visit the incredible city of Hong Kong.
For more insider tips on travel destinations, check these places out: