Teacher Appreciation Gifts

Well it was…almost to easy!   A ream of paper $3
Cut and 'padded' (it's the fancy word for gluing the edges of paper) at the office supply store = $8
9 gifts for $11!  That's a deal!!
I wanted the ream cut into 9 squares as shown in the drawing above.  Yes, they are perfect squares…just use a little imagination.  The office supply store cut them perfectly.  I just wanted to show you how I had them cut the ream of paper and I don't have any skills in photo-shop.  I leave that to Missy!
All this white paper just screaming to be drawn on!
This is a cool picture!
I did a little work for you.  I told them to make a super tall(1000 papers tall) pad of paper, a short one (500 papers tall that's one ream), and one that is 350 papers tall.  I  think I like the  1 ream tall the best.  The tower of super tall papers looked…crappy and the 350 looked like I was cheap!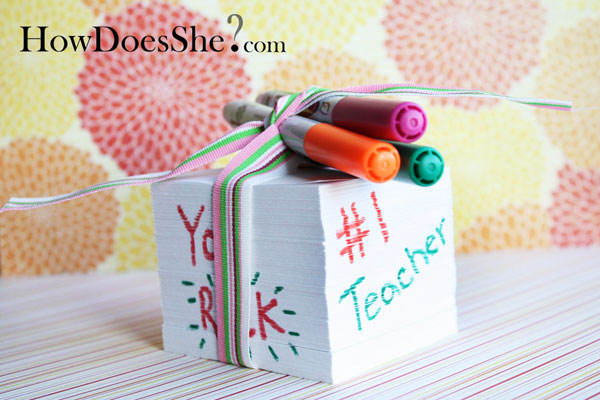 I had my kids draw on the sides of the pad to create a one of a kind teacher appreciation gift that a teacher could use!  Scraps of paper for notes!  We also tied new markers…well kind of new.  I needed them to draw on the sides, but they'll never know!  We put the teacher's name, You Rock, and  #1 Teacher on the sides of the pad.
My daughter also made one for her Grandpa for an Easter gift.  This would be awesome for a Father's day gift too!  Wa….hoo….teacher appreciation gift and father's day gift in one shot!  YES!
If you are wondering why I didn't 'pad' or glue the paper myself, I didn't want too.  I priced the 'padding' and it was over $14 for one small jar.  I figured I could pay someone $11 and not only get the same thing at a better price, but  I didn't have to deal with  the mess.  Another good reason, I can't figure out how to cut 500 sheets of paper straight with a pair of scissors:)
For more ideas on teacher appreciation gifts click here!
Missy has a cool post tomorrow…I've seen the pictures!
Disclosure: This post may contain affiliate links. This means, we may receive a small commission if you choose to purchase something from a link we post (including links to amazon.com because we are a participant in the Amazon Services LLC Associates Program. Don't worry, it won't cost you anything. This small percentage just helps us keep the power on and the Diet Coke stocked. We appreciate your support!