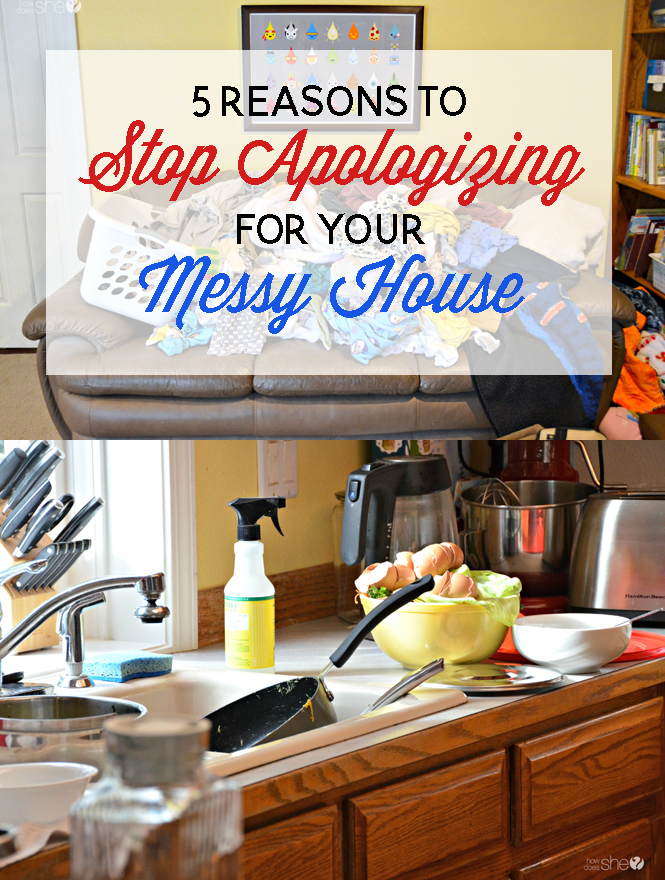 Do you ever apologize for your messy house?
Please stop. I'm talking to you. I'm talking to me. I'm talking to every person who's ever said, "Oh. Come on in. Sorry for the mess," or, "It's been such a crazy week. The house is a disaster."
Stop.
Here's why:
1. It makes people feel bad.
When you apologize for the five things on the floor in your front entry or the dishes piled in your sink, you give the impression that your house is generally spotless. What you're saying is, "Having a couple of weird dirty kid socks on the couch is unacceptable and requires an apology."
And, when we perpetuate the myth that perfection is standard, we send a message to those who aren't perfect (which is all of us) that they should be ashamed.
2. It makes people feel less welcome.
Friends let friends see their little imperfections. Friends are real with each other. When you apologize for the messes in your house, you're telling the visitor, "You're not a close enough friend to see the real me. I have to put up a façade for you."
My dearest friends know that my house can be a gorgeous showpiece… or a pit, depending on what I've got going on. I'm sort of a mad scientist type. I have strengthened many relationships by turning off my instinct to apologize for my life. It lets people know you trust them.
Love means never having to say you're sorry… for your messy house.
3. It draws attention to the problem.
If you really are embarrassed about the mess in your house and you really don't want to get that real with your friends, this argument is for you.
By apologizing for the breakfast dishes on the table or the exploded winter clothes box in the hall, you're calling attention to the problem. You're essentially saying, "Did you notice my house is a wreck? Oh, you didn't? Please notice it."
The best way to downplay your mess is to focus on the person who's visiting you. What are they doing in their life? What are they happy and excited about? Don't make it all about you and your insecurities. Keep the conversation positive and productive.
If you feel fat in your swimsuit, rather than pointing out to your friend how tubbish you feel, compliment her on her suit. Turn your insecurity upside down by focusing on building the other person up.
4. It signals that you're judging them.
When you apologize for your messy house, you're letting your guests know that you think a mess is unacceptable. You are effectively telling them that if you visit their house and it's not perfectly clean, you expect an apology.
It's like when a friend is in jeans and a messy bun and they apologize for looking like "such a disaster." It makes me think, "Oh my gosh! You think I look like a disaster every day." Sad face.
5. It doesn't fix anything.
As the great T-Swizzle has preached over and over and over again on the Spotify, "Haters gonna hate, hate, hate, hate, hate." If someone is judging you for your house, they're gonna judge you. An apology won't change that. And that's sad for them. Don't play along by groveling.
If you really hate how messy your house is, to the point that you feel the need to repeatedly apologize for it, then you should probably clean it. Apologizing doesn't fix the problem. Cleaning does. You have two choices – either stop apologizing and find peace with your level of chaos or make a plan to change things and find a new normal.
Don't spend your life apologizing for who you are and how you live.
This is not easy. We want to look good to our friends and we all fall short sometimes. We are embarrassed by our imperfections. It's normal. But I challenge you to take a stand for REALITY and stop apologizing for your messy house.

We sometimes need permission to show our vulnerabilities and celebrate our inner "awesome", don't we? Check out even more ways to let your inner goddess up to the surface in your life:
Lose Control to Gain Freedom from Three Crippling Emotions
Being Enough: 5 Ways to Find Contentment with Who You Are and What You Have