I love having reasons to celebrate and today, I'm happy to share some fun items that YOU (yes, you!) can easily make for your own little leprechauns.  These goodies can be enjoyed at St. Patrick's Day celebrations or any kind of "Good Luck" theme party.
The leprechaun mustaches also resemble the fuzzy mustache on the Lorax, so they would make a great prop for a Dr. Seuss classroom party or as a surprise element to a Dr. Seuss themed lunch.
Let's get started!
Make Your Own Silly Fun Straws
 These decorative straws can be used as costume props, cake or cupcake toppers (when you cut the straws to size), and for their primary utilitarian purpose – drinking!
You will need…  Straws of course 🙂 .  Striped paper or regular plastic straws both work great, while the bendy kind is best for the mustache toppers.  You'll also need craft foam.  Here are some color suggestions:
It's up to you whether you use regular craft foam or the kind with sticky adhesive backing.  If you choose the kind with sticky backing (seen below left), you won't need any glue or tape.  But if you choose non-adhesive craft foam, my preferred adhesive is glue dots (below, right).
Now choose and print your free template by clicking on one of the images below.
St. Patty's Mix
If you only need the mustaches (for a leprechaun, Dr.Seuss/Lorax, or mustache party) print this one:
Mustache Template
The St. Patty's Mix helps you make the straws you see here, with a mustache or two to spare:
You can also use pre-cut foam stickers in which case you don't need a template, your work is done!
If you do use the templates, print them on cardstock and cut them out as tracing guides for your craft foam.  In the St. Patty's Mix, I doubled the images just in case you have a helper; that way you each have your own set of icons to trace.  I used a permanent marker to draw little circle coins on the gold foam.
If you choose mustaches only, you can either print them onto colored cardstock, cut them out, and use as-is, or you can stop the printing process after you see that one mustache has printed completely.  Cut it out and use as a tracing guide for multiples on craft foam.  I prefer the craft foam because it's more durable as well as water resistant.
As I mentioned earlier, bendable straws are best for the mustaches.  When you place them just above the bendy part, you will have proper positioning of the mustache on the face.
To adhere, cut a thin strip of sticky-back craft foam (or use regular foam with glue dots on one side) and press it to the back side of the mustache.  Half of it attaches to the mustache and half of it attaches to the straw like so:
Voila!
You are officially set to use your straw as a fun prop or silly sipper.
Don't forget to add some healthy treats to your celebration!  Try round banana slices for "gold coins", green bell pepper slices for shamrocks, or carrot and celery cups with single servings of hummus (available at Costco).
Additional choices include pineapple coins and green smoothies.
 For my kids, color is key and when I display common, simple, yet totally healthy food in a way that "POPS", it grabs their attention and they eat it!  The difference between super and not-so-super, wanting to try a food or not try it, is a simple matter of … Presentation!
See  more details on whole, fresh, real-food recipes and tips here.
Most of all…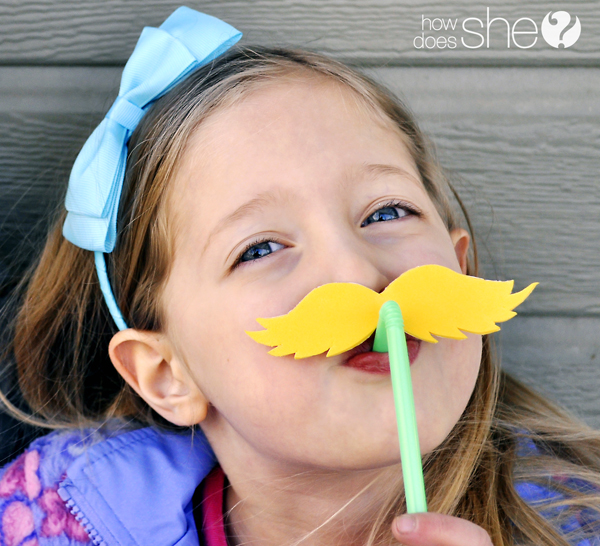 ~ HAVE FUN ! ~