Dr. Seuss Celebration idea:
Pack a lunch!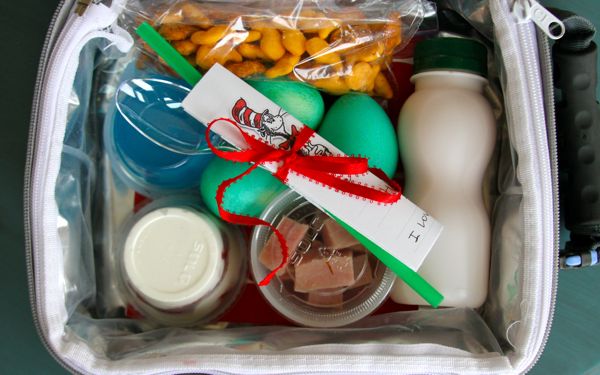 I wanted to send my kids something fun in their lunch to celebrate Dr.Seuss' birthday – I thought I would share what I came up with in case any of you want to do the same. March 2nd is the big day, but no worries, this is super easy to throw together!
Green Eggs and Ham
I just hard boiled eggs and dyed them green and then diced up some ham lunchable style (I am also sending cheese cubes that are not pictured).  In the past I have tried dyeing scrambled eggs green and that works also, but I thought this was a little more appetizing and easier to send for lunch!
The Minks like to drink pink ink
Strawberry yogurt drink
and Blue Goo
blue J-ello
One Fish Two Fish Red Fish Blue Fish
Fish crackers
The Cat in the Hat
I layered strawberries and this delicious fruit dip (must try) as my attempt at making it look like the CAT'S HAT…at least I tried:)
I found these great free printable stationary pages, here.  On them I wrote out a key for the food they will eat so they won't think I am off my rocker sending CRAZY food to school.
Some of these free printables would be fun to throw in their lunch also:
Printable Dr. Seuss word find
Write your own Dr. Seuss poem printable
Or write up some Suess quotes on the free printable Seuss stationary!
a FEW of my favorites:
"Be who you are and say what you feel because those who mind don't matter and those who matter don't mind."
"Don't cry because it's over. Smile because it happened."
"Today you are you, that is truer than true. There is no one alive who is youer than you."
Some more fun Dr. Seuss celebration ideas
Remember this great post on decorating a toddler boy room in none other than Seuss!
Courtney over at Nesting Instincts has some great decorating ideas for a Dr. Seuss party
Don't you just LOVE how CoLoRfUl this is!
My Dr. Seuss post last year has some great SEUSS links in it…
Along with a FAB picture of Shelley and her adorable family all Seussed out (new word)!
You HAVE to check it out and feel free to laugh, she won't hear you:)
You can also learn how to make Thing 1 Thing 2 Wigs in her tutorial here.

So I shared my Dr. Seuss Celebration ideas with you…
Now it is your turn!
How will you Celebrate Dr. Seuss?