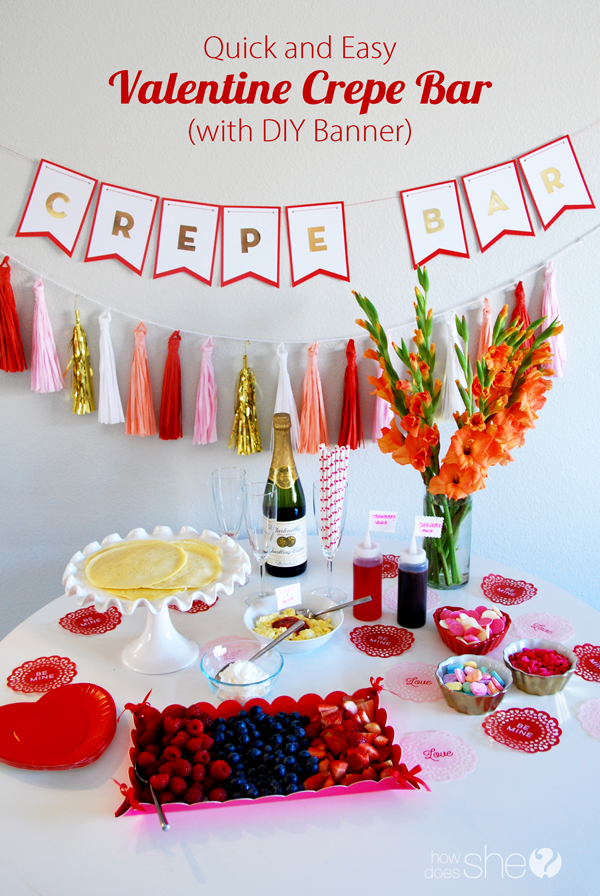 Happy Valentines Day
Have you noticed that Valentine's Day makes people super happy or super annoyed?   I like it enough that I do little crafts for my daughters on Valentines Day. I always do a simple crepe bar that they absolutely love.  My girls could eat crepes everyday if I allowed them to.  They are really so quick and easy and most of the time my kids do all the work.  This year I thought I would share my tradition of the crepe bar with all the lovely How Does She Readers.
It is the easiest thing you will ever do and your kids will love helping you out.
Making the Banner!
First of all I went to Walmart and I bought the banner supplies!
Sometimes, they have blank banners in the Valentine section.
Then I found these gold letters to make spell out 'CREPE BAR'.
As you can see, I did nothing.  My girls took it all away from me and loved this craft idea.
It even came with the string to hang it with but you can also get bakers twine here.
You could have your smaller children color on the banner or add heart stickers.  Make it as fancy as you would like.
Making the Crepes!
Now that the banner is done, let's get started on the Crepes.
There are so many recipes you can use.
Here is the one that I like best.
Crepes
2 Tablespoons of canola oil
2 eggs
1 cup of flour
1 1/3 cups of milk
3 tablespoons of sugar( only for sweet crepes)
Healthier option:
To make them healthier, you can substitute the milk with almond milk, don't add sugar, add coconut oil instead of canola oil.
Combine all the ingredients and mix until there are no lumps.  You can use a whisk or put the ingredients in a blender.  Whatever works best for you.
There are crepe makers that you can buy at Walmart but I like to make them in a little skillet, like THIS,  I bought years ago.  Spray the skillet with coconut oil so the crepes don't stick.  Pour just enough batter to coat the bottom of the pan.  Let it cook for about 30 seconds.  Then flip it and let it cook on the other side for about 15 more seconds.  Remove the crepe and place them on wax paper squares that you cut so they they don't stick to each other.
Don't they look delicious?
My girls love them for an after school snack, breakfast, or dessert.
It's always fun to throw them on a pretty cake stand for extra special presentation. I love this one and how fun is this mint or pink colored one for a pop of color?!
Toppings
Whip creme
Strawberries
Raspberries
Blueberries
Sprinkles
Ice Cream
Chocolate and strawberry Syrup
I like to also have eggs and salsa for the adults who are looking for a savory option.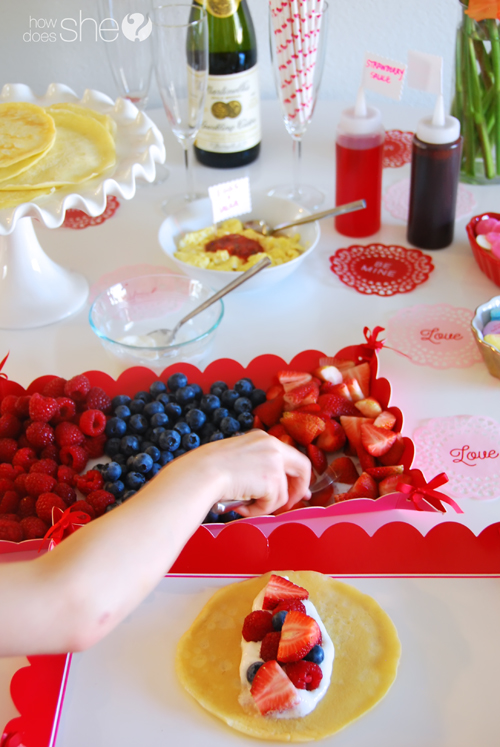 Lets eat!
Voila, See how easy and quick this was?
What is your favorite activity to do with your kids for Valentines Day?
What are your favorite crepe toppings?
Bon Appétit!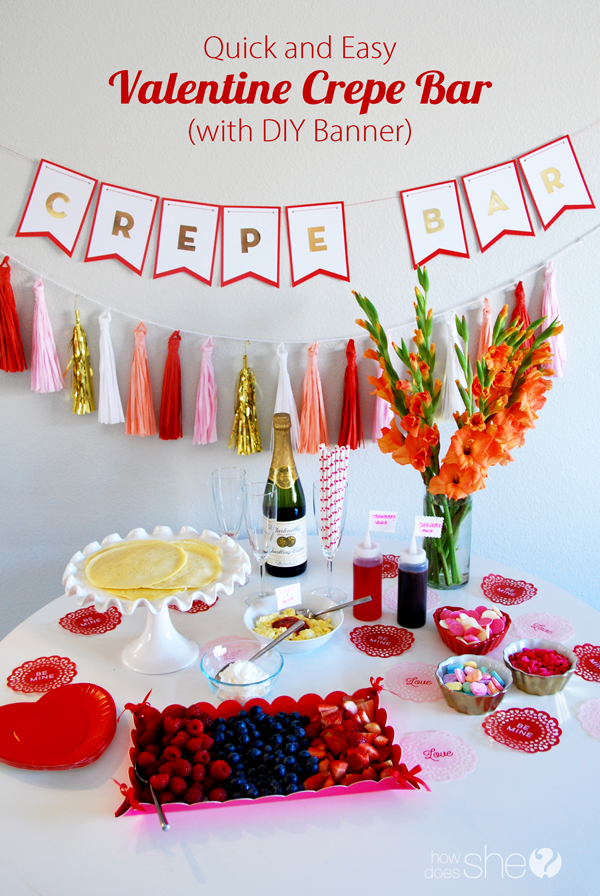 Making Valentine's day special for your kids doesn't have to be complicated, or cost an arm and a leg. Check out a few more of our favorite Valentine's Day ideas for families:
15 Easy Valentine's Crafts For Kids – Plus a Bonus Video!
20 DIY Valentine's Décor on a Shoestring Budget