Yes, I am getting all sentimental over here. It's hard to put into words what a baby does to a Mommy's heart. It's simply an indescribable love. And quite honestly, the more babies I have, the more babies I want. Tell me I'm not the only one?! I have been blessed with two babies in the past two years. Designing their nurseries has been an incredible experience. Knowing that my child, fresh from heaven, would be sleeping in the nursery I created, was a tender and almost sacred task. Last year, I used Carousel Designs to create a big impact nursery in a small space for my baby boy. 18 short months later, our baby girl arrived, which meant a second nursery. I knew I wanted to design a playful, sweet nursery for her. After my experience with Carousel Designs last year, I knew exactly where to turn for top-quality baby bedding and decor from for my baby girl.
Decorating a Playful Girl's Nursery – Featuring Carousel Designs Baby Bedding – Plus a $500 Giveaway!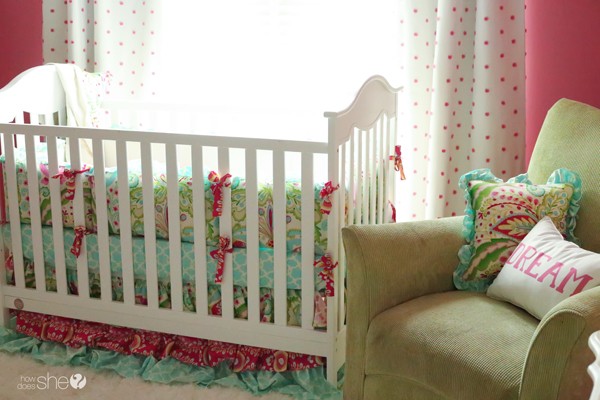 Isn't this bedding dreamy? The playful yet sweet colors of the Kumari Garden Crib Bedding made me fall in love at first glance. The details and quality are absolute perfection. Did you know that you can customize your bedding?! Go and play around with the nursery designer and you'll be hooked, too.
The walls were painted a cheery, bright pink and teal. White drapes, white rugs, and white wood furniture were chosen to soften the overall feel of the room.

Did you spy her blessing dress? It's one of my favorite parts of her nursery. I love displaying her fancy blessing gown as a focal point. (For reference, it is from One Small Child).

Last year, my growing family moved to a different home with a little more space. The higher ceilings in this nursery gave me the opportunity to feature full-length drapes. Having black-out lining is a game-changer, especially for daytime naps. I love that you can custom design draperies with Carousel Designs Custom Drape Designer tool.


Documenting the details is the important stuff, right? So here are all the frilly photos that will give me something to look back on when she's five,… and almost off to college. 
–
Did I mention I have twins? Yes, this isn't the first time my house has had two cribs at once. 😉 My twin girls are now six years old and share a room. I imagine my three girls sharing a room someday. So, I wanted curtains that could grow with them. For that reason, the exact same drapes featured in the nursery are the same as those in the big girls' room. Did I mention they black out the room?! (Raise your hand if you like kids that sleep in!!!)  

–
But why stop there?! Once I realized how amazing black-out drapes were, we went ahead and ordered some for the 'Man Cave' theatre room, too. I mean, when you find a good thing, why just limit it to the nursery? The black-out navy drapes were also ordered from Carousel Designs and take a daylight room like this….
…into the perfect dark room for gaming, tv-watching, or a good ole movie.


Basically, Carousel Designs is on to something good. Their customer service is top-notch, and when combined with beautiful, quality products, they become the obvious choice. When we find a company like Carousel Designs, it's hard not to want to shout it from the rooftops. This family-owned company is right here in the USA. HowDoesShe truly loves supporting businesses like this.  To prove it, HowDoesShe and Carousel Designs are teaming up to offer one lucky reader a shopping spree!

$500 Shopping Spree to Carousel Designs – BabyBedding.com

Carousel Designs – $500 Shopping Spree