You are never too old for a tea party.
I came to this realization after squatting uncomfortably on a chair, much too tiny for my bottom, legs crammed under a kid-sized table, with an array of fishy crackers and fruit snacks generously piled atop a petite princess plate. My four-year-old daughter graciously poured some very lovely pink lemonade for her little brother and me. Lifting those mini tea-cups to our lips, we had the most precious conversation that I will forever lock away in my treasure box.
"So mom, how was your day?"
Me: "I had a wonderful day, how about you? What did you do today?"
"Oh, I just went to the cookie store and then took my baby to the park in her stroller."
Me: "That sounds like fun! I'd like to meet you at the park with my baby some time. Maybe they could play together?"
"Yeah, but your baby cries a lot…"
While enjoying this sweet moment I thought, how fun would it be to have an adult tea party?
If you're a Downton Abbey fan, this would be the perfect girl's night activity. And with Mother's Day quickly approaching, consider having a delightful tea party with your daughters, mothers, sisters, aunts, and grandmas. I can't think of a better way to celebrate this special day than with the ladies I love most, sipping our favorite warm beverages, pretending we are oh-so-sophisticated, talking and laughing together.
And I have the perfect accessory for your charming tea party: delicious, dip-able biscotti. Your morning beverage was just –meh- before this heavenly cookie graced your mug.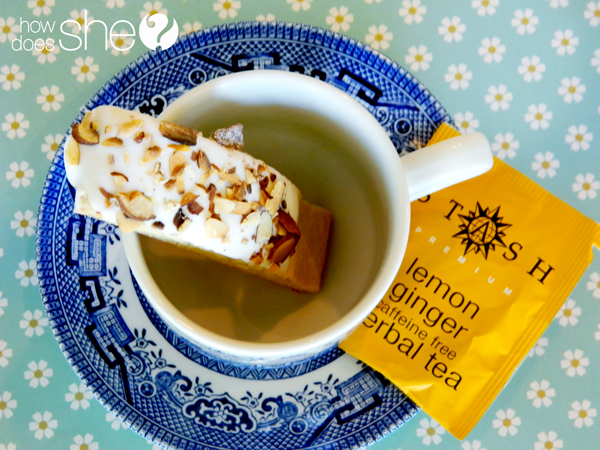 Biscotti is an Italian twice-baked cookie that is mildly sweet and crunchy and intended to be dunked in coffees, cappuccinos, teas, and my personal favorite, creamy hot chocolate (you can see my favorite recipe here). And now I am happily addicted to biscotti.
Luckily, because biscotti is very dry, it can be stored for long periods of time. I have a stash in my freezer right now that fuels my daily hot chocolate frenzy. Seriously, it is so good!
You can buy over-priced biscotti in coffee shops and specialty stores, but why do that when you can make your own delicious biscotti at home? And did I mention how easy it is?
This biscotti recipe has a wonderful, subtle depth of flavor with highlights of orange zest and almond.
Your dough should be fairly firm. These little fingers kept sneaking my dough when my back was turned.
Form two balls with the dough.
Roll them into two long cylinders, like this.
On a greased cookie sheet, flatten the cylinders into two flat loaves about 1/2 an inch tall and about 12 inches long. You can place an extra cookie sheet on top of the cylinders and press down to flatten, or moisten your hands and flatten.
Bake at 350 degrees for 25 minutes. Remove from oven and use a pizza cutter to cut each loaf into 1 inch slices. Turn them on their side and bake again for 6-8 minutes until lightly toasted.
Let these beauties cool completely and then it's time to bedazzle them. You can dip them in chocolate or white chocolate, drizzle them with chocolate, and then top them with toasted almonds, toasted coconut, toffee bits, or any yummy concoction your heart desires.
After dipping them in chocolate and toppings, I covered the pan in plastic wrap and left them overnight. In the morning, they were absolutely perfect and I just had to test them out! Oh, yum! My breakfast consisted of three cups of hot chocolate and probably six (or eight) biscotti. Sinful, yet so good.
Like stated earlier, these biscotti can be stored for long periods of time. I put them in an air-tight container and stored them in my pantry for a week. They could last even longer than that and still taste deliciously fresh if we hadn't polished them off. I made another batch to keep in the freezer until Mother's Day.
Ingredients
1/2 cup oil
3 eggs
1/2 cup sugar
1/2 cup brown sugar
1/2 tsp. vanilla
1/2 tsp. almond extract
2 tsp orange zest
3 cups flour
1 Tbs. baking powder
Instructions
Preheat oven to 350 degrees. In a large bowl, mix the flour and baking powder. Set aside.
In a mixer or large bowl, first cream together the oil, eggs, sugar, and brown sugar. Next add the vanilla, almond extract, and orange zest. Mix well.
With mixer on low, slowly add the flour mixture to the wet ingredients and mix until a fairly stiff dough forms.
Take the dough and form two balls. Roll them out into two cylinders. Place the cylinders on a well greased cookie sheet. Using the greased bottom of another cookie sheet, or your moistened hands, flatten the two dough cylinders to approximately 1/2 inch tall and 12 inches long.
Bake at 350 for 25 minutes. Remove from oven and using a pizza cutter, cut each cookie into 1 inch strips. Turn the strips on their sides and return to the oven for an additional 6-8 minutes at 350 degrees until the cookies are slightly toasted.
Cool completely and then dip in chocolate or drizzle with chocolate. Add desired toppings like toasted almonds, toasted coconut, toffee bits, etc. Let set in fridge or at room temperature overnight. These can be stored for long periods of time in an air-tight container.
Dunk in your favorite morning beverage and enjoy.
These would make the most adorable gifts and if, like me, your mom lives far away, you could send her a beautiful gift basket full of biscotti and the makings of her favorite morning beverage. Then have a "virtual" tea party via iChat, FaceTime, or Skype.
These would also make perfect gift baskets for friends, neighbors, and teachers.
It's so nice to have Mother's Day gifts figured out already this year.
So gather the gals and host a scrumptious tea party! You may want to brush up on your British accent;).