*We're partnering with Modsy on this sponsored post. If you're looking to redecorate, remodel, or even build a home and would love some affordable design help, here's why we LOVED Modsy. Make sure to get 20% off below!
If you've ever built a home before, you know what a roller coaster ride it can be. After three long years of intense highs and lows (all through a global pandemic), we finally completed construction on what I really hope is our forever home. I say prayers of gratitude for it every single day.
This was our first home build and after making every minute decision, from the flooring, the light fixtures, the accent walls, and even the toilet paper holders, I was exhausted. So much so, that when it came to the thought of decorating these empty rooms, I just couldn't. My creativity was just spent. I couldn't have heard about Modsy at a better time.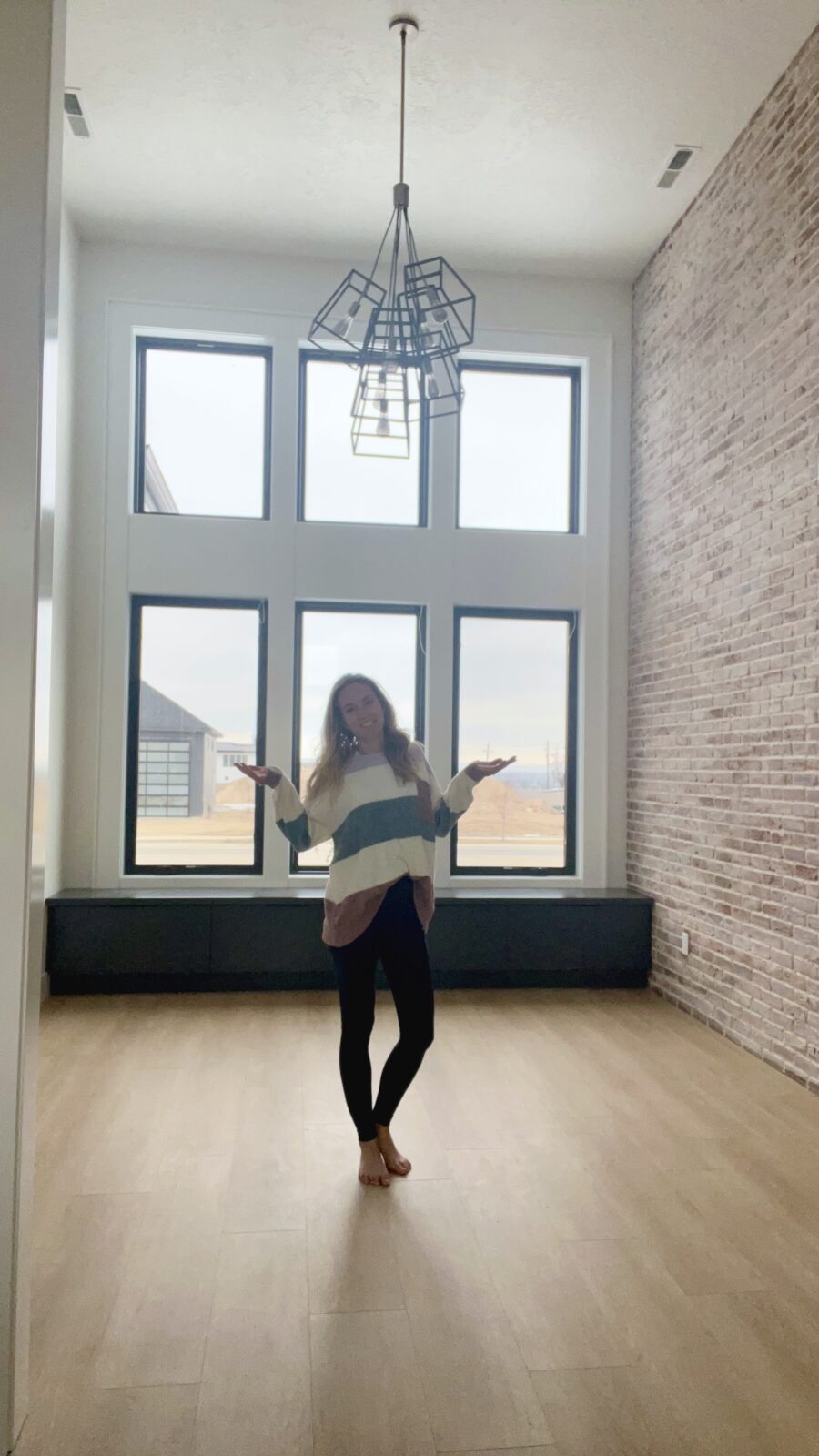 Modsy is an affordable online interior design service that is absolutely incredible. I used them for design inspiration for my modern office because I was sheer out of ideas myself. Here's how Modsy works and why I like them.
Modern Office Remodel with Modsy
This office is a blank slate. When I designed it with our general contractor, I knew I wanted high-tech LVP flooring throughout, a big storage bench for reading, and a lofty real brick wall (they are thin bricks treated to look worn). I absolutely love how the room came out, I just had no idea what to do with it next.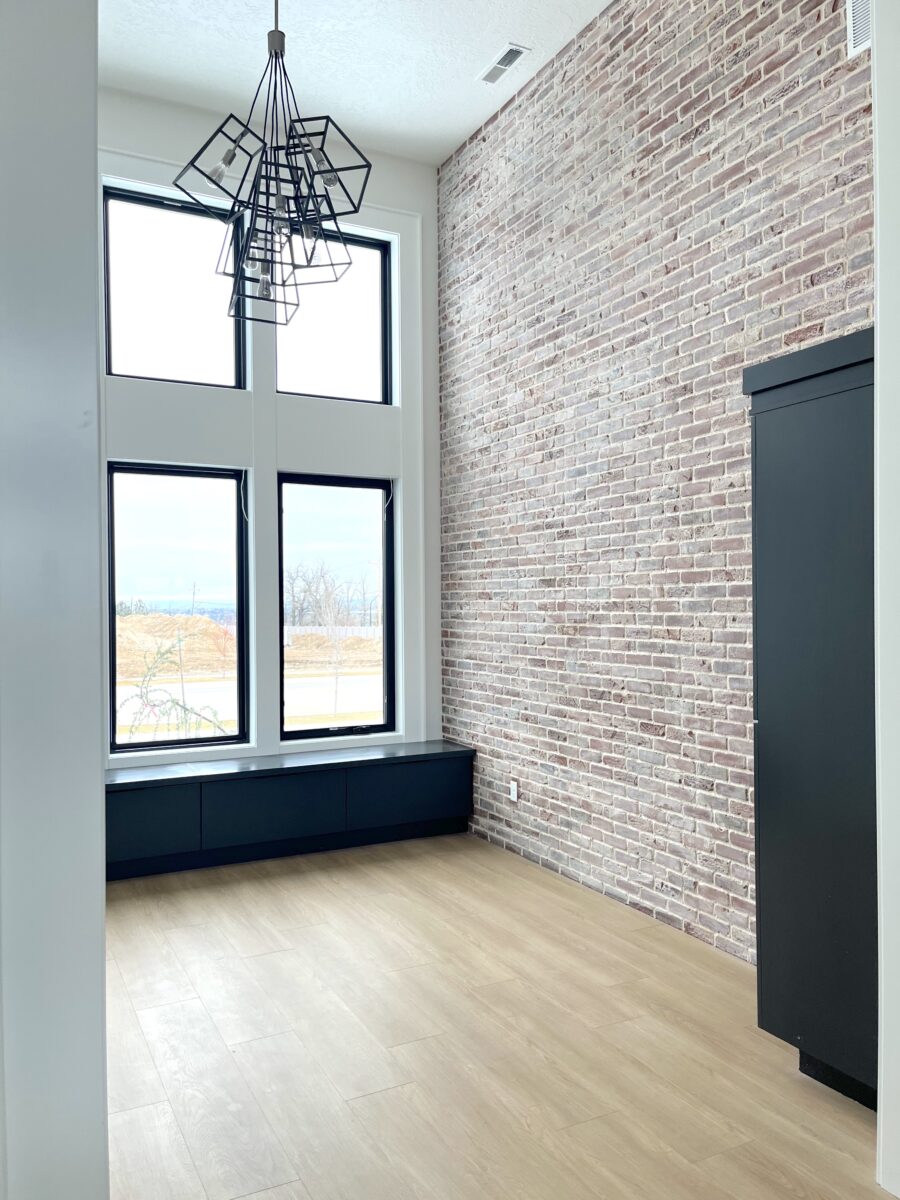 I really like a modern, simplistic vibe and I knew I wanted this space to be a cozy office where my family could work and snuggle up to read a good book. But beyond that, I had no ideas in terms of furniture, layout, or decor. And that's why I loved Modsy. They swooped in to save the day on this room.
Modsy Pricing
To have Modsy design one room was $159, which I thought was an incredible deal based on the personalized experience you get throughout the whole process. Their pricing options are as follows:
$159 for 1 Room: Great for that one room in your house you'd like to redecorate, remodel, or for which you just need a few fresh ideas.
$299 multi-room: The best deal. For 2 or more rooms…great for those kids' bedrooms or guest bedrooms that could use a refresh.
$499/room Luxe: For the highest level of attention. This is great if you're building a home and want one-on-one guidance from the ground up. (Wish I'd had known about this option at the start of our build.)
*Exciting News! Get 20% off ANY Modsy package with code HDS20!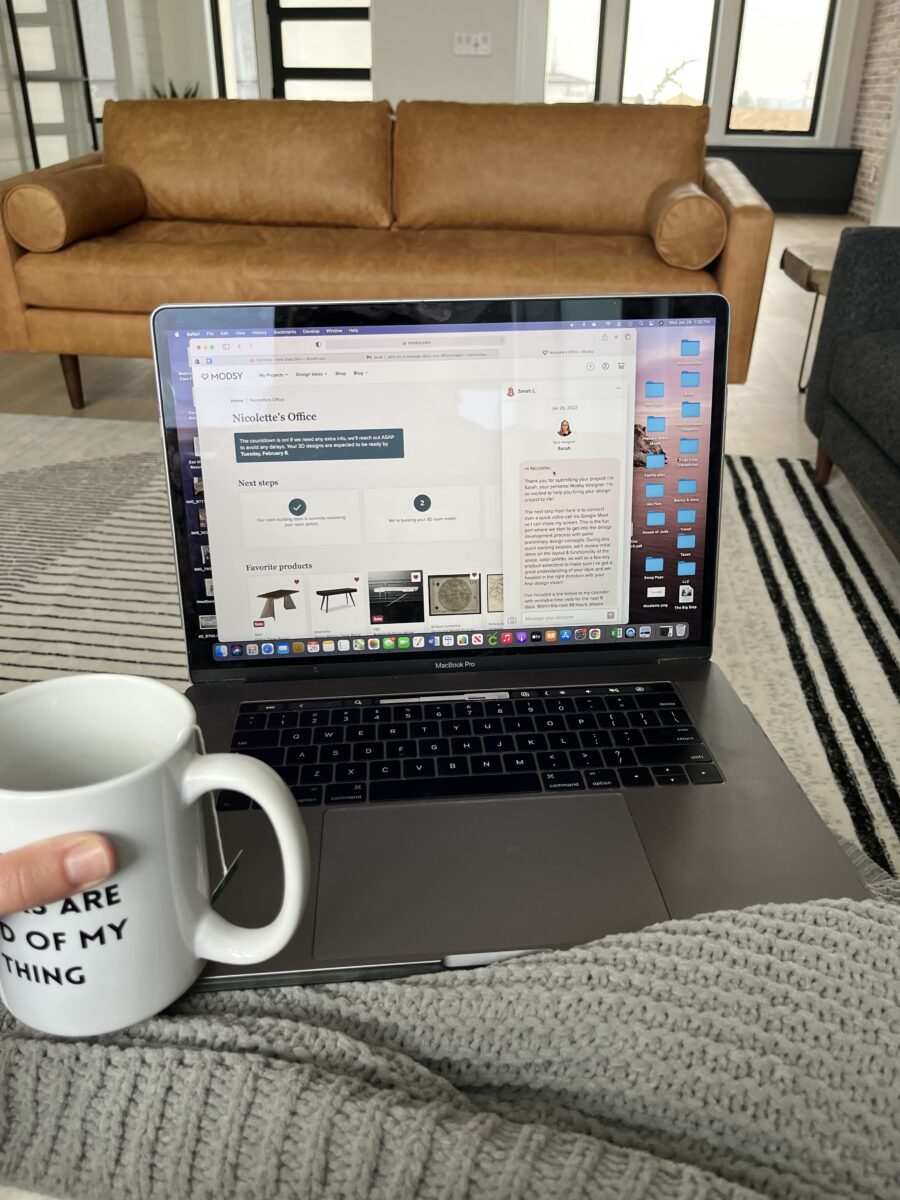 Getting Started
Getting started with Modsy is easy. Just go here and select which package you want (make sure to use HDS20 to get 20% off). After checkout, you can immediately start on your Modsy design and you can do it all from the comfort of your couch and in your pajamas.
Modsy online walks you through every step of the way. They'll ask you a few questions about your style preferences, have you upload some photos of your space, and have you measure the room so they can design it to exactness. Modsy can also help you narrow down your style by showing you lots of design photos where you select which elements you like. It's funny because that's exactly how I operate…I can tell you what I do and don't like, but it's hard to narrow down a style. Modsy did that for me.
Apparently, I'm the Mod Enthusiast style, which I'd never heard of but agree with 100%. They really got me.
After you do the initial set up, you can sit back and relax while Modsy places you with your perfect designer.
Meeting My Designer
A few days after creating my account, Modsy emailed me a link where I could schedule an online meeting with my designer, which turned out to be so much fun. My designer is Sarah and we talked about everything I was looking for as far as color schemes, furniture, and style go.
One of the best parts about Modsy is that your designer shops FOR you! Which I can tell you is a huge-time-saver. That alone is worth the $159 fee for the room. I can't even tell you how many HUNDREDS of hours I put into searching for rugs, light fixtures, furniture, and so forth. Modsy is like having a personal shopper that can save you hours and hours of searching the web. Avoid the brain hurt…let Modsy find the perfect pieces for you.
Getting Designs Back
Want to see what Modsy came back with for my modern office? I was dying to see too. Here's what they did!
Your Modsy designer will send you a few layout options to choose from. My designer Sarah recommended this layout for a natural flow to the room.
Their incredible software makes it so you can see your room to exact likeness from every angle, even 365 degrees. The 3D designs were perfect. Sarah gave me two initial designs to start with:
Modsy Design 1
Modsy Design 2
Which one is your favorite?
I loved elements about both of them and wanted to pick and choose from both. You can do that with Modsy! You can select which pieces you like best and put them in the room to see how they look. Your Modsy designer will recommend plenty of options so you can switch them out to see how they look
It is the COOLEST thing!
And all pieces are shoppable too.
Shopping Your Modsy Designs
Modsy gets special wholesale pricing from vendors so each piece is deeply discounted from what the normal price would be if you were shopping that vendor alone. You can also sort items by price low to high so you can stay within a budget.
I loved all of the cool pieces Sarah picked out for me and being able to add them to my cart right there was so convenient. You can message your designer at any time to make changes or get new options until you get it right.
When Modsy says 'unlimited revisions,' they really mean it.
You can work with your designer back and forth until you are 100% happy.
(Imagine that gallery wall right here…)
Was I happy with Modsy?
Absolutely. I would do it again in a heartbeat. In fact, I have an empty music room that is on deck, so I hope Sarah is ready for me! I would whole-heartedly recommend Modsy to any of my friends.
If you have an itch to refresh a space in your home, Modsy is so much fun. You get professional advice and personal attention for much less than it would cost to hire an interior designer. It's definitely worth a try. And if you're building a home…best of luck to you. I'm glad you know about Modsy now, because I wish I'd known about it sooner.
Breath some new life into your home. Get designs you'll 100% love with very little work on your part. Let the professionals at Modsy create your dream room. Try out your first room now for 20% off with code HDS20 and see how you like it!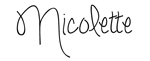 (Feel free to comment below telling me which design you like best…I still haven't decided! And if you aren't sure which room in your house to tackle first, here are some fun design ideas to get you thinking.)