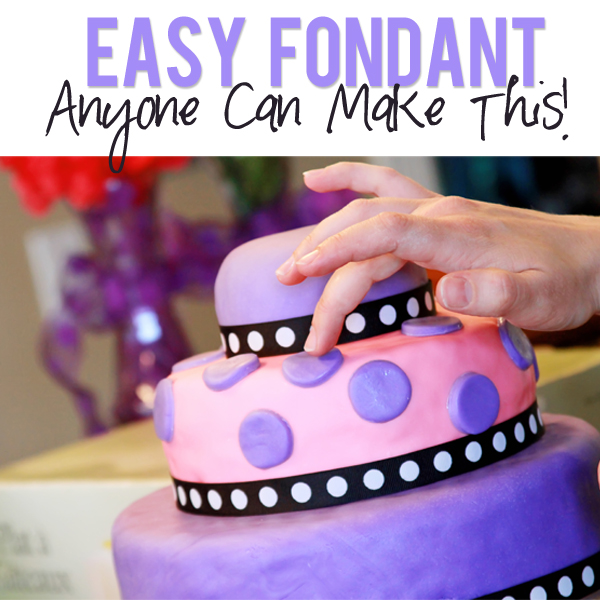 Marshmallow Fondant Recipe
Marshmallow Fondant Recipe.  Sometimes birthdays call for special cakes. This was one such birthday my daughter shared with her best friend who happens to have a birthday just two weeks later. You might remember them from their rainbow birthday party documented here. Did you click over and see that rainbow cake??? How do you top a rainbow cake? With fondant!
Sound scary? I thought so too – so I asked my friends Janet and Emily to help and I took lots of photos to show the process and found out it is not as hard as it sounds.
Let's start with the Marshmallow Fondant Recipe ingredients:
16 ounces mini marshmallows (good brand)
2 – 5 Tbls. water
2 lbs. powdered (C&H brand) sugar
Crisco (little for hands while kneading)
How to Make Marshmallow Fondant
First melt marshmallows and 2 Tbls. water in a double boiler or in the microwave for 30 seconds at a time. It should look like this:
1&2. Stir 3/4 of the powdered sugar into the marshmallow mixture, then knead in the remaining 1/4 until it is all incorporated into the mixture.  Note: be sure to grease your hands and counter before dumping mixture from bowl
3. Add color to your fondant. Then Knead Knead Knead! for about 7 minutes until it is soft and shiny. If it starts to feel a bit dry, add 1/2 Tbls. water at a time until it feels soft and pliable – then keep kneading.
4 – 6. Grease the outside of the ball and double wrap in saran wrap, then put in a ziplock bag to keep it moist.
Frost Your Cake Before Adding Marshmallow Fondant
Now it is time to frost your cake (or rice krispie cake). If you are using a cake, it is easier to frost if you freeze it first (For pictures and steps on making cake level, see this post)…so take it out of the freezer and get frosting!
Make sure to get the frosting smooth and beautiful so the fondant will look smooth and beautiful! 🙂
Now that your cake is prepped, it is time to put on the fondant.
-Dust your counter with powdered sugar. TIP: if your fondant is a bit hard, throw it in the microwave (still covered) for 5 – 10 seconds until more pliable.
-Roll out your fondant until it is about 1/8 inch thick making sure it is large enough to cover your cake, sides and all.
-Roll it back onto the rolling pin then drape it over the cake.
-Pull the fondant out while smoothing to avoid folds until the sides are perfect.
-Using a pizza cutter, cut the excess around the sides.
-Use a spatula to move the cake.
This tool has amazing reviews and supposedly works wonders with smoothing the fondant.
Decorating with Marshmallow Fondant
Now the fun part! Decorating. We chose polka-dots but you could cut out whatever shapes you want for this part. Simply roll out some fondant, cut the shape, add a dab of water to the back to make it sticky, then gently plop it on.

A little extra effort to make your little one feel special on her special day! Or just to learn something new! Thanks, Emily and Janet for teaching me!
We cut the rice krispie cake into slices and served them in cupcake wrappers. It was so much less messy for kids and they loved it just as much!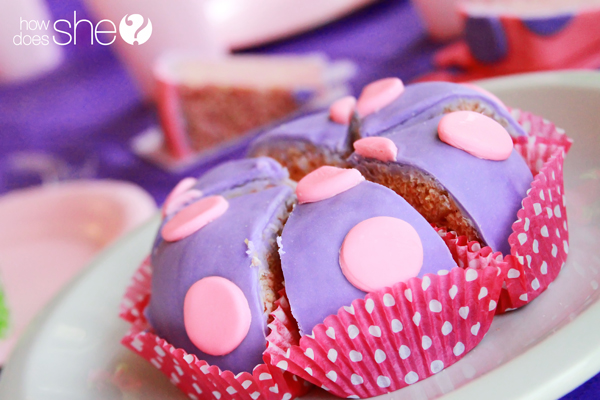 Here is a SNEAK PEAK into the Fancy Nancy Party food. I will post the rest of the party in a future post. 🙂 It was such a FUN theme to plan a party around!
Marshmallow Fondant Recipe

Need some decorating inspiration, now that you know how to create such delicious fondant? Try these cute beach toppers for starters. Step by step instructions:

And here are 20 UNBELIEVABLE cakes you just HAVE to see. Inspiration galore!