With this being Valentine's Day season I'm seeing pink everywhere. Pink, pink, pink, pink. It's unavoidable. I was trying to think of something to take to a little party this week and obviously it had to be something chocolate. Calories for chocolate don't count in February. It's a universal law. This dessert popped into my head because it combines the top two answers of any Family Fued question about Valentine's Day: Chocolate and Pink. These maraschino cherry cheesecake brownies are made from scratch and so delicious. If you like more cherry flavor, skip the frosting. Want a more subtle cherry taste? The silky layer of chocolate on top is for you.
I never use maraschino cherries. I think I circled the grocery store three times before I finally found them (top shelf by the canned fruit!) I had no idea they would taste so amazing with chocolate. I guess that's why they're always on the top of a hot fudge sundae!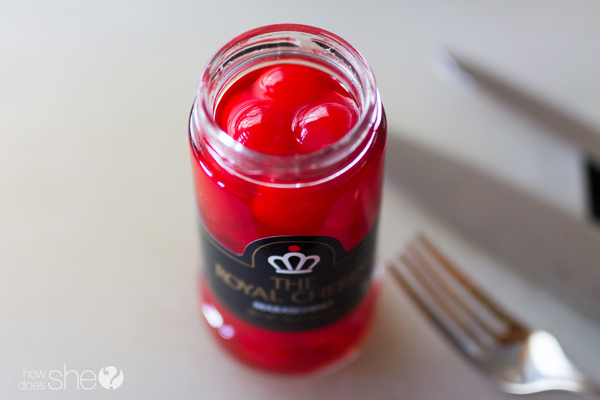 Chopping them is a little tricky. After playing with it a little I decided the best method was to use a serrated knife to cut them into fourths. Then I ran my chef's knife through the pile a few times to chop them up even smaller.
I seriously can't stop taking pictures of these things. They're so pretty. What I wouldn't give for a macro lens… Gofundme? Who would donate? Hopefully Santa's reading my posts.
Ok. I'm seriously distracted by these cherries. Back to the recipe. It's a really simple brownie layer. Eggs, sugar, flour, cocoa and butter. Mix it up and spread it on the bottom of the pan. The recipe calls for an 8×8 pan for good reason. I tried a 9×9 pan and all I got was a flat, dry cracker. I guess those extra 18 square inches was a little too much for this little batter to cover.
The cheesecake layer is also very basic. Cream cheese, egg, sugar, flour and the cherries. The trick here is to make sure the cream cheese is really soft. If it's too cool, you'll end up with lots of cheesy lumps. I've done that more than once. The little bit of cherry juice left on the cherries will turn the cheesecake batter a nice soft pink color.
Bake the maraschino cherry cheesecake brownies and decide how chocolatey you want to go. If you're really committed to the cause, the frosting is rich and beautiful. Just butter, cocoa, powdered sugar and hot water. I made this recipe three or four times last week while I was photographing the recipe. Now I'm dying over here looking at them all over again. I should have taken a pic of my daughter's face while she was eating the brownies. You're starting to get why I had to make the recipe over and over.
Maraschino Cherry Cheesecake Brownies
Ingredients
Cheesecake Layer
4 oz. cream cheese, softened
1 egg
1/2 c. sugar
2 T. flour
1/2 c. Maraschino cherries, chopped
Brownie Layer
2 eggs
1 c. sugar
3/4 c. flour
1/8 tsp. salt
1/4 c. cocoa
1/2 c. butter
Frosting
2/3 c. powdered sugar
1/3 c. cocoa powder
3 T. butter
5 tsp. hot water
Instructions
Cheesecake Layer: Beat cheese and egg well. Blend sugar and flour in gradually, beating until well-blended. Stir in cherries. Set aside.
Brownie Layer: Beat two eggs until frothy. Add next three ingredients. Melt and stir cocoa and butter. Add to second egg mixture. Stir well. Spread mixture into greased 8x8 pan. Carefully spread cheese layer over. Bake at 350 for 30 to 35 min. Should show signs of pulling away from edge of pan. Frost or not. As you please.
Frosting: Put all frosting ingredients into small bowl and beat. If too stiff add a few more drops of water.
Notes
Adapted from Company's Coming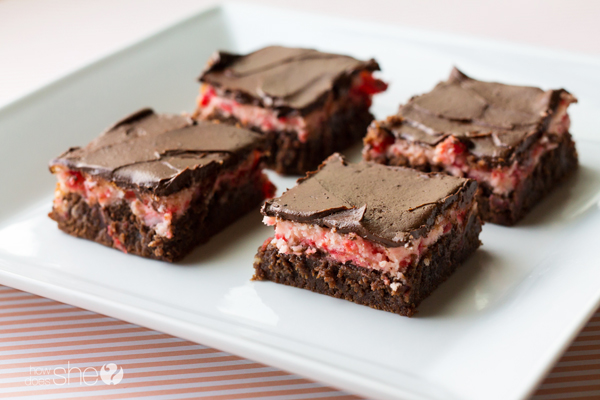 Brownies, brownies, brownies – are you craving some now? We have a few more brownie recipes that might tickle your fancy. Check these babies out:
Ooey-Gooey Marshmallow Mint Brownies
18 Brownie Recipes to Delight Your Taste Buds!