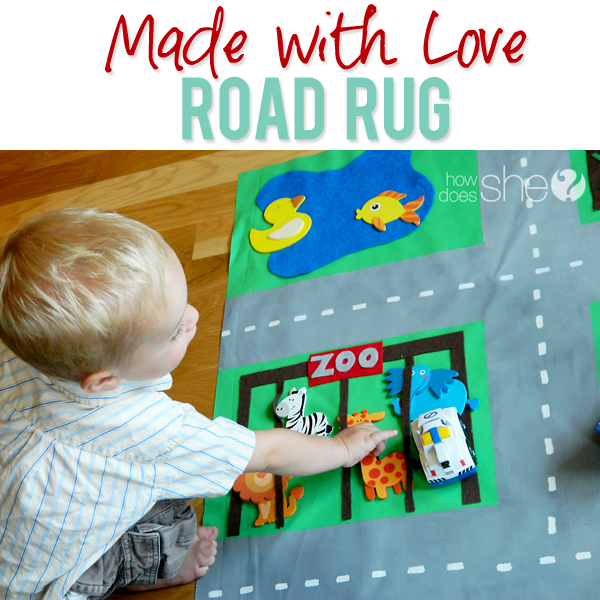 We've taken a few long road trips this summer, all of which were ameliorated  by that modern-day miracle: the portable dvd player.  I'm sure many of you amazing parents out there pack cute little "busy bags" of creative crafts for your children and sit back contentedly while you watch their genius brain cells multiply.
But if you fall into my category of overwhelmed, flurry-packing, survival-mode traveling mom, then you my good friend, have also used (maybe even overused) the portable dvd player to get you through.  Needless to say, now that our travels are over, I desperately wanted to give my kids their imaginations back.
 I remembered one of my favorite activities as a kid was playing on a homemade road mat with all of the places we went with our parents.  I wanted to recreate that experience for my children.
I thought about just buying one, but found them all too generic and boring.  I wanted something personal and handmade that would reflect all of the fun places we go as a family.  So I set out to make my own.
Supplies:
Canvas-like material (I used blackout shade material found in the drapery section of the fabric store) cut to your desired dimensions (mine was 72″x55″).
ScotchBlue Painter's Tape (Check out their amazing creative campaign ScotchBlueRibbons which gives you tons of artistic ways to use their painter's tape, as well as a chance to win samples and cash prizes!)
interior paint, assorted acrylic paints, clear coat spray paint
small paint roller
felt squares in various colors
Optional:
clear plastic material (found at fabric store)
various wooden cut-outs (craft store)
various wooden houses (craft store
Directions:
First, I made a blueprint of the road layout.  I wanted something very symmetric and clean.  Next, I measured and marked the blocks (mine are 14″x10″).  Then I used the ScotchBlue tape to mark off roads and blocks.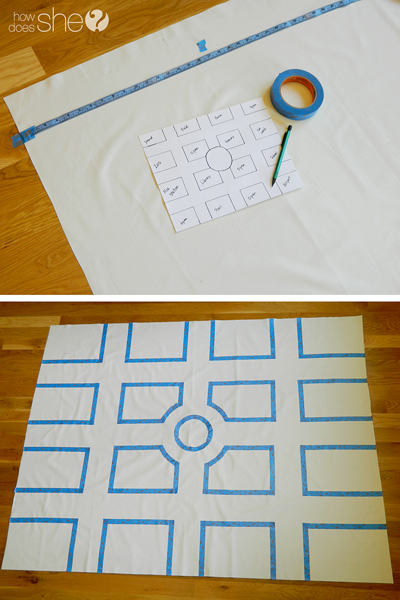 I put the mat on an old sheet in my garage and got ready to paint my roads.  I mixed black and white acrylic paint to make the gray color I wanted (*precaution: mix plenty of your desired color, because I ran out while doing touch-ups and then couldn't get the exact color again).  Using a mini paint roller, I applied the gray paint and when it dried, applied white dotted lines with a paint brush.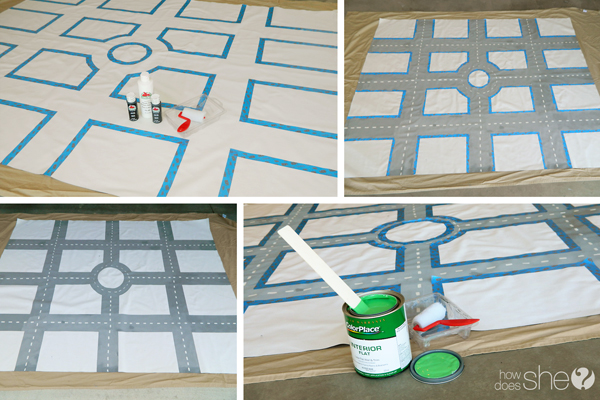 The ScotchBlue Painter's Tape is seriously a life-saver for this project.  It made my paint lines so crisp and precise!
When the roads were dry, I removed the painter's tape and then placed more tape onto roads so I could paint my blocks green.
See how amazing the lines are!  I just love the clean look of our pretend "town."
With the paint dry, it was time to add all of our familiar scenic spots and favorite places to go.  Here's what my family loves:
the pond where we feed the ducks and fish
the corn field and farms by our house.  My kids love spotting horses, "Moos" (cows), and any other animal while we're driving.
the zoo
both grandparents' houses
the grocery store
our house (of course!)
the car wash
Snow Shack (where we have the most delicious snow cones!)
the school
airport
park and sandbox
fire station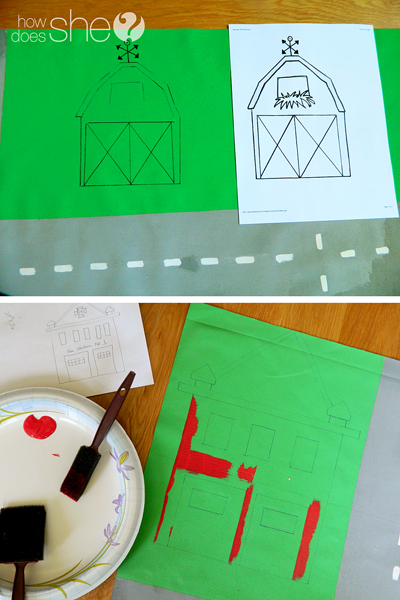 I traced and painted some buildings with acrylic paint, and then made some with felt.  I wanted a good combination of paint, felt, and 3D houses to make my road rug colorful and fun.
After all of the painting was done on the rug, I sprayed it with a clear coat of spray paint to add a little protection and shine.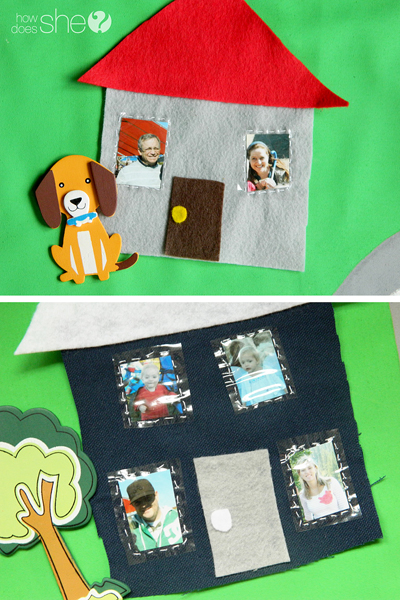 For our house and grandmas' and grandpas' houses, I cut out pictures of everyone to use for windows and then hand-sewed the plastic material over them for protection and a window-like look.
I loved this little barn and, filled with animals, it has quickly become the kids' favorite!
They also love the car wash I made from a shoebox covered in construction paper.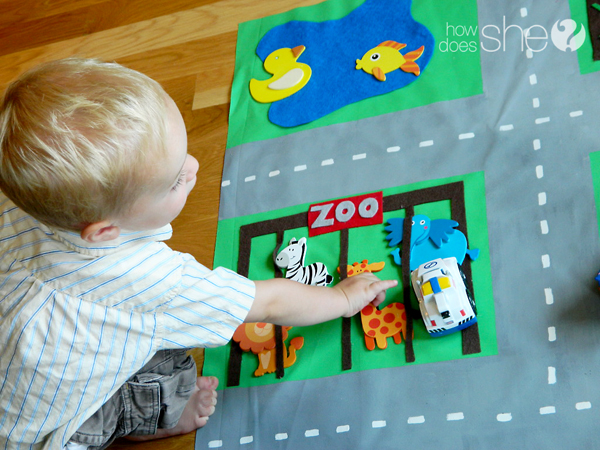 It was a true labor of love, something that literally took blood (I'm not the best with a needle), sweat (come-on, I'm 6 months pregnant painting in a hot garage!), and tears (my two-year-old found the paintbrush and voila: a huge purple wall mural), but was 100% worth it.
I love watching my little ones pretend to go to all of the places we love to go as a family.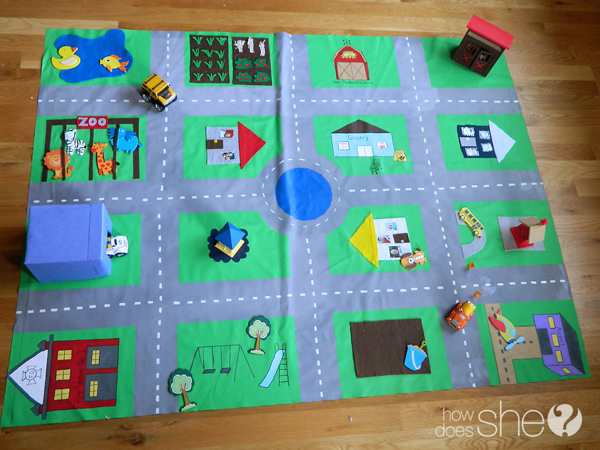 And seeing them play together, their little imaginations flourishing, melts my heart.
The best part is, this road rug is so sturdy and durable, I know it will last not only for all of my kids, but for even my (gasp!) grandkids.
 I know they won't stay little forever.  But it makes me so happy to be able to give them a piece of our little life together right now, and to give them a road for their imaginations to travel on.
And if you're worried about storage, the road rug and all of its parts fits nicely into a handy container.
 Here are a few of the cute one-sided conversations I've heard from my three-year-old while playing with the road rug:
"Hey mister, you sure have a dirty car!" (vrooming into the car wash)
"Excuse me, I would love a magenta mint mango snow cone please.  Thank you!" (She is a Pinkalicious fan.)
"Move it, buster!" (Something I'm not proud to say she learned from my diving.)
Who knew a little ScotchBlue Tape could turn something into a treasured masterpiece. If you're looking for something fun and creative for your children, grandchildren, nieces, nephews, or students that is so unique, you'll never be able to find it in a toy store, then a made-with-love road rug is the perfect creative project!
Happy creating!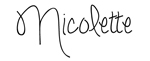 A special thanks for ScotchBlue Tape for sponsoring this post.