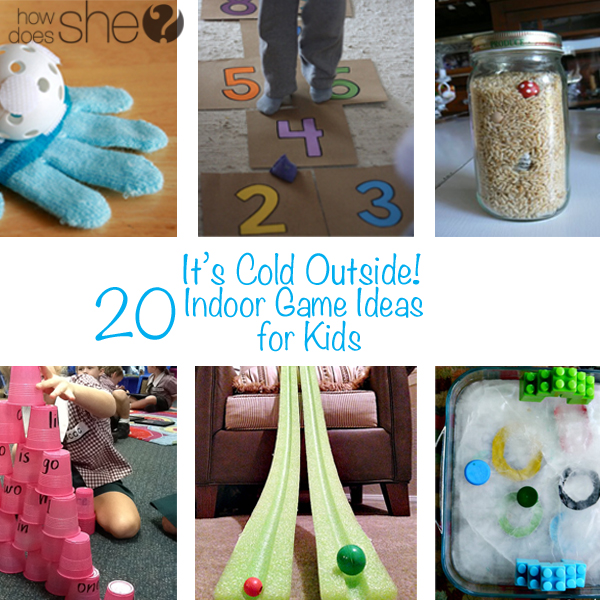 The leaves have been raked up and the snow is starting to fall.  So what will the kids do indoors for the next few months?  I'm excited for these activities I've rounded up.  Hope you enjoy them too!
1.  Paper Plate Targets are perfect when you just want to use what you have in the pantry.
2. Racing Pom Pom Balls is a great way to keep the boredom at bay!
3.  This Physical Activity Cube has some great ways to keep the kids moving!
4.  Taking a board game and spreading it out around the house is a guarantee hit!
5.  Do you have kids learning sight words?  My girls are, they would absolutely love this Power Tower.
6.  Do you have these containers kicking around? Make yourself a Snowman Bowling Game, super cute!
7. If you have a spare pool noodle laying around, make this free and fun Marble Track.
8. Loving this Indoor Scavenger Hunt!  This would be a hit at our house!
9.  This Finger Twister game would be fun for the older kids!
10.  This DIY Angry Birds Game has the cutest angry birds around!
11. Make your own Mini Skating Rink.  How cool is this?
12.  Try your hand at some Rock Dominoes.  This would keep them busy!
13.  The Indoor Kitchen Cup Golf Classic Game is a great way to spend the afternoon!  Dads might like it too!
14. Ever seen these fun I-spy Jars? This would keep them busy!
15. Another I SPY GAME is this great collage the kids could make themselves!
16. Indoor Hopscotch is a great activity to keep them moving!
17.  This Easy Ring Toss game would be great to use what's already on hand!
18. This DIY Velcro Catch Ball would be a ton of fun!
19.  Great game for the preschool kids, the Alphabet Monster Game will help teach the alphabet in no time!
20. The Gingerbread Dice Game even has a downloadable pattern.  I think we'll be doing this this weekend!
These great ideas should keep the kids (and you) busy for awhile! Have fun!