Do you ever need treats for a big crowd? Think teacher appreciation, scouts, birthday parties, Superbowl, holiday parties, special celebrations, wedding and baby showers, the list goes on….
My mom needed to serve treats at a reunion she was hosting and wanted to serve Krispy Kreme doughnuts (mmmm, good choice Mom).
She had a problem to solve. Isn't that when all the best ideas are born? She wanted them to look cute, of course, and also wanted the different flavors separated so people could pick their favorite. She saw this idea on Studio 5 and decided she had the perfect solution…WOOD! She put my dad to work with his drill and a few minutes later, had the perfect doughnut display to feed a crowd!
What you need…
2×6 (legnth depends on how many doughnuts you want to hold)
wooden dowels (any size will work as long as you have a drill bit the same size. If you want to go tall with them, be sure to get thicker dowels so it will be sturdy when you pile on the doughnuts. 🙂
Just drill holes, leaving enough room so the doughnuts won't touch when you put them on.  Then push the dowels in!
Slide on the doughnuts! YUMMY!
Are you hungry yet?
The hardest part of this project, is deciding which doughnut to eat!!
Hmmmm.
I'll take THAT one!
This could easily be adapted to even one dowel if you just wanted to display a dozen or so. I love how simple it looks just plain, but you could also fancy it up any way you please. Paint it, put paper on it, vinyl letter it – whatever you like!
Now hurry and go find a crowd to please!

 P.S. Want to make your own Doughnuts? Try one of THESE!!
Remember this doughnut display idea..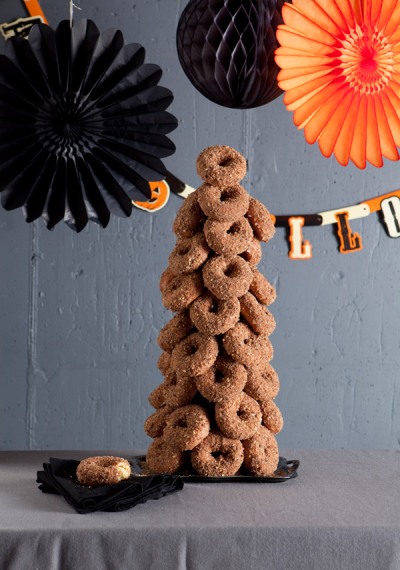 Disclosure: This post may contain affiliate links. This means, we may receive a small commission if you choose to purchase something from a link we post (including links to amazon.com because we are a participant in the Amazon Services LLC Associates Program. Don't worry, it won't cost you anything. This small percentage just helps us keep the power on and the Diet Coke stocked. We appreciate your support!