The gals at "One Charming Party" are sharing a super "sweet" idea that will be the talk of your next party! A Donut Tree! Whatever the occasion (think Christmas, Thanksgiving, Easter, Birthdays…) this delicious centerpiece will wow your guests and keep them coming back for more. Let's learn how to make one!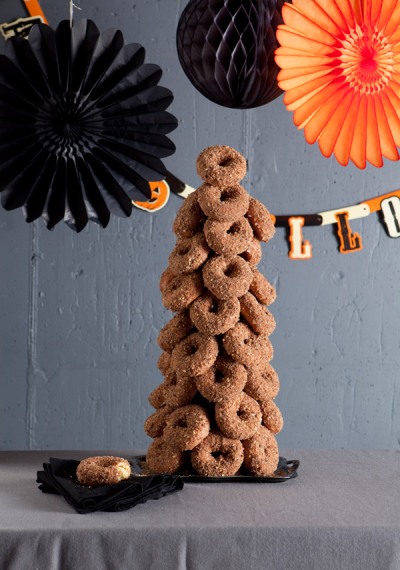 Supplies: 24″ styrofoam cone, 12 ounce bag of semi-sweet chocolate chips, basting brush, 45-50 donuts, toothpicks.
Directions: 1. Melt a 12 ounce package of chocolate chips in the microwave in a microwave-safe bowl, stirring every 30 seconds. Once the chocolate is all melted, apply the melted chocolate to the styrofoam cone. It's easiest to use a basting brush.
2. Once the whole cone is covered in chocolate, carefully smooth the chocolate with your fingers (make sure your fingers are clean). If you have freezer space, store the chocolate covered cone in your freezer until you are ready to attach the donuts.
3. Starting at the bottom, use 2 toothpicks per donut to securely attach each donut to the cone. Work your way up the cone until the whole cone is covered in donuts and your donut tree is complete. You'll need about 45 donuts, depending on their size. Secure any donuts that need a little extra support with additional toothpicks.
Just imagine the different color combination possibilities! Red and green doughnuts for Christmas, pastels for Easter, reds and pinks for Valentine's day…whatever! This is the perfect centerpiece for birthdays, grad parties, even weddings. Thanks so much for sharing how to make this, and please pop by "One Charming Party" for even more fun party time inspiration! We sure love them!

Tutorial & styling: One Charming Party (www.onecharmingparty.com)
Photography: Nicole Hill Gerulat for One Charming Party (www.nicolephoto.com)