Grandma's SWEET Treats!
Every Grandma needs a cookie jar…or a candy jar…or an anything SWEET jar!
I found these fun jars at Target
and thought I would personalize them with a little vinyl,
Once it is applied to the jar…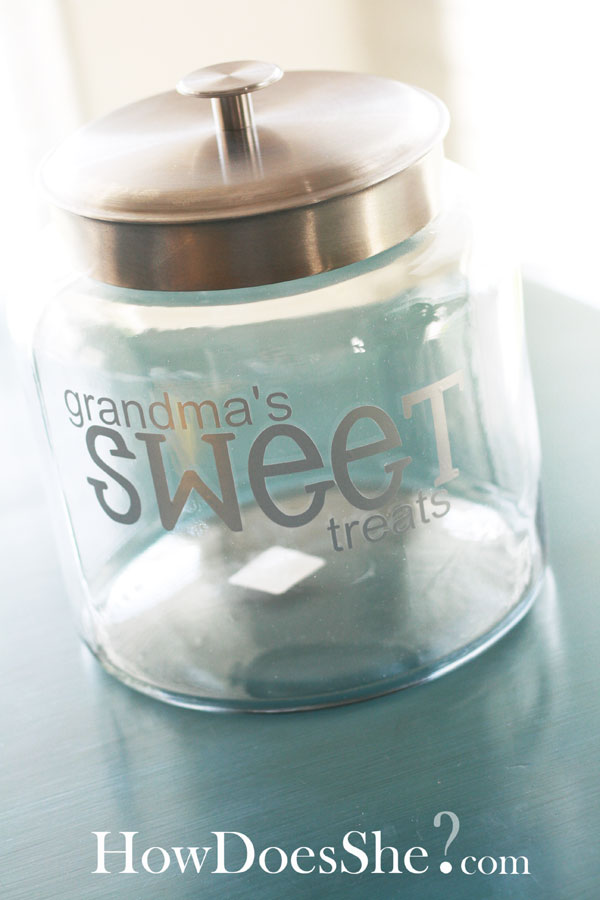 you have a one of a kind SWEETS jar.
Now just fill with some baking goodies
and some actual SWEET treats,
And you have yourself a perfect gift for Grandma.
Or change the name and make one for yourself because really, we all need our own SWEETS jar!
I am pulling an Alison and bribing you for comments today…
I made three extra of the vinyl I showed above "Grandma's Sweet Treats".  I will ship them to three lucky commenters!
Winners will be picked on Friday night, July 23, 2010!
Winners:
Susan said: What a SWEET little project! Thanks for the giveaway!
Traci said: What a great idea! I would fill mine with yogurt covered pretzels…to start!
Nita said: What a cute idea! I would have my jar filled with oatmeal raisin cookies. Yum!
Congrats…check your inbox 🙂
What would you always have stocked in your
SWEET TREATS
jar?
Right now mine would be full of chocolate covered cinnamon bears.  Tomorrow, maybe oreos.

If you need info on Vinyl click here and it will give you all you need to know:)
OH and if you are thinking about buying a craft cutter…hang on…we've got some fun news coming soon!
Make sure you are on our email list because that's where we will share it!
{Thank you ladies for letting us link up!}