If you are looking for the perfect getaway trip in the United States, look no further. I'm laying out 11 reasons this hidden gem is the perfect girls' vacation or romantic getaway.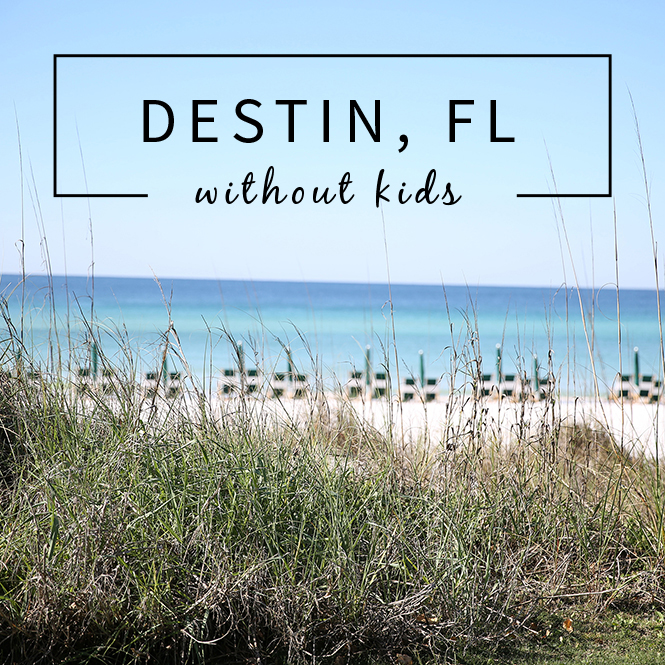 I amy lucky enough to have two sisters who are my very best friends. Between the three of us, we have 11 children. E-L-E-V-E-N (ages 9 and under). I don't think we've been alone together since we all lived under our parents' roof. A girls-only getaway trip was long overdue. No kids allowed—no husbands either.
When brainstorming the perfect destination, we all had the same checklist in mind:
-Beautiful beach
-Relaxing spa
-Good food we don't have to cook ourselves.
The new Henderson Beach Resort in Destin, Florida was a no-brainer. If you need a recharge with a girls' getaway trip or a romantic vacation, this place is pure magic.
Are you ready for E-L-E-V-E-N reasons Destin is the perfect getaway trip? (Yes I chose eleven, in honor of all eleven darling little people we desperately needed a break from!) 😉
—
1. Perfect white sand beaches
The white sand beaches of Destin, Florida are among the most stunning in the entire world. The ocean water is a brilliant turquoise and once you've experienced Destin, Florida beaches, all other beaches will pale in comparison. As soon as your toes touch down on that delicate sand, work worries melt away, family stress blows away with the breeze, and all that's left to do is listen to the surf lap up on the shore.
The Henderson Beach Resort in Destin, Florida is brand new and completely breathtaking. Its modern beach vibe is accented by chandeliers, fresh greenery, and impeccable finishes. The Henderson, is Florida's finest beach resort hotel on the Northwest Florida Gulf Coast and this charming resort embraces the nostalgia of a manor by the sea from days gone by.
With amenities like adult-only pools and a nightly gas fire pit, you'll want to book your next vacation before you even check out.
3. Yoga on the beach
The Henderson Beach Resort offers daily activities and fitness classes like yoga on the beach. My sisters and I woke up after a peaceful night's rest (no little bodies sneaking in our beds!) and joined a Henderson Beach yoga class. The sun was just rising, the breeze was fresh and salty, and the Henderson Beach Resort yoga instructor was so calming and attentive. It was an experience I will not soon forget.
4. Sunny relaxation
If a little Vitamin D is what you need, you'll find it in Destin. So whether your jam is laying out under the sun or if you'd rather read a book under a shaded beach chair.
5. Pamper time
The Henderson houses a beautiful salon and spa, complete with manicure and pedicure stations and on-site masseuses. I'm not exaggerating when I say I had the best massage of my life at The Salamander Spa at The Henderson Beach resort. (I'm sure all of their masseuses are amazing, but I can vouch for Alan.) While there, you can book a caviar age-defying facial while your husband hits up one of the many local golf courses.
The Henderson Beach Spa alone is reason enough for a return trip.
6. Water sports and adventure
I've always wanted to try paddle boarding, and the calm blue waters of Destin, Florida were basically begging for me to try them out. The Henderson Activity Team helped us learn how to paddle board and took care of our every need. Standing on the ocean water with a paddle and a board, watching dolphins in the distance is a liberating experience.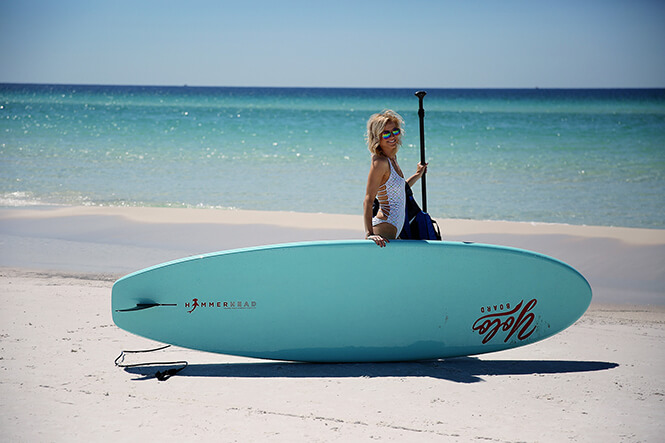 7. Incredible seafood
Destin features some of the best seafood in the United States. The Henderson alone has five different restaurants to fit your cravings. Choose from formal dining at The Primrose at The Henderson Beach Resort where the ever-changing menu always features the Gulf Coast's finest. If casual eating is more your style, check out the Beach Club Grill where you can enjoy your club sandwich within a pebble's throw to the beach.
For desert, you simply can't miss Sprinkles, Henderson Beach Resort's own ice cream and candy shop. It's a great way to treat yourself at the end of the day. To tempt your tastebuds on everything Henderson Resort dining has to offer, I'll let the photos speak for themselves.
8. Sunrise and sunset
Romantic, breathtaking, and meaningful—take the opportunity to witness a Destin sunrise and/or sunset on the beach. The pastel colors come alive and they are serenely magical.
Whether it be catching up with your sisters or friends, or rekindling the fire in your relationship, Destin is the perfect place to reconnect. Florida's Emerald Coast offers quiet moments in one of the Earth's most naturally inspiring settings.


10. Picture Perfect
Destin Florida is straight out a a storybook. The photos in this post are exactly what you'll experience while in Destin. The beaches, the palm trees, The Henderson Resort, and even the food are Instagram worthy, no filters needed. In fact, Destin is a great setting for photos.
11. Rejuvenating
When life gets hectic, when the rat-race of daily life becomes too heavy, come to Destin, Florida. I promise, after a week of laying by the pool, getting pampered, and treating yourself to five-star food you don't have to cook yourself, you'll find exactly what you have been yearning for.
When it's time to leave Destin, you'll be rejuvenated and ready to return home to the beautiful life you've built. After all, they are both pretty spectacular.

Ready to experience Destin, Florida for yourself? Share this post with your spouse, sisters, and friends and start planning. Destin is a bucket list getaway trip you'll never forget.