Around our house we have a lot of different "Imagination Stations".  I want my kids to have plenty of alternatives to video games, and am especially fond of activities that encourage maximum use of imagination.  There are stations for crafts, books and reading, puzzles, music, and building things.  There's more fun to be had outside now that the weather is nice, but when the weather isn't so great, or the kids have already had hours of outdoor fun and still want to keep playing inside, play areas with boxes of "things-to-do" SURE come in handy!  Very often, they keep my kids busy for hours.  Here's one such box of fun, filled with craft foam and kid-safe scissors.
I keep a mix of regular craft foam sheets and scraps on hand, as well as adhesive backed craft foam.  I like that my kids can stick pieces together if they want to, and I don't have to worry about the gluey mess to clean!  Now, how about a few project ideas that you can make with craft foam?
Puppets
After watching a mermaid cartoon one afternoon, my daughter went to the craft foam box and started cutting out mermaid tails.  She asked for help cutting some torsos.  Of course, she had to make a mer-man for her brother at school because she didn't want him to miss out on the fun 🙂 .
Get the mermaid template here:
Lots of colder days were spent incorporating the mermaids into play scenarios with her other dolls, or in their own little puppet shows.
Now that the weather is nice, the mermaids are having more adventures than ever…
And they're often found indoors hiding in various houseplants… er…. seaweed.
When my son came home from school on the day we made the mermaids, he "dove" right in (excuse the pun!) and started making his own characters.  He kindly informed me that this one is the video game character, Sonic.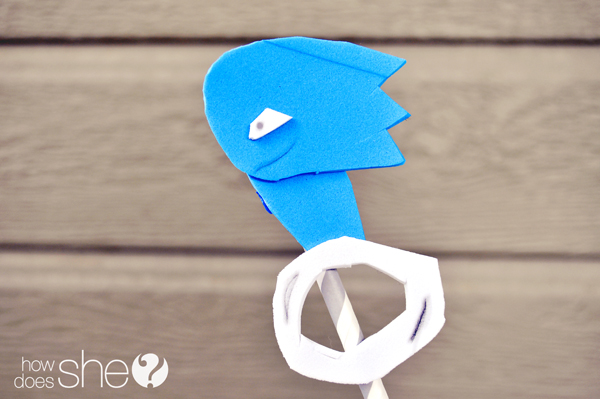 We stuck all of the characters onto paper straws.  The ones my son created either "chase" each other, or do battle with his other action figures.  No mermaid play for him!
Since we have other random things around the house, we try and see how we can incorporate those into our craft foam projects.
Maracas
For Cinco de Mayo, we made some maracas with left-over plastic eggs from Easter.  We used painters tape to wrap around the center seam of the egg and around a plastic spoon once we had filled the egg with some dried beans or rice (details here).  Craft foam sticker shapes complete most of our fun projects.   We used a paper punch to cut little circles out of the various stickers.
When you incorporate random objects with the craft foam (like we did with our plastic egg maracas), imaginations really unfold!  Here's a random "extra" that practically every home has: toilet paper tubes.  They can become many things, but a super simple way to put one to use is by turning it into…
A Rocket
Just cut a piece of foam large enough to wrap around and cover the tube, and then cut a circle shape out of the foam (after tracing a lid onto the foam to get the shape).  Cut the circle in half, and use one semi circle for the cone shaped top.
Take one semi-circle, peel off adhesive backing, and fold into a cone shape, overlapping slightly so one end sticks to the other.
Press the bottom of the cone to one end of the foam-covered TP tube.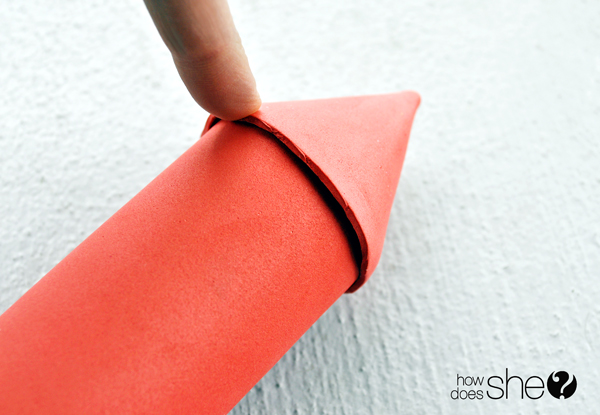 Once again, decorate with foam stickers.
For the rocket ship, we had some pre-cut sunburst shapes, which got cut in half for the "fire" that comes out of the bottom.  Circles and hearts became the tops for mermaids.  The sticker shapes are also useful for decorating water bottles and …
Book Marks
The re-usable wrap for the water bottle (secured at the back with self-adhesive velcro tabs) can become a cuff bracelet for a princess, or cuff for a little super hero when snack time is over.  (Get details on making the water bottle wrap here).  The options for switching up the design to go with any holiday or theme are endless!
Water Bottle Wraps
You can add craft foam to a straw to make a
Silly Sipper
(mustache template here)….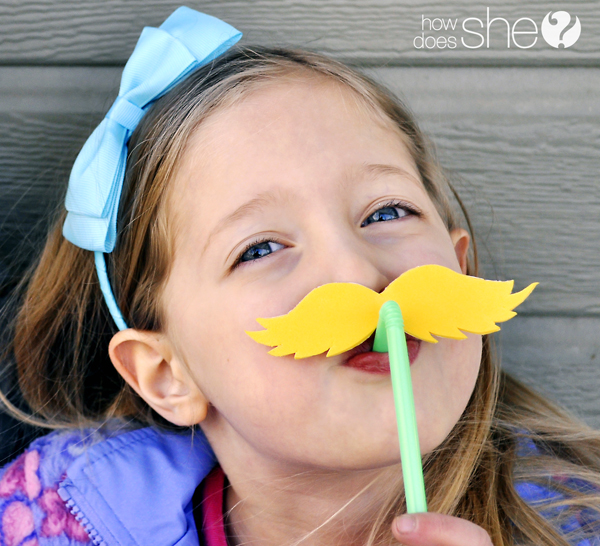 Or follow the basic directions for the rocket and get a jump on making some holiday decorations for the 4th of July!  Here I have them on the wall on either side of a picture:
And here they are in an outdoor plant:
No matter how you put it to use, there are hours of fun to be had with Craft Foam!
Have ideas to share?  What kind of "Imagination Stations" do you have around the home or classroom for children?  Please share in the comments below!
Here's to many hours of imaginative, crafting fun!