Before school started, they were with you 24 hours a day, seven days a week.  During the summer, they "helped" you put on makeup, came running for hugs when so-and-so pushed them at the park, and told you the most hilarious knock-knock jokes…again, and again.
But now your kids are in school for up to seven hours a day.  Maybe more.  That's like a full time job!
All of those little quirks you grew to love (good grief, you even thought picking their nose was cute!), you're not so sure if others will love them as much as you.  Are they getting the attention they need?  Are they making friends?  Are they being kind to others?  And most importantly,
are they happy?
Share the highs, lows, and everything in between of your child's school day with these precious after school questions designed exclusively for HowDoesShe readers by Chickabug.
Simply subscribe to our weekly newsletter below and we will email you a special access link and password to these great after school questions.  Just download, print, and cut.  Easy breezy!
 As soon as they get home, grab them an after school snack, and pull out the after school questions jar.  Listen while they dish all about their day.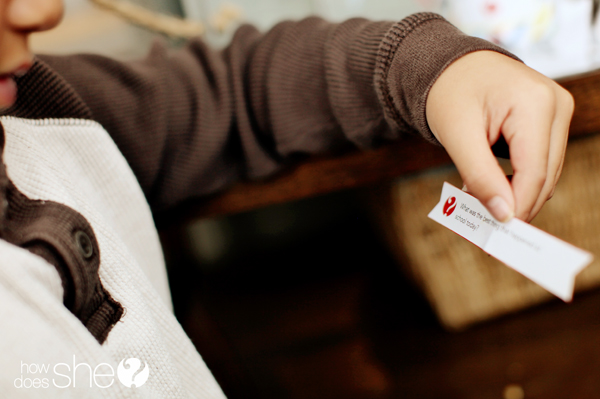 A lot of times we tend to ask the same questions.  Did you have a good day?  What did you learn?  The thing I love about these questions is that they are so specific.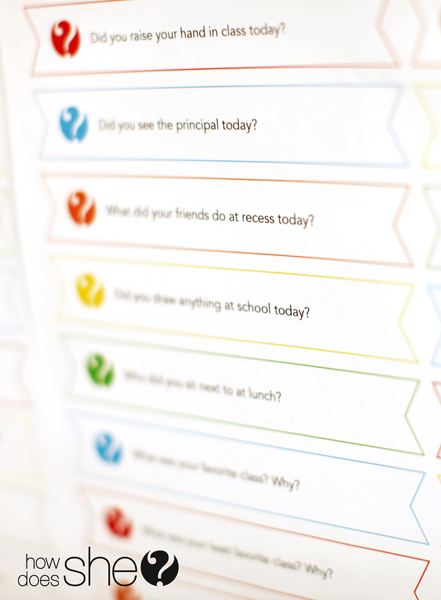 You are guaranteed to discover the sweet details about their day that you missed while you were apart.
Not only will you learn all about their world at school, you'll open up lines of communication with your child that will build a foundation for strong parent-child communication in the future.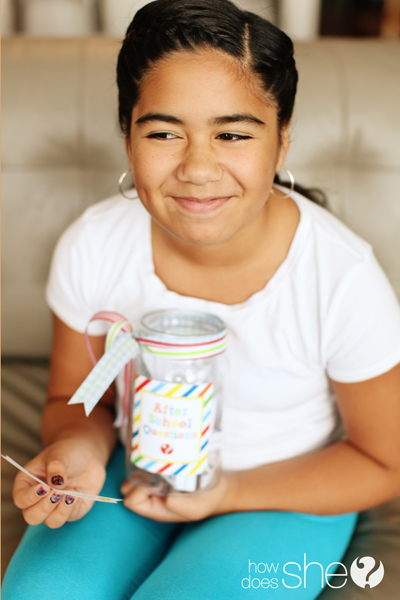 As with our other great printables, these after school question printables are FREE and exclusive for HowDoesShe subscribers.  So if you haven't yet signed up for our fun weekly newsletter, do it now and get access to these and more free printables, plus all of the top creative posts for the week.
It's a win-win situation!
If you are already a HowDoesShe subscriber, just check your inbox for access to these after school questions and all of our other exclusive printables.  You will find the download link and the special password emailed to you. It's featured at the bottom of all of our weekly emails.

If you aren't on our email list, it's about time you joined us. Simply subscribe to our newsletter below and all of our freebies and creative posts will be sent directly to your inbox. Easy Peasy!
—
Make sure to read our fab newsletter each week for more exclusive printables from our favorite graphic designer Chickabug, and make sure to check out her shop for the cutest designs for parties, party favors, and invites!  Seriously,… the cutest!!! It's easy to understand why she's had over 16,000 happy customers (and counting!) Take a peek.
—
***Updated. We just added a SPANISH version of these 'After School Questions' available in our password protected FREE PRINTABLES collection!***
Remember, you can get the password from your most recent HowDoesShe email (we send them weekly), or by subscribing in the box above.
Have fun making memorable conversations!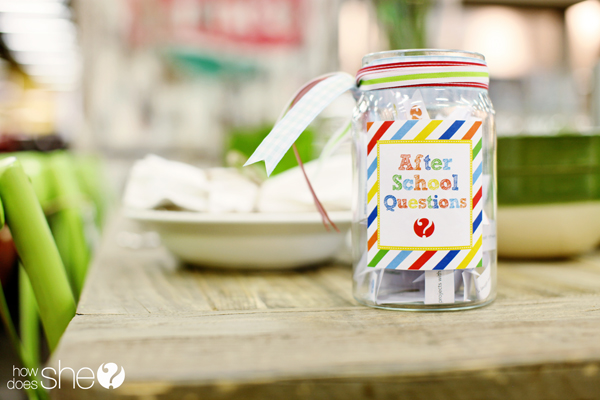 PS. Don't forget about our Exclusive FREE Family Dinner Questions that are a great compliment to this set.