Looking for educational apps for kids this summer? Or just want a way for kids to entertain themselves for a few minutes while you make dinner? These six educational apps are not only entertaining, but they have zero in-app purchases. You can be worry free about what pop-ups will appear while you're busy doing other things.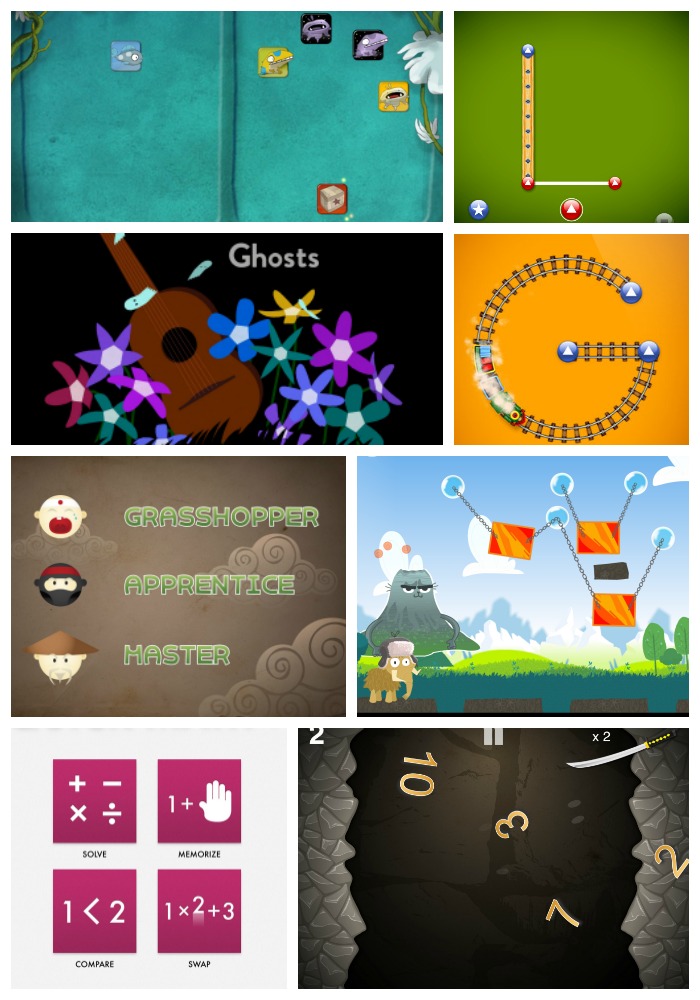 My kids tried out all of these apps and this review includes some of their feedback and photos. I dare say they enjoyed themselves helping! (No child labor laws were broken in the making of this article). ha!
As the name implies, Dragonbox Algebra lays the foundations for algebra. This app has a dragon in a box that needs to be alone to come out and play. Kids remove all the common denominators to get the dragon alone. Instead of numbers, the app uses pictures. It's intuitive and moves ahead with basic incremental changes in difficulty. This is harder than it sounds. The app developers have kept it challenging enough to keep kids entertained, while not jumping so far ahead as to confuse them. But, if kids do get confused, there is a "help button". The help button is a light bulb icon and appears after the child has made an error.
price: $7.99
age: 12+ (but an 8-year old child could likely follow along just fine)
OS: DragonBox Algebra 5+ is available on iOS, Android and Mac!
This app is more expensive than most, but they've earned it. They're like Beyoncé at the AMA's collecting awards and fans, but their best accolade is probably from educators themselves.  Dragonbox Algebra was awarded the "Best App for Teaching and Learning" from the American Association for School Librarians.
This educational app, Factor Samurai, prepares kids for multiplication and division. Different numbers fly through the air and kids swipe at them, dividing them with their fingers. It's reminiscent of the Samurai Fruit app with the satisfying chopping and swishing noise. But, in this case, the player gets points for slicing up divisible numbers (by whole number, of course), and they get penalized for picking prime numbers. Kids memorize numbers that are divisible in order to get further in the game. For example, a kid might have thought that 81 wasn't divisible, because it ended in a "1", but soon they'll discover it is divisible.
It's so, totally divisible.
Later, at school or when doing homework, when your child is trying to remember if 9 x 9 is 81 or 83, they'll remember, "Oh, yeah, I divided 81 on Factor Samurai, but never the 83". Kids start to recognize and be comfortable with numbers they'll be using a lot on their multiplication tables.
price: $3.99
Ages: 6-8 (but great for older kids who are struggling with multiplication table memorization)
OS: Requires iOS 7.0 or later. Compatible with iPhone, iPad, and iPod touch.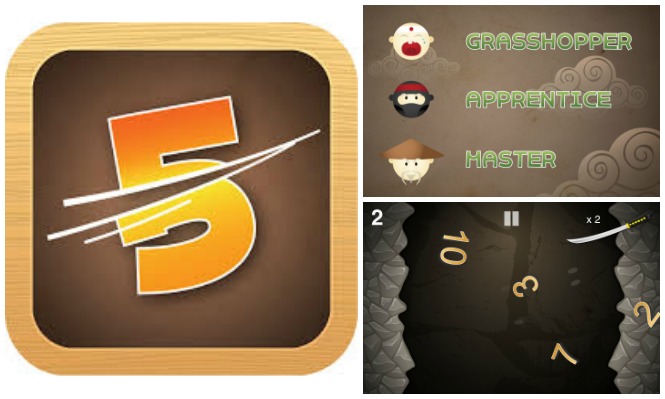 Metamorphabet is how Alice would learn the alphabet in Wonderland, if she'd gone there as a 7-year old. This is a highly interactive game. Kids touch the letters on the screen and the letters morph into different shapes, change, sway or respond in some way. For example, with every stroke on the "e", a trunk will grow, then a face will appear, then a body, then it will shrink so it can balance on a globe. (Or wait, maybe I'm getting this confused with Dumbo's dream?).
price: $3.99
Ages 6-8
OS: compatible with iOS (iPhone, iPad and iPod touch)
Letter School helps littles learn to write their letters (upper and lower case) and their numbers. It also will allow the child to practice with regular or cursive handwriting. Parents can set up three different profiles on this app. Each account can be focused on a different skill (upper case letters, lower case letters, or numbers) as well as select a different handwriting option for each.
Price: $4.99
Ages: Preschool – 1st grade (or for any kid learning to write letters)
OS: compatible with iOS (iPhone, iPad and iPod touch)
My 1st grader tried this out and found that it was strict about correcting him if he went outside the boundaries. I liked it because he's picked up incorrect habits and gotten lazy with his handwriting! This app has fun little graphics to keep him motivated in trying to improve his handwriting.
This Quick Math + app is on the more basic side, but covers addition, subtraction, multiplication, division and some other math topics. In the "solve" section of the app, there are four different skill levels and timed tests for each. This simulates what kids do at school because they are often given sheets of math to do and then they are timed. This also simulates school if these are hand-written tests because, in this app, kids use their finger to jot down the answers, right on the screens.
price: $1.99
Ages: 7 – 14 years old
Compatible with iPhone, iPad, and iPod touch.
This one has a wide age range because of the four different skill levels. The math in this app ranges from practicing addition and subtraction to a middle school mathlete.
The Slice Fractions app is a value product with over 60 puzzles for less than $5. This app gained a lot of attention because it teaches concepts without using any words. Most apps play to visual learners, but this one even more so. Kids are guided through the puzzle challenges by a mammoth (who also likes to collect hats). This app goes beyond fractions and into physics, with a dash of Angry Birds style.
$3.99
Math fractions
Ages 6 – 8
Compatible with iPhone, iPad, and iPod touch. Also available on Apple TV.
The Slice Fraction app has taken home ten awards in the last 3 years, including "Best of 2014" from Apple's App Store. Possibly the most surprising bit of information about Slice Fraction came from a study conducted by researchers of the University of Quebec at Montréal (UQAM). They showed that this app improved a student's ability in a short amount of time.
Three hours of gameplay in class were sufficient to allow our young subjects to achieve a similar level of performance to students a year older in the United States.
How to check to see if educational apps for kids have in-app purchases :

Here's how to look at an app before you download to find out if it has in-app purchases or not. When on your device, before you download, you can check the "details" tab of the app your considering. Look down for an area called "in-app purchases." If there isn't a section labeled "in-app purchases," there are not any in-app purchases. If there is an "in-app purchases" section, you can also click to see exactly what items the company will attempt to sell your child.
There are so many great educational apps for kids out there. Which ones did we miss? Are there any that you would like us to review? Let your fellow parents know below!
Disclosure: This post may contain affiliate links. This means, we may receive a small commission if you choose to purchase something from a link we post. Don't worry, it won't cost you anything. This small percentage just helps us keep the power on and the Diet Coke stocked. We appreciate your support!
Kids are so bright and catch on to technology quicker than ever! But what about you? I know we parents can use all the help we can get! Here are a few ideas to help you get the most out of those devices, and keep your kids safe at the same time:
Over 20 iPhone tips that will leave you going….ahhh
Give Yourself Peace of Mind with Circle
Distracted? My Quest to Restoring Media Balance in my Home.