Easy Chicken Pot Pie Casserole Recipe
Lucky for you, I twisted my incredibly talented mother-in-law's arm to share a few of her easy peasy recipes starting with this one:  Easy Chicken Pot Pie Casserole Recipe.  They are truly amazing and truly EASY! Win win! Leave her some comment love and I'd bet I can get her to come back again soon. 😉 Take it away Dianne…
—
Not long ago I realized that I rarely had the time to create the amazing gourmet meals that I so admired from all the cooking channels (yes, I'm addicted) and pinned on Pinterest (likewise, an addict)…so I began joking around with some friends about my collection of recipes that could be made in 10 minutes or less…and I even have one that I have put together in the car on the way to an event, when I had completely forgotten that I was supposed to bring an appetizer. After serving these foods in multiple situations, I came to the realization that easy can be just as satisfying as gourmet—and most of the time I really, really need easy! Yes, there is more than one recipe—and, no, I'm not going to share all at once—you'll have to try this one—and, if you're hooked, then you can bet that the next one will be just as easy…life is short…so I'm pretty much determined to keep it Easy Peasy! *Thank you, Tyler, age 7, for coming up with the perfect name for this and all other Easy Peasy recipes! 
True story…it's 5:45 on a weekday…I've just changed into my relaxing clothes (translation: nothing fit for human eyes) when I get a phone call from my husband. He hopes it's okay that he just invited 3 total strangers to our house for dinner at 6:30! This is where you find yourself thinking about your options—
1) Order take out, eat in, and pretend that you whip up General Tsao's Chicken just about any day of the week and it, amazingly, comes with eggrolls and fortune cookies at your house…
2) Order take out and admit that you're just a little too busy to cook a decent meal at home…sadly, my pride and vanity usually won't allow me to do this…
3) Swallow the pride and vanity and decide which restaurant you're all going to go to!
But, my husband knows me well—and he also knows that I always—and I do mean ALWAYS—keep the ingredients for one of my favorite dishes on hand for any occasion—unexpected dinner guests, births, deaths, family gatherings, anything in between. In less than an hour I can have an appetizer, a main course, a salad, and a dessert ready for company—because I have learned to focus on "easy." I love to cook—but many times my cooking is not a result of hours spent preparing a meal so much as starving people wanting food within the hour!
There will be multiple disclaimers with this and every Easy Peasy recipe—if you choose a different route, you will definitely veer away from Easy Peasy and into the realms of long preparation times and possible frustrations.Remember, this is supposed to be easy…not stressful!
First up is our Easy Peasy* series: Easy Peasy Chicken Pot Pie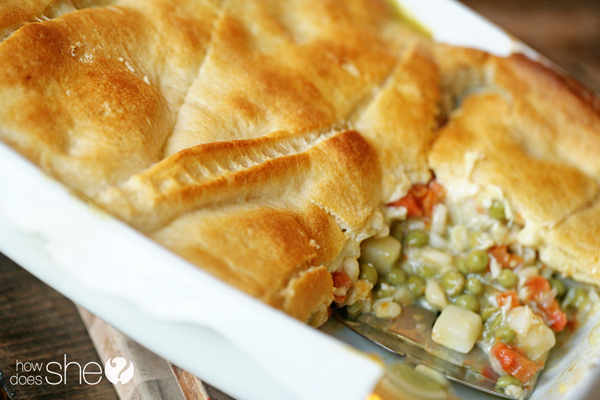 The pictures really explain the whole process. Dump cans, mix cans, bake. EASY!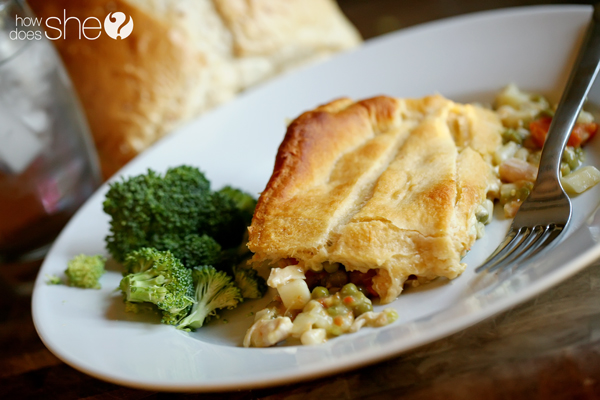 Easy Peasy* Chicken Pot Pie (AKA Omigosh, You Have To Give Me The Recipe For This!)
Ingredients
1 to 2 cans of white meat chicken (Disclaimer #1: Yes, I know you can cook your own chicken and youcan shred your own store bought rotisserie chicken—but don't plan on being done in less than an hour.)
2 cans cream of chicken soup
2 cans sliced carrots (Disclaimer #2: Yep, you can peel, slice, and cook your own carrots—and dinner will be ready sometime in the next 2 hours.)
2 cans LeSeuer petite English peas (Disclaimer #3: I never buy anything else because I am a petite English pea snob—no, I'm not petite or English—I'm a snob about petite English peas!)
2 cans diced potatoes (Disclaimer #4: See disclaimer #2)
1 handful of frozen chopped onions (Disclaimer#: See disclaimer #2, and you have no idea how handy it is to just have packages of frozen and chopped onions in your freezer—either purchased or prepared by your loving hands.)
Salt and Pepper (a few good shakes of each)
1 package of refrigerator crescent rolls
Instructions
Use a 9 X 13 baking dish—open chicken and dump into the dish, juice and all. Smash and semi-shred the chicken pieces with a fork—do not take any longer than 30 seconds to do this—it's not the time to be a perfectionist!
Next, add the soup – do not dilute! Stir chicken and soup together. Open all vegetable cans, drain, and dump into dish. Throw in onions at this point—and, if you know the kids won't eat it with onions in it, just leave them out.
Mix all ingredients together. Don't forget to add a little salt and pepper.
Open the crescent rolls and quickly roll with a rolling pin to make one long crust (that might add a minute to your prep time), or you can just take the individual rolls out and stretch them to reach across the dish and you're done!
Bake at 350 for approximately 25-30 minutes until the rolls are brown and crispy.
https://howdoesshe.com/easy-peasy-chicken-pot-pie-casserole-introducing-the-easy-peasy-cooking-series-10-minutes-or-less/
The upside of this dish: you have time to straighten the living room, give the bathroom a once over, and change back into human clothing before the meal is ready—possibly doing all this at the speed of light—
but succeeding, nonetheless.
Bet you're wondering what I serve with this…uh…yes, there's an amazing Easy Peasy appetizer that is over-the-top addictive and savory, not sweet. And, there is an Easy Peasy salad that goes with this main
dish. And, wait—there's more…an Easy Peasy dessert, too—that is a request item from repeat diners at my kitchen counter.
Easy Chicken Pot Pie Casserole Recipe