Do you ever feel like you're running out of time during the week? If you're a busy mom, or a busy family in general, you know how hard it is to make healthy meals while still having time for extracurricular activities. Luckily, there are lots of easy recipes that can help you get dinner on the table in a hurry – and they don't require a lot of special ingredients or extra steps. For busy weeknights, easy dinner recipes are key.
We all know that time is precious, and the last thing we want to do is spend hours in the kitchen. That's why easy dinners are the way to go. Whether you're looking for a simple dinner idea or a hearty meal for the entire family, there are plenty of easy dinner options that will satisfy everyone.
Easy Dinner Recipes for Busy Families
One great way to make dinner quickly is to use items you already have in your pantry. A lot of times, you can whip up a great dinner using basic ingredients from the grocery store. Ground beef is a great option for busy nights, as it can be used in a variety of recipes. From tacos to stir-fries, it's easy to find a recipe that everyone in the family will love.
Sheet pan dinners are another great option for busy families. You can make a delicious dinner in no time with just a few ingredients. All you need is a sheet pan, bell peppers, and your favorite seasoning. Throw in some potatoes or another starchy vegetable, and you have a healthy meal ready in minutes.
You can also make easy weeknight dinners in a pressure cooker. This is a great way to make hearty meals in a hurry. All you need is a few simple ingredients, and you can make a delicious dinner in no time. Try making a pot roast or a pot of chili – both are easy to make and are sure to be a hit at the dinner table.
It Starts with Planning
For busy parents, finding easy recipes can be a challenge. But with a little bit of planning, you can make delicious dinners that don't require a lot of extra steps. Try making simple dishes like one-pot pastas, sheet pan suppers, and pressure-cooker meals – all of which are great for busy nights. And for picky eaters, try making a new favorite dish – the great thing about cooking is that you can always tweak the recipe to make it just right for your family.
No matter what night of the week it is, easy recipes can make dinner time a breeze. You can make a delicious dinner with a few basic ingredients that the entire family will love. So next time you're feeling overwhelmed by the busy day ahead, take a few minutes to plan a simple meal – you'll be glad you did!
Here are a few of our favorite recipes we've posted over the years here at How Does She!
No need to spend hours slaving away over this pizza soup! It's incredibly simple to make, yet absolutely delicious, and can be tailored to your family's tastes. No doubt you have the ingredients you need for this easy recipe in your kitchen already, so why wait? Enjoy a delicious soup without the long prep time!
These Banh Mi Vietnamese Sandwiches are a big hit with the whole family! They're fast, easy, and only require a few simple ingredients. You'll be making these over and over!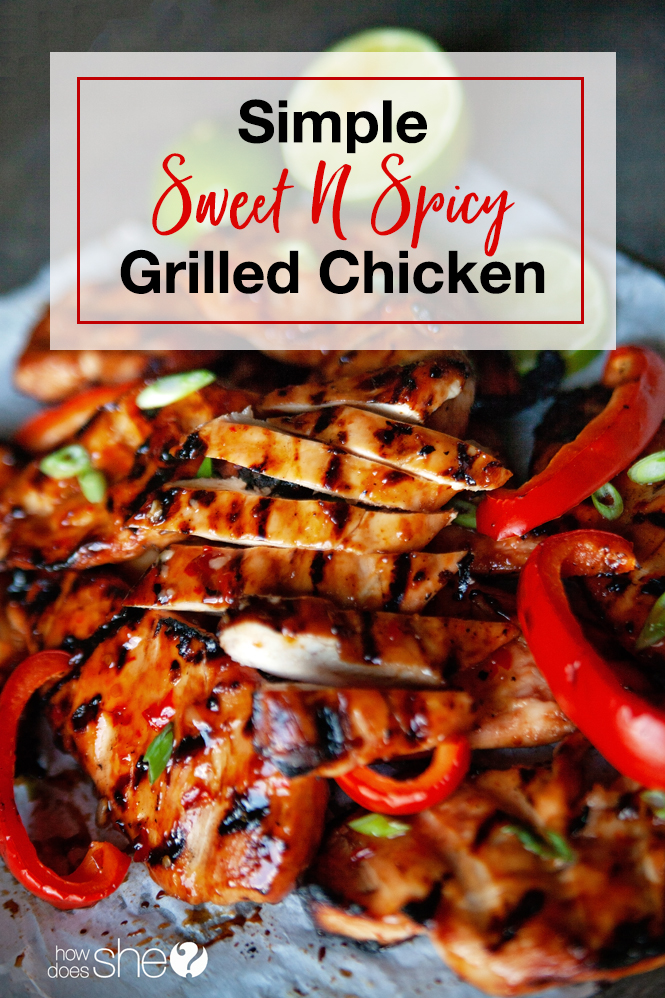 This chicken dish offers a delicious combination of sweetness, spiciness, and a delightful char flavor from grilling. Serve it with grilled vegetables, rice, or ramen to create a hearty meal that the whole family will love and ask for over and over again!
This delicious macaroni and cheese is adored by everyone, and it's a breeze to whip up in an Instant Pot! If you've never used an Instant Pot before or are considering investing in one, this recipe is the perfect place to start. With minimal effort, you can have a comforting dish that always comes out perfectly.
Quiche is an easy dish to make for dinner and can be served with a side salad or a light soup for a complete meal. This meal is a great way to enjoy a delicious breakfast for dinner without spending a lot of time in the kitchen.
Are you constantly on the go? Moms especially can find themselves running around for days on end, juggling work, school, and after-school activities. With so little time left over, it can be hard to whip up something delicious and nutritious. If you're looking for a meal that is both easy to make and requires only one pot, this is the perfect option for you!
We love pizza and always try to keep it new and exciting by trying different shapes and recipes! These are a great staple the whole family will enjoy, and they're super easy to make too.
This three-ingredient salmon dish is so easy to make but tastes gourmet! If you are looking for an easy weeknight meal that's packed with protein, you and your family will love this one.
Be sure to follow us @howdoesshe for more recipes, tips, tricks, and lifestyle content! We are always posting new content, so be sure to check back often for all the updates. And if someone you know is looking for easy recipes for busy families, send this post their way or share it on your social media! We're all about sharing the love here at How Does She.