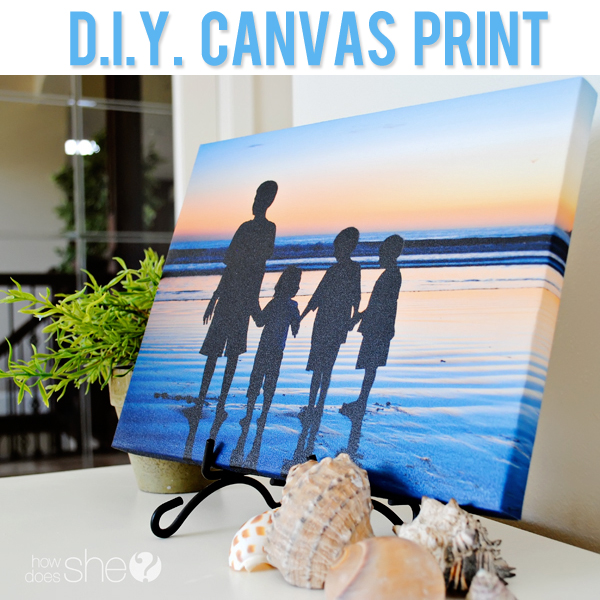 I LOVE the look of canvas prints…but, I haven't been able to persuade my frugal little self to actually pay for them. Then, along came this idea. It was inspired by my super crafty sister in law. She's amazing, really.  And after seeing what she did with her family photos…I thought to myself : "I wonder if you could wrap your own photos onto canvas?"….turns out…YOU CAN!!! Let's get to the DIY Canvas Prints.
Here is what you will need:
–CANVAS  2″ smaller on each side than your actual photo. For example: my print is an 11×14 and my canvas is a 9×12. (So if you wanted a 10×10 canvas you would print a 12×12 photo)
–PHOTO 2″ larger on each side than your canvas. Be sure that your photo is printed primo quality. Seriously, it makes a difference. I get mine printed at The Imaging Depot…they are awesome!
–WOOD GLUE (make sure it's the white wood glue…NOT the yellow stuff!!)
–TEXTURE CREAM or CR TEXTURE COATING  If you are in Utah (SLC area) you can go in and purchase a 6oz jar of texture cream for $8.95 at The Wood Connection. Or, you can go online & order 1 quart of the cream technically called CR Texture Coating  at gluefast.com for $15.90. (FYI: one 6oz jar will cover approx. a dozen 12×12 surfaces)
–FOAM ROLLER I have used two different kinds of rollers for my canvas's. A craft roller will give you more of a rough texture and the roller pictured here (I bought it at Lowes) gives a tighter more even texture…I like this look/texture best.
STAPLER any old stapler will do…just a good old home/office use stapler
SMALL PAINTBRUSH  & SCISSORS 
 Instructions:
Squeeze the wood glue onto the canvas. Make sure you get a good even coat of glue on there. But not too much…it will bubble your picture. Use your paintbrush to smooth it out.
Be sure to go all the way to the edge of the canvas with the glue.
Next, lay your photo face down on your working surface (make sure the surface is wiped clean).  Place your canvas (glue side) down onto the backside of your photo. Center it on all sides.
Grab a credit card or squeegee and smooth it out. Start in the center and work your way to the edges. Work out any air pockets.
This is a bit tricky…try to squeegee your way  to the edge. Work your way under the frame, all the way around. Then, turn it over and make sure you can see a smooth surface. Let that dry for at least an hour.
After your top surface wood glue is dry, you can start to fold your photo around the edges and make your crease marks like this:
Next, take your scissors and make your cuts on each corner. (Later on, you are going to wrap your corners and then fold.)
You want the edge of the wrapped flap piece to sit flush with the top edge of your canvas…like this:
Squeeze glue onto the edges of the canvas…spread it out evenly with the paint brush. (note: glue one side at a time…then wrap and staple…then glue the next side, wrap and staple…etc.)
Start in the center and fold the photo over the edge of the frame.
Grab your trusty stapler and staple the photo in place. Staple every inch or so until your first side is done. Then move on to the opposite side.
It should look similar to this:
Now for the corners. When you are gluing your two final edges, make sure you put glue under and on top of the corner flaps you are going to wrap. After they are glued down, wrap the photo and staple it down.
Here's the fun part! The cream!!
Lay down something to protect your work surface and be careful not to get this cream on your skin.
Spoon the cream onto your photo wrapped canvas. Grab your roller and start rolling it out. To ensure that you have the right amount of cream on your photo, start with a spoonful and if you need more add it a little at a time. Roll it out until it looks even.
Don't forget the edges! It will look similar to  this, a little milky…but don't worry…it dries clear.
It takes a while to dry so put it somewhere safe for a good 12 hours.
I LOVE how these turned out! They look like the real deal…for a fraction of the cost!  Have fun making your own, and with all the money you will save, you can justify buying yourself a new pair of shoes!! 🙂
Happy Canvasing!!
Ready for another fun DIY home decor project? Try your hand at DIY gold foil prints. It's easier than you think 🙂

Maybe chalk is more your thing? Learn how to make this amazing chalkboard drop cloth hanging sign! LOVE!