This post is sponsored by Armstrong Flooring. Although this is a sponsored opportunity. All thoughts and content are my own. We only share things we love! Thanks Armstrong Flooring!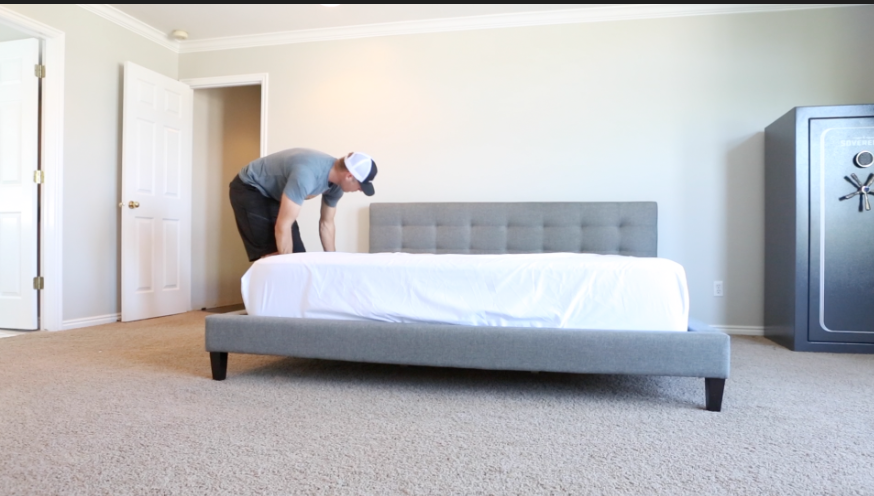 Blah Blah Blah
Tan carpet. Grey Walls. Grey Bed. They all kinda blend. Now don't get me wrong. I'm super grateful to have a beautiful home. I just wanted some pop. Something to make the room a bit more classic, BUT kid AND dog friendly.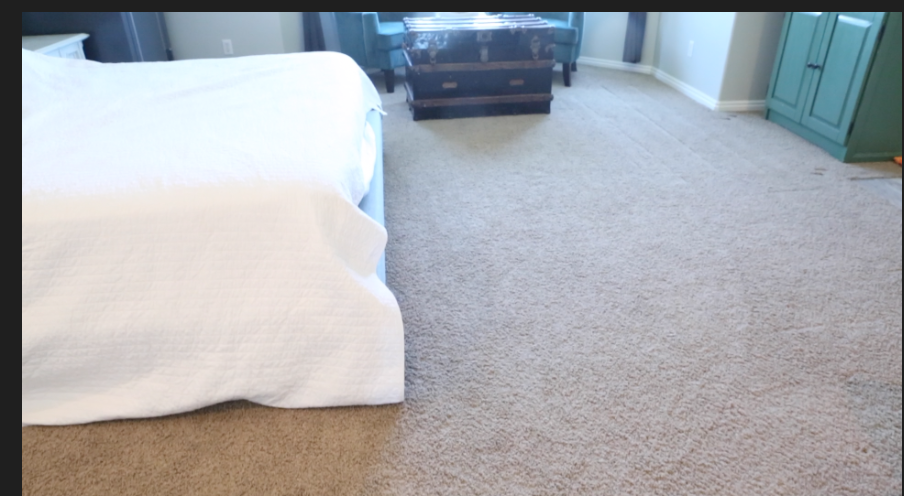 The room we are battling here is the master bed room. The carpet was old, stained and had bleach spots. We moved into this home over 2 years ago and have updated a bunch, but the master bedroom has gotten pushed to the side.
It needed to be replaced.
Jared (hubby) and I have been debating on carpet, wood or laminate flooring. We were looking at wear, brand, and cleanablility.
Having the experience of cleaning up after 4 kids when they get sick (another blah) we decided the laminate was our best choice.
WEAR: We talked about getting hardwood floors vs the laminate, but we have wood in the kitchen and it's constantly getting scratched. It is beautiful, but it's difficult to keep up on.
It also was a lot more expensive and time consuming to install so we narrowed it down to the laminate.
BRAND: I wanted a brand who stood by their product and had a big selection so when Armstrong reach out to me I was THRILLED. I wanted to be able to talk about a brand I loved AND TRUSTED and Armstrong Flooring was that brand. I don't want to have to replace this floor in 10 years or be trapped into the honey oak colored floor with no texture. No thanks.
I wanted a reclaimed laminate flooring. I feel Armstrong Laminate Flooring has that strong product to last a long time.
CLEANABILITY: See 'wear' above. Kids. Sick. Enough said.
So ya want to see the time lapse video on how the install went?

You can check out their tips on how to install laminate flooring to get more help.
Yes, we put our kids to work moving out the chairs! They are one of the major reasons the carpet needs to be taken out anyway. ha.
After Pics

My husband and I debated about which color we should get. I was a bit nervous of the black because didn't want to create a dark room. I was leaning towards the gray, but our walls are gray and needed some contrast. We went ahead with the black and it's 10000x's better that I imagined. I LOVE IT!
Now let's talk dust bunnies. I was wondering if I'd have issues. Dark floor can show so much BUT it doesn't show! It's magical, I think. The mix of the black with the slight brown don't really show the dirt or dust. YAY! Long live dirt hiding products! If you want to know more about laminate floor care check out the link. It may just convince you that you need to pull up your carpet!
Now, let's talk a BOYS bedroom. My little guy put this floor to the test he a pushed a metal locker across the floor to get it by his beds and … it didn't scratch the floor! When I was watching this happen, I felt like it was in slow-mo as so afraid I'd have to re-do the floors. BUT…Nothing. Nada. No scratches at all! That right there confirmed that this was the right floor for my busy family.
Oh and the install wasn't hard at all. The boards 'snap' in place so you know they are installed correctly. Glad we made this choice of the laminate in the black paint.
I did a FB Live as I was installing the laminate. You can see it's pretty easy. I did ask my hubs to help me so we could go faster. He also used the saw to cut the corners. I could have done it, but he was offering so I let him;)

One more look at these awesome floors. One of my best home remodel choices so far!
Get your socks on and come over. We can slide across the floors together!
If you want to know more about the bedroom and where you can find some of it the list is below.
Flooring- Armstrong Flooring
Rugs – Rugs USA
Giant Mirror – Grandma (I loved her fanciness)
Giant Trunk – Grandpa's Grandpa that came across the plains. (I know. Pretty cool.)
Bed – Joss and Main
Bed Spread – Pick Your Plum
Blanket – Saranoni Blankets
Blue Chairs – World Market
Pillow – @shellsloft
Lamps – Don't be jealous. They are hodgepodge. We keep them to remind us of when we first got married and had absolutely nothing. We just had to pull what we could together. It's also a reminder that it doesn't need to be perfect to work beautifully.
Side tables – Craig's list $5 find.
Alison