**This post is sponsored by Walmart. All opinions are my own.

It's the beginning of a new year and with that new year comes a lot of resolutions. I don't know about you, but I'm not the BEST when it comes to follow through.
I have the best intentions, but I'd be lying if I said most of my resolutions lasted past March.
I'm learning to set more realistic goals. This year, I had 2.
1) Read 1 book a month.
2) Incorporate more healthy eating habits into our everyday life.



I wanted to share some tools that are helping me with #2.
"Healthier" means so many things, but for the Roche family, I'm keeping it simple. More fruits and veggies. Better sleep.
Having the right tools to make these things happen has really helped. I picked up a few things at Walmart and they've made a world of difference!

Walmart really has so much to make your home a happier, and healthier place in the new year.
Plus with 2-day shipping on many items, free for most purchases $35+, you just can't go wrong!

1. This juicer
I've always wanted a juicer and this year was the year. My mom used to juice daily and I was intrigued with the yummy combos she would come up with.
It's a fantastic, and easy way to incorporate tons of fruits and veggies into your daily diet.

Plus, have you ever seen a prettier juicer?
Those gold details!



You can really juice just about anything!
My favorite combos are celery, carrots, apples, and oranges.
You don't even have to peel most things. I do peel my oranges because the skin is pretty bitter and doesn't taste great.
Oh, and bananas aren't good for juicing FYI.
It's so fun to come up with different combinations and make new and fun juices!



I do sometimes cut big things into slightly smaller segments, so they fit into the juicer better.
Then, all you do is press down with a little pressure!




In seconds, you'll see the peels spit out on one side, and the juice start pouring out the other!
It's so easy!
To clean, the pieces detach, and you can just handwash quickly so it's ready to go for next time.
This juicer is well made, and a total winner.




And the results are DELICIOUS!






2. Portable Blender

I guess I'm into drinking my vitamins because this portable blender is my second must have for EASY ways to incorporate healthier eating habits.
Smoothies aren't anything new, but this blender is fantastic because it's so convenient.
No heavy, clunky machines.
No long cords.
Convenience is king when you're trying to eat healthier!

This little guy charges in a USB port!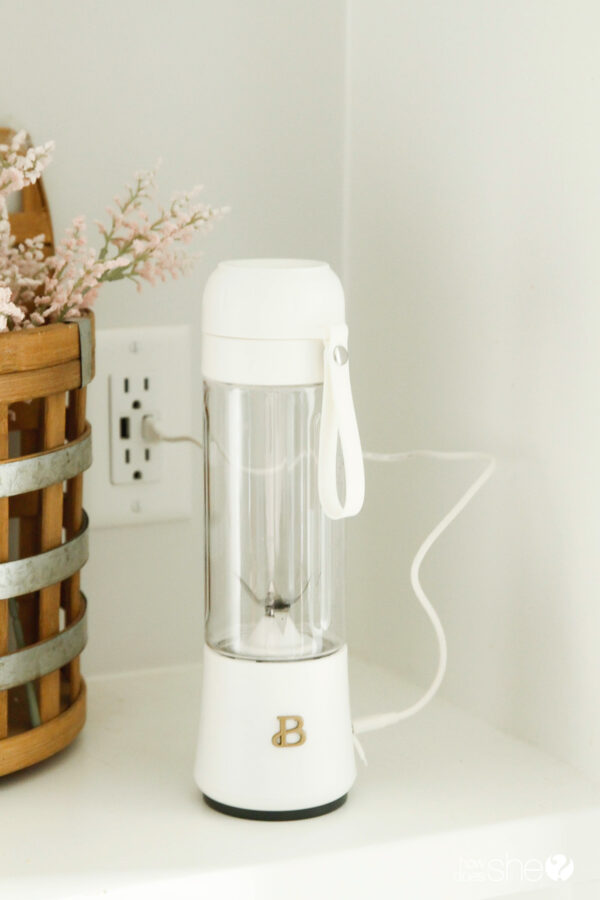 Totally. portable.
When it's charged, I wasn't expecting much because it's fairly small. I was SO surprised to see how much power was in it!




Just fill her up with a few ice cubes (don't go overboard with these), fruit, spinach, a little yogurt, and a some milk, and blend at the touch of a button.




It's so easy!
And the best part?
You can take it on the go if you want! I feel like this an easy way to send breakfast with your teenager as the rush out the door.


And even my littlest side kicks will LOVE this easy way to get your fruits and veggies!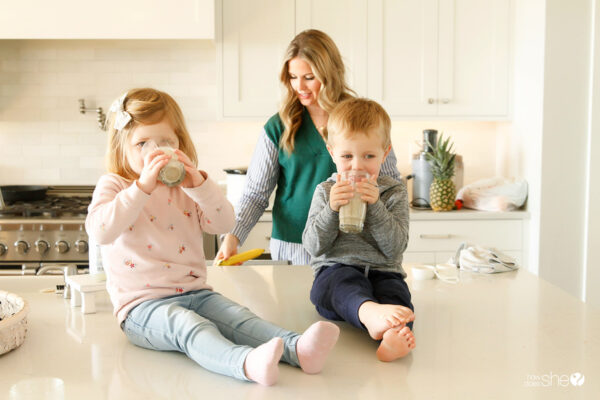 3. The most beautiful slower cooker

It's not like slower cookers are a new concept. We've been using them for YEARS.
That being said, sometimes I get out of the habit of using mine.
On those crazy sports nights when I'm chasing my 6 kids around town, I was finding myself running through a drive through more often than not.
This beautiful gal was brought to the forefront, and I was determined to use it on those busy nights to not only cook more nutritious food for our family, but also save us money!




She's beauty. She's grace. She's convenient. She's really the most helping kitchen tool I may have!
Throw soup ingredients in it and in 6 hours, dinner is ready.
I also love to throw a roast or chicken breasts in here so I can shred them and use them in recipes throughout the week. So convenient!

This slower cooker just came out in a new model. It has a digital screen and is even snazzier! It's gone in and out of stock so keep an eye out if the color you want isn't around.

Sidenote: I'm obsessed with this Beautiful line from Walmart. So many gorgeous things for your home in so many wonderful colors. They really make great gifts!
One item I really want to add to my kitchen is this air fryer!
We love some good fried food, and this enables to let you have it, but healthier! No oil involved!


---

Here's to making "healthy" more convenient thanks to Walmart!
Cheers to a happier, healthier New Year!
….and lots more smoothie mustaches!