**This post is sponsored by Walmart and RewardStyle. All opinions are my own.**

A funny thing has happened to me lately.
I'm finding that my body and all it's parts – including my skin, is evolving.
Perhaps, it's age.
Perhaps, it's a change up of routine and schedule.
Maybe it's because of the seasons changing, and maybe even stress is a factor, but no matter WHAT the cause, I'm realizing that sometimes CHANGE is good and necessary!
I've been trying a lot of new and wonderful beauty products lately to meet all my changing needs.
It's actually been a lot of fun to find what items work for me, and talk to my girlfriends about what they're loving! I splurge on a few key products, but I'm also finding that there are SO many good beauty products that won't break the bank!
I remember the first time my mom let me wear mascara. It was monumental!
We walked up and down the aisles of our neighborhood Walmart, and I settled on that pink tube of Cover Girl Mascara. (You totally used it too, didn't you?!)
Now my selections have changed just a bit, but Walmart is still my go to! I'm still able to find so many fun new beauty products in store, but now that I have a few more tag alongs (aka kids) you're more than likely find me shopping online, taking full advantage of free 2 day shipping!
I love that Walmart allows one stop shopping at great price points, and always has exactly what I need.

I tested a LOT of "new to me products" and have found a few stand outs that I think are fantastic particularly for the Spring /Summer Season.
Here are my top 8 beauty must haves for Spring/Summer.
(Yes, Top 8. 10 seemed too predictable.)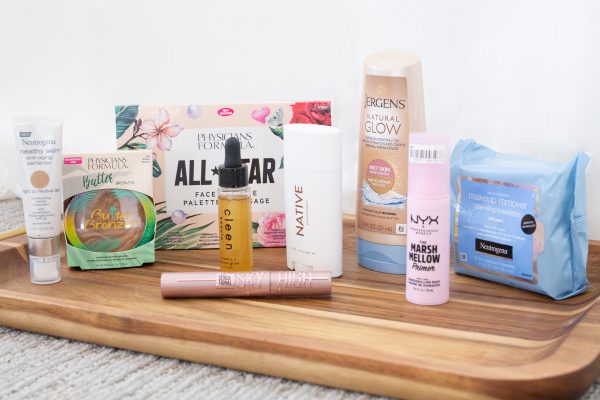 1. Cleen Beauty Vitamin C + Papaya Glow Serum
I have combination skin, but it seems to be getting more dry. I've grown to love serums! They seem to saturate into the skin more deeply! This combination of Vitamin C, and papaya is amazing. I feel like my skin is more supple, and that natural exfoliant (Papaya) leaves it with a little glow. This is a great product to add to your daily skin care routing. The price is amazing too!




2. Sky High Mascara:
If you're looking for LENGTH, this is your guy! This mascara (that's gone viral on Tik Tok) adds a LOT of length to your lashes! I was impressed. I don't think it adds a ton of volume however, so I layer it over a more voluminous mascara. The teamwork of the two is fantastic!




3. Jergen's Natural Glow for Wet Skin:
A nice, healthy glow is KEY for me in the Spring. Sometimes, you don't want to go through a huge sunless tanner routine! This is the solution. First, you can apply it to your skin WET! Game changer. Second, it's not a heavy tan. You just put it on like a lotion and it adds just a subtle amount of color. It is buildable, but again, this isn't going to make you bronzy. IT's more natural and I'm loving it!




4. St. Tropaz self tanner:
If you ARE wanting a deeper sunless tan, try this. I've tried a million different ones but finally tried this HIGHLY rated brand. I have to admit, it's worth every penny. It doesn't smell. It doesn't rub off. The color is a gorgeous, natural tan. I also really love that it doesn't make a huge mess. I've tried some in the past that were sprays and I must prefer a mousse!

5. Native Natural deodorant:
Another cult favorite, this coconut and vanilla natural deodorant is worth the hype. It doesn't irritate my skin, and doesn't "ball up" like most deodorants. IT works, and the ingredients are better for you! Plus, the smell is light and wonderful!



6. Physician's Formula All Star Palette:
I have used their bronzer for years (link below) and adored it, but this palette has some other must-trys – like a beautiful highlighter! This is a great palette at a must more affordable price point. IF you don't want the whole palette, at least try the Butter Bronzer. It smells like a tropical vacation!



7. Neutrogena Makeup Removing Cloths:
I'm way too tired to wash my face most nights. These cloths are a game changer. I keep some on hand in my night stand at all times. They remove all makeup and are gentle on your skin. They even remove eye make up! Great to keep in your pool bag or travel with.




8. NYX Marsh Mellow Primer:
I've never been a big Primer user, but my pores have gotten a little bigger lately and I'm starting to notice my makeup doesn't go on as smoothly. This yummy stuff is a bit thicker than my other primers, but goes on light and smooth. Plus, it smells like marshmallows! When you use this stuff, your make up will go on flawlessly AND stay on all day!


Honorable mentions

Neutrogena Healthy Skin Tinted Moisturizer
A fantastic, light summer option that has SPF. I like that this didn't leave me greasy at the end of the day, but still blurred my imperfections and protected.

NYX lip oils
If you need some deep moisture, try a lip oil! This is a good one.

Real Techniques Miracle complexion sponge
Easy way to get smoother foundation coverage!
There you have it, maybe these are already some of your favorite, true and tested beauty products. Maybe some of them are new to you. Either way, they're great products at fantastic price points. I'm thrilled that my finds at Walmart have helped me improve the look and health of my skin and leave me feeling a little confident each day!